Joe Sakic's retirement night, on October 1, 2009, was definitely memorable.  Avs fans had the opportunity to send him out in style with speeches, a banner in the rafters, the whole thing.  The team also wore a special patch on their jerseys just to commemorate the night.  Those jerseys, worn for only that night, were then auctioned off on NHL.com.
As far as the game goes, here are your highlights.  Do what I like to do whenever I get the chance and look for the patch.
I kept my eye on a few of the Sakic night jerseys that I thought would be affordable and that didn't work out too well.  Even the game issued jerseys ended up being pretty pricey.  Maybe next time.
That next time came as we fast forward a few seasons to October 8, 2011.  It was time for Avs fans to say goodbye to Peter Forsberg.  Same procedure: banner, patches worn for one night, and those jerseys auctioned off on NHL.com.
Here are the highlights.  Again, the patch, look for it.
Here's some video from my seats that night too.
http://www.youtube.com/watch?v=-_Pghq-FS24
I was NOT going to miss the chance to get one of these jerseys and I ended up living up to my word.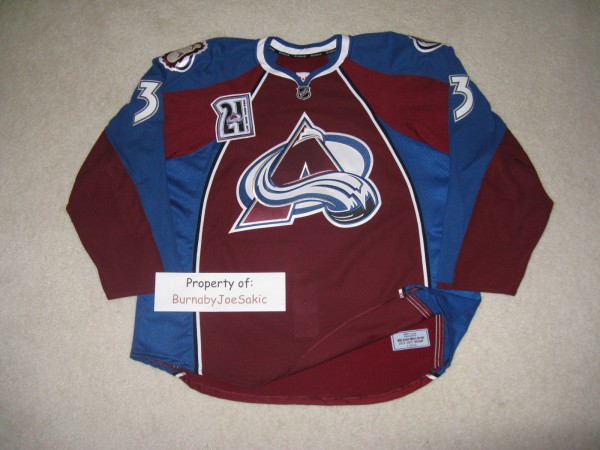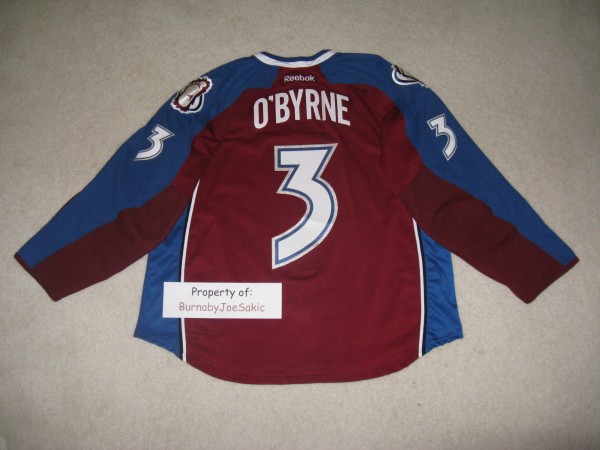 Here's a close up of the Forsberg night patch.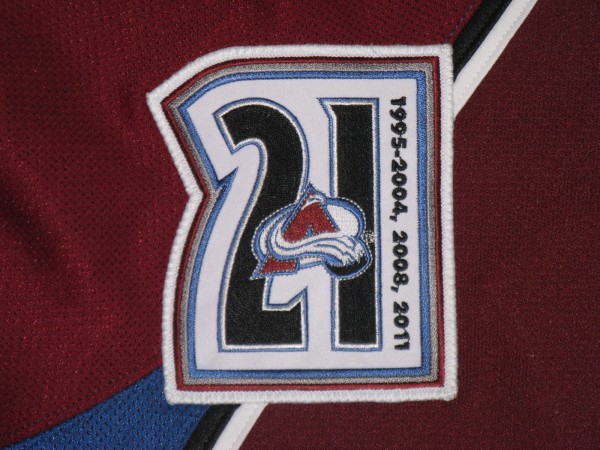 Normally with a jersey worn for just one night there may be a mark or two, but nothing too distinguishing.  This jersey wasn't normal.  Check out the damage.  This is a close up of the back of the right shoulder just above the "E" in O'Byrne.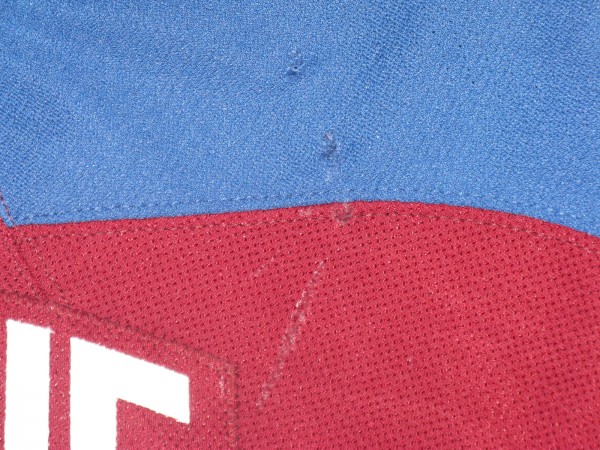 And the big foot patch on the right shoulder has some scuffing/burning along the toes.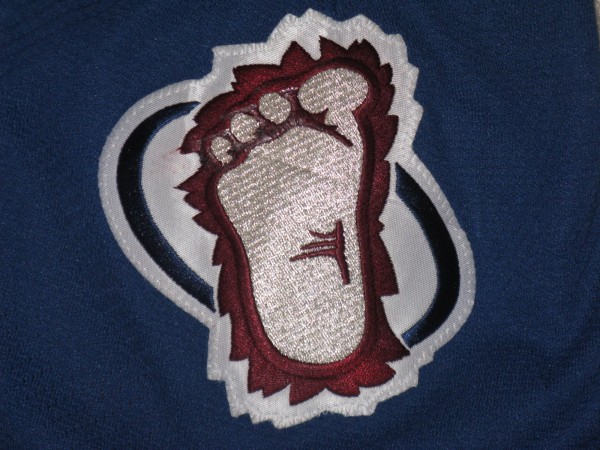 The next step for a jersey collector when it comes to damage is to try and photo-match it.  That process usually begins on Getty Images.  I was hoping to get lucky and maybe get a close up shot of the back of the jersey.  That didn't work out well.  There were only two images on Getty featuring O'Byrne wearing this jersey opening night: here and here.  The Forsberg patch isn't visible in the second image, but the "21" on the boards is the other clue.
Next, it was time to check the highlight videos for a hit that O'Byrne might have been involved in.  That didn't work out either.  The NHL, Avalanche, or whoever decides what gets posted in the highlights only saw two hits the entire game that were worth sharing with the fans.  Thanks so much for the help guys.  Try not to wear yourselves out.
I'm not one to give up easily so I went back to the game on my DVR hoping I could see something, anything, that might clue me in as to how the damage on the shoulder of the jersey happened.  Not wanting to watch the whole thing (I don't really prefer watching the Avs  get shutout over and over) I fast-forwarded between O'Byrne shifts and watched him very closely while he was on the ice.  He scraped the boards along the far side of the ice late in the first period, but these jerseys are made to last so that couldn't have done it.  Then, as the second period horn sounded, Johan Franzen did what hockey players do and stuck up for his linemate Jiri Hudler, who had been knocked down by Ryan O'Byrne in the near corner.  That's when the magic happened.  Franzen's hit caused O'Byrne to slam into the boards in a seam between two panes of glass.  That had to be it.  It all made sense now.
I never thought I would ever thank Johan Franzen for anything.  He's been a huge Avalanche killer over the years and I obviously don't care for that.  But, Johan Franzen, thank you very much for coming to the aid of Jiri Hudler after big mean old Ryan O'Byrne knocked him down.  You did the right thing in regards to the jersey I now own.
As far as an official photo match through Getty and MeiGray, that will be easy.  The jersey and patch were only worn for a single game.  Blow up one of the images above and call it good.  But with a little persistence, and some investigative skills, I was able to video match this jersey as well.  It's stuff like this that gets jersey collectors called the sickos they actually are really excited.
It took me two tries to get a retirement night jersey, and I'm still beyond satisfied that I was able to set a goal and achieve it.  Because of that fact, this Avalanche jersey is undoubtedly one of the big highlights of my collection.  Seeing it live in action made adding it to my jersey closet that much sweeter.
MeiGray creates a letter of authenticity that accompanies every game worn jersey they sell.  This letter was a little different than the others that I have.  Here are the sentences that made the letter extra special, "On October 8, 2011, the Colorado Avalanche wore a commemorative set of jerseys in honor of Peter Forsberg's retirement.  The actual jersey worn on "Peter Forsberg Night" by #3 Ryan O'Byrne is now yours."  I love the sound of that and I think I'll hang onto this jersey for a while.  And by a while I actually mean forever.