It all started with a few tweets a little over two years ago.
And then it became kind of a thing.
Let's review a quick history of #AvsTwitterPsychic and how we've gotten from there to here.
Late in the 2012-2013 season I began calling goals before games.  Just having some fun and hoping things would work out.  A few of my picks ended up being correct and @AvsPodcast followers began to notice.  I can track where the hashtag started down to the actual tweet.  It was during this conversation with @MattyHernAvs in early January of 2013.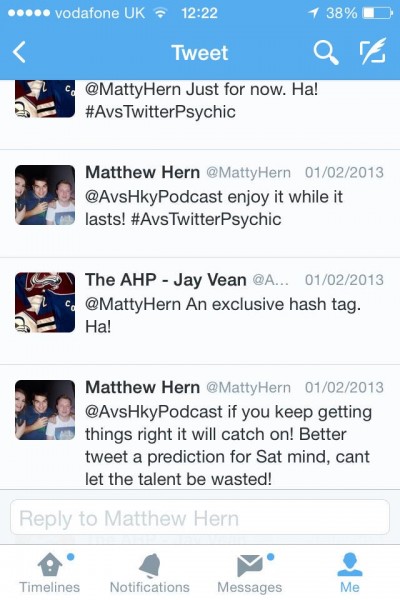 A game was born.
We went through the rest of that season playing some ATP during overtimes.  Just having some fun.
Then, at the beginning of the 2013-2014 season, we kicked it up a notch.  Choose who scores the first good hockey goal for the Avalanche and get a retweet after the game.  Simple and easy.  The game within the game.  Just a way for people to enjoy Avalanche hockey a little more (whether our team won or lost) as well as a way for Avs fans to get connected with other Avs fans.
I honestly never thought we would get to where we are.
We played for a season and things went great.  Many people played, shared, spread the word, and grew the game.  I wasn't tracking the hashtag last season at all.  A pilot season for ATP, if you will.
Even though it took the Avalanche until their third game to score a good hockey goal this season, we still played and had a good time.  That's what it's all about.
And then, on December 13, 2014, just after I posted a morning tweet about playing #AvsTwitterPsychic for that night's Avs/Blues game things got serious.
@AvsPodcast We've got Dutchy. #AvsTwitterPsychic

— Colorado Avalanche (@Avalanche) December 13, 2014
Whoa.  I never thought that would happen.  Ever.
My buddy Tedd summed things up quite well just after the tweet from the Avalanche's Twitter feed.  
@Avalanche @AvsPodcast you've done it, Jay. You got a real life hockey team to play #AvsTwitterPsychic #impressive

— Tedd Arcuri (@SaysTheTedd) December 13, 2014
Some games later the Avs made another #AvsTwitterPsychic pick and chose Nathan Mackinnon.  29 just happened to score the first good hockey goal for the Avalanche that game.  The Avs, on their own, then contacted five other people who also chose 29 and sent them Nathan MacKinnon signed pucks.  How cool is that?
Fast forward to now.
During the 2014-2015 season the #AvsTwitterPsychic hashtag was used on Twitter almost 7,300 times.  That's a little less than 100 posts a game.  More and more people are playing, including the Avalanche's Twitter feed every once in a while, and more and more Avs fans are connecting with one another.  (There are some fans that know about the game and don't play for superstitious reasons.  I get that.  They're still connected though and that's all that matters.)
In case you're curious, here are the official ATP stats for the season.  I was nervous for a while that <Curse Word> (also known as a shutout) was going to be the season leader, but then Jarome Iginla heated up and got this team going on more than a few nights.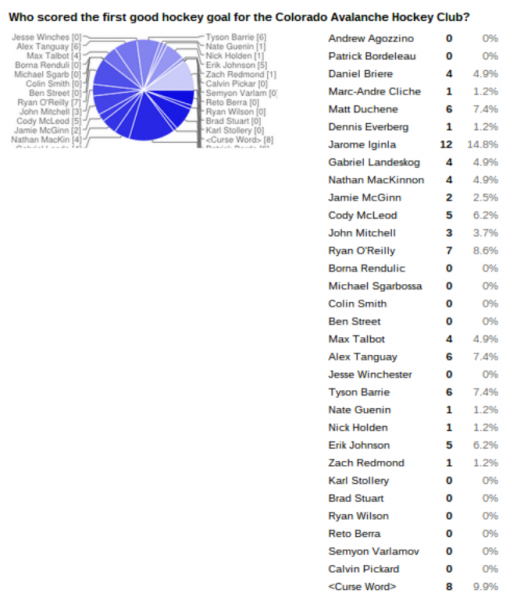 Overall, it was an amazing season for our game.  Thanks to all of you for making #AvsTwitterPsychic a part of your Avs game day experience this season and thanks for telling other Avalanche fans you know about ATP.  Those of you that play (and spread the word) are the heart and soul of ATP.  The game wouldn't be what it is without you.  I hope you had as much fun playing as I did seeing all your tweets each and every game.
Let's keep things rolling next season and keep growing the game.  I'm kind of biased, but in my opinion it's way too much fun not to.  I kind of feel like we're just getting started.
Let's Go Avs!