I don't have many "favorite" jerseys in my collection.  I'm not too picky.  If it's an Avalanche jersey I'm pretty much cool with it.  Some of the game worn jerseys I own have better stories than others.  That's the nature of collecting.  I may need to redefine "favorite" after acquiring this jersey though.  It's pretty cool.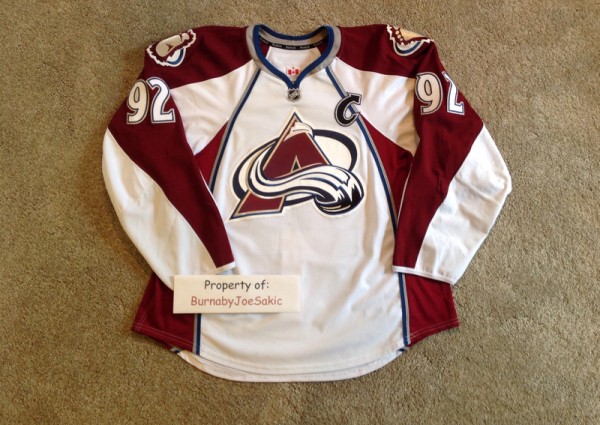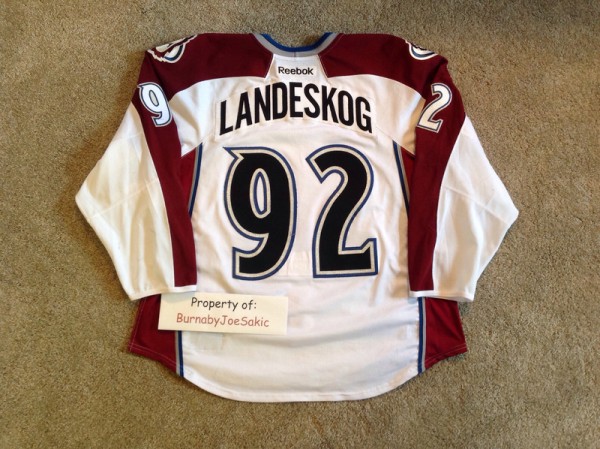 There's the obvious.  This is a Gabriel Landeskog game worn jersey.  It was worn during 14 road games during the 2014-2015 season.  Its first game on the ice was on December 18, 2014 in Pitsburgh against the Penguins.  The final game in which it was worn was on February 8, 2015 against the Jets in Winnipeg.  Landeskog recorded one goal and five assists while wearing this jersey.
Those are the bigger details.  This jersey, as so many are, is all about the small details.
I don't own a jersey in my collection that I've been able to match to as many photos and video as this one.  My workflow usually includes sharing most of the photo/video matches I find.  If I chose to do that with this jersey it would take a while.  Here are the bigger highlights in the interest of time and energy.
This jersey is a mess in a good game worn jersey way.  8+ team repairs, blood stains, goal post paint, marks, burns and more.  92 plays a physical game and this jersey is a beautiful testament to that.
My eye was drawn to the obvious first.  The left arm of this jersey is a hockey war zone.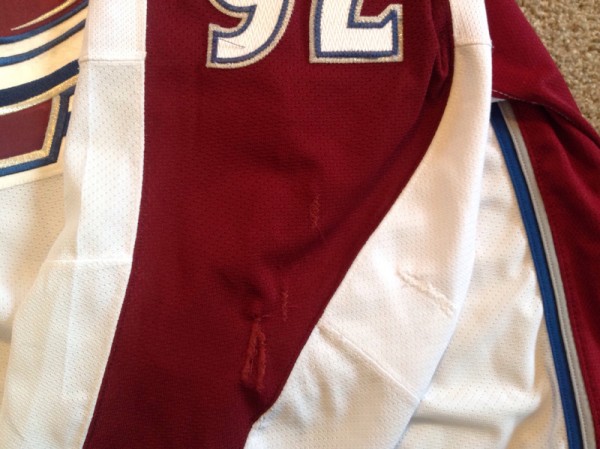 Look back at that last picture and please notice the thread on the bottom of the nine on the sleeve.  Now check out this picture and look for that same thread.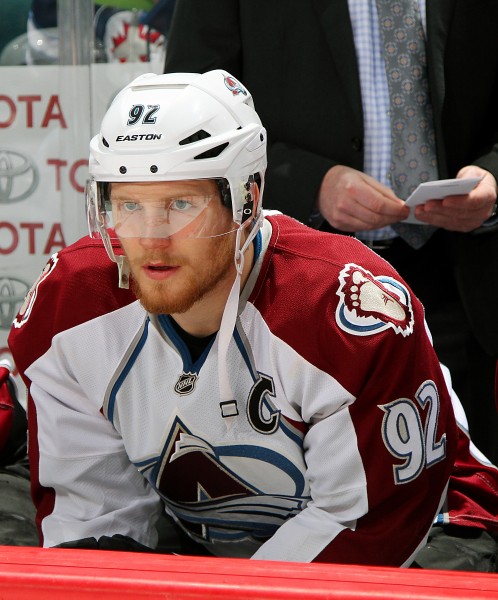 Zoom.
The left elbow in this picture shows some of the damage before it was repaired.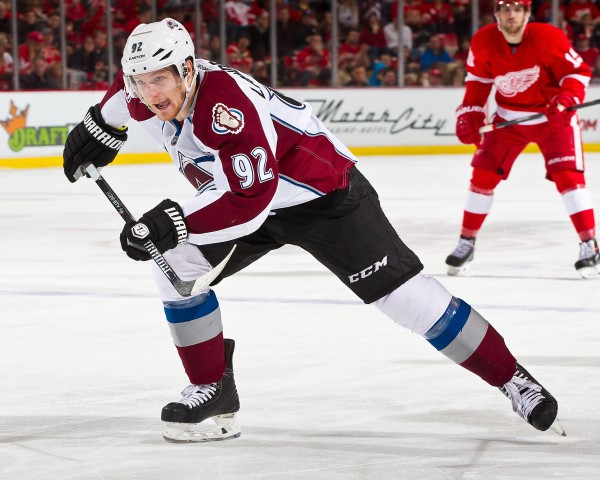 Zoom.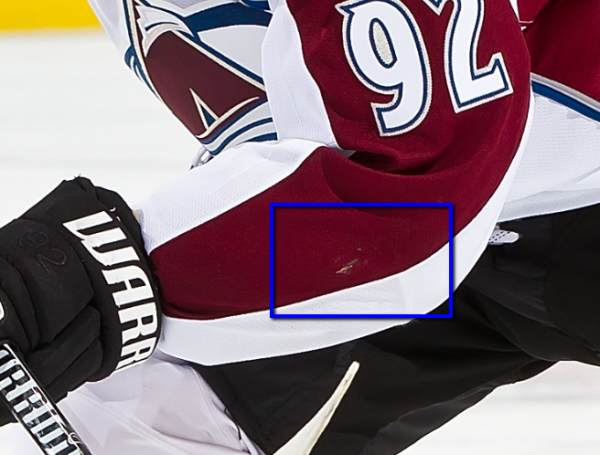 And the jersey in action in its final game against the Jets in Winnipeg on February 18, 2015.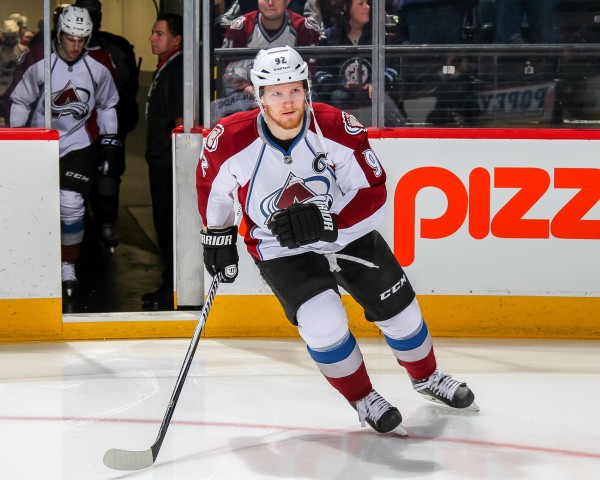 Zoom.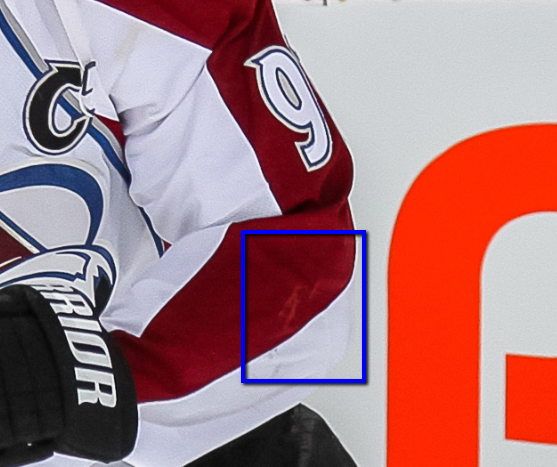 I have been able to share plenty of highlights with jerseys in my collection in action on the ice.  This jersey, however, was the first jersey I've ever been able to confidently video match.  Landeskog's lone goal scored while wearing this jersey was scored on January 15, 2015 against the Florida Panthers.  Fast forward to about five minutes and 30 seconds of the video below and be sure to check out  the rip above the right sleeve number as Landeskog skates back to the Avs bench after he's done celebrating with his teammates.
Here's a screen capture from that skate back to the bench.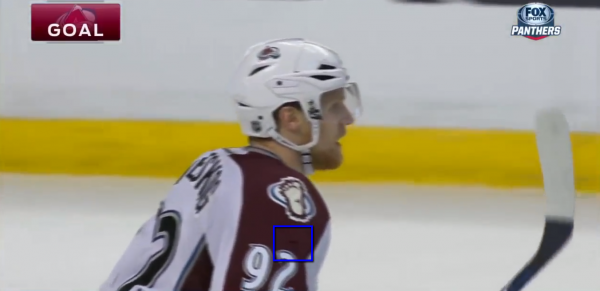 Here's a closeup of the repair.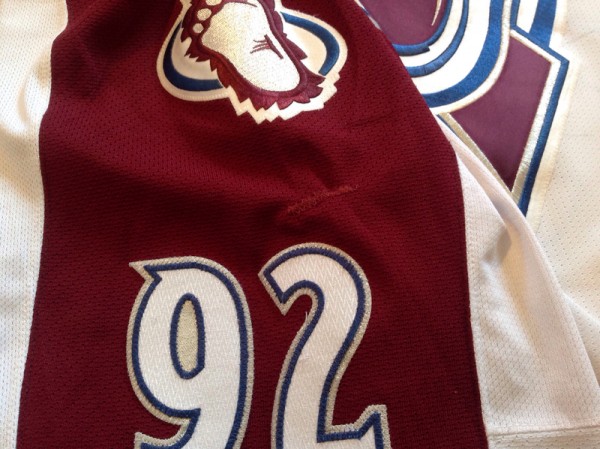 And a photo match of that repair.  Look just above the "2" on the right sleeve.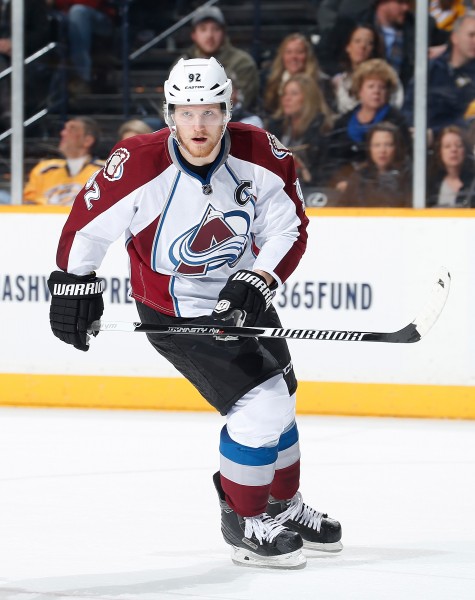 Zoom.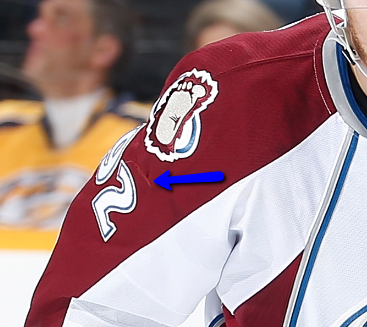 Now we're having all kinds of fun with jerseys.
Also worth noting, Gabriel Landeskog scored a shootout goal wearing this jersey and, in my opinion, it might be one of the most memorable shootout goals in the history of Avalanche shootout goals.  I'm pretty certain Kari Lehtonen doesn't see the humor in any of this for obvious reasons.  Fast forward to seven minutes and 50 seconds of this video to watch 92 score the hockey puck (as well as himself) on February 3, 2015 in Dallas.
Here's that play in epic .gif form.
On top of all this great hockey jersey stuff, this jersey also happened to nicely round out my Colorado Avalanche Hockey Club captain's jersey collection as well.  Now I have game worn or game issued jerseys of all four captains in the team's history.  I chose to capture that in an image (as I like to do.)  From left to right: my Gabriel Landeskog 2014-2015 game worn jersey, Milan Hejduk 2011-2012 game worn jersey, Adam Foote 2010-2011 game worn jersey, and Joe Sakic 2008-2009 game issued jersey.  That's some serious Avs history in one picture.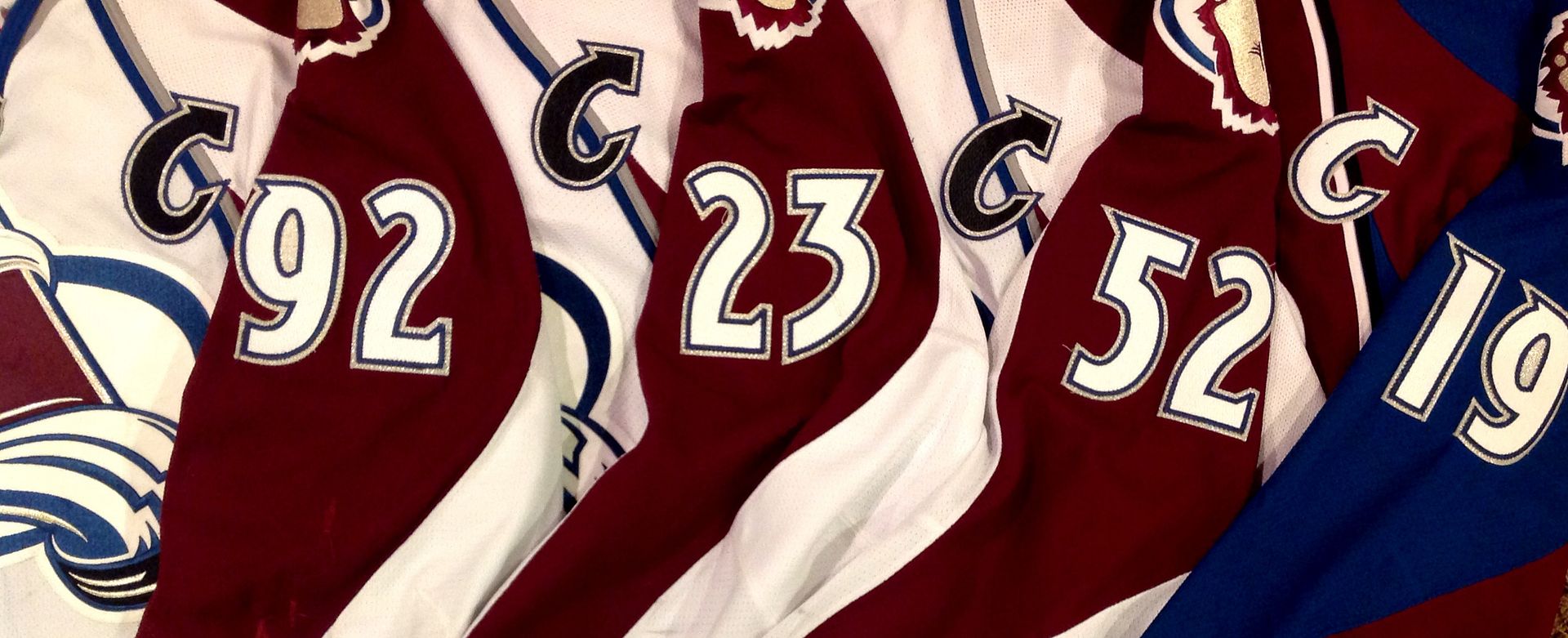 As many of you already know, I have a few game worn jerseys in my collection.  They each tell a story.  As I mentioned previously, I don't necessarily have favorite jerseys, but I definitely have favorite stories.  Here's to hoping you appreciate the story my Gabriel Landeskog jersey tells as much as I do.
Welcome to the 2015-2016 season Avs fans.
Let's Go Avs.