At one point (at least when I wrote this blog post a few years ago) I was pretty sure I had one of Milan Hejduk's final game worn jerseys.  His career was definitely winding down and there was considerable buzz that 23 would retire after the 2011-2012 season.  Turns out, I had to wait until a few seasons after Hejduk actually retired to acquire one of his final game worn jerseys.  In the end, everything still worked out.
The lockout-shortened 2013 season was a tough one for the Colorado Avalanche Hockey Club and their fans.  The Avalanche had 16 victories in 48 games played and finished second to last in the league.  It can be said that perhaps the best thing about that campaign was the Avalanche winning the draft lottery following the season and being able to select Nathan MacKinnon in the June draft.  Ouch.
Even in shortened seasons though, there are jerseys.  Jerseys with history and with stories to tell.  The jersey below has a great story to tell.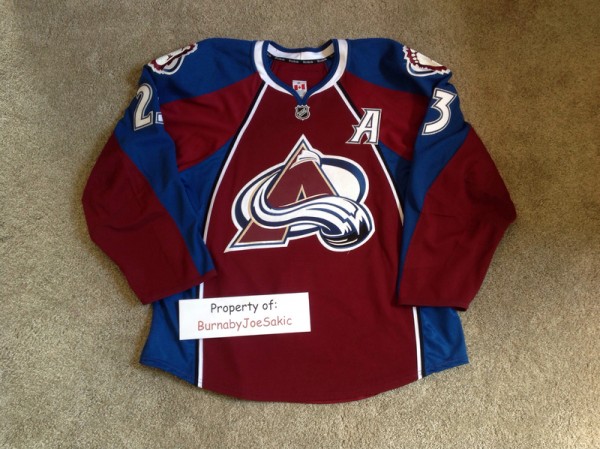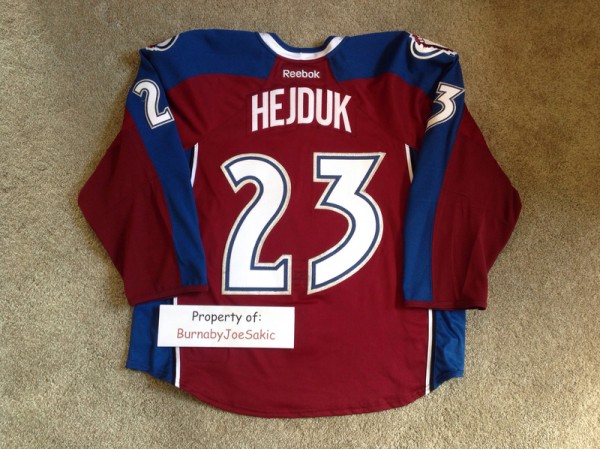 This is Milan Hejduk's burgundy set 2 worn from March 18, 2013 to April 21, 2013.  That was a span of seven home games, minus the games they wore their alternate jerseys at Pepsi Center and minus the games Hejduk missed due to injury (more on that later).  The jersey above is one of the last jerseys Milan Hejduk wore during his NHL career and if the documentation is correct as far as when the jerseys were worn, this is the jersey Hejduk was wearing when he scored his 375th and final Avalanche/National Hockey League goal.
Let's go back to March 18, 2013.  This was the very first game the burgundy set two jerseys were worn.  Hejduk decided to break in his crisp new sweater in style beginning at 1:55 of the video below.
Long-time Colorado Avalanche faithful know classic Hejduk when we see it.  That was classic Hejduk.  Now let's go to the bench and get some love.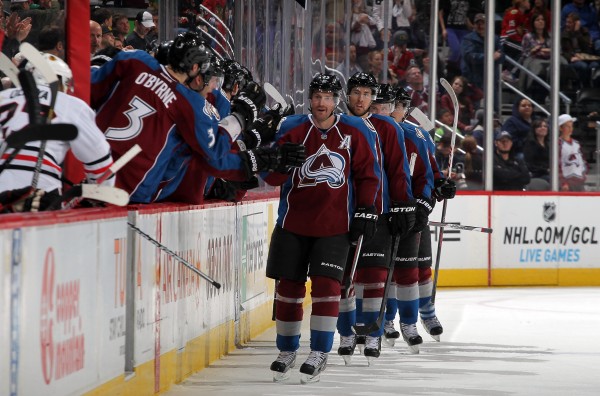 I love that shot.
That goal was the only point Hejduk recorded while wearing this jersey on the ice.  Overall, this particular jersey saw action in just three Avalanche games.  Hejduk missed four other games where it would have been worn after suffering a shoulder injury midway through the first period during the March 30 game against the Predators at Pepsi Center.  Hejduk returned to action after missing nine games on April 19.
Here's another great image of this jersey (before the shoulder injury) during pre-game skate on March 20, 2013.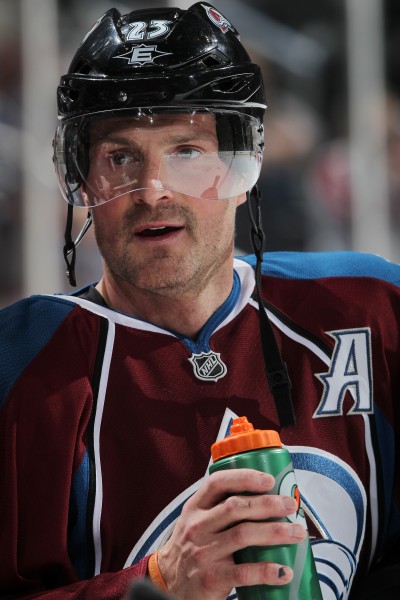 This jersey has some history, but because of its limited action it has literally no game use on it.  There is this mark just to the right of the nameplate, but I have no pictures to match the mark with.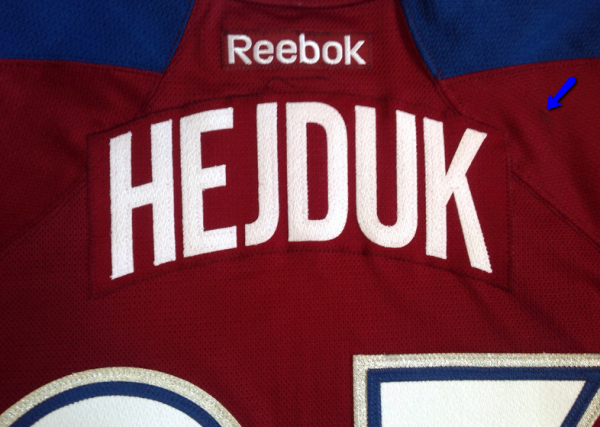 So no photo match.  That happens and that's okay.  We'll just need to go with the documentation.
While I have you here, let's discuss big picture matters as well.  I've made this clear on numerous occasions on Twitter, a banner with the number 23 should hang from the rafters at Pepsi Center.  23 should be the sixth number the Colorado Avalanche retire.  Here are just a few reasons why:
14 years with the organization.
1020 games in an Avalanche jersey (most in Avalanche franchise history, 150 more games in an Avalanche jersey than Joe Sakic)
375 goals (second most in franchise history behind only Joe Sakic (391).  Hejduk has 172 more goals than Peter Forsberg who is third on the Avalanche's all-time list)
430 assists (third in Avs history behind Sakic and Forsberg)
805 points (behind only Joe Sakic in Avalanche history)
Joe Sakic is the greatest Nordique/Avalanche of all-time.  That's a given.  Don't argue.  Milan Hejduk has a pretty strong case for second on that list based on the statistics and his longevity with the team.  Heck, he was even a Quebec Nordique draft pick.  The numbers and history pretty much speak for themselves.
As for me, I'm already looking forward to the patches, the festivities, and the chance to honor a great Av on Milan Hejduk night.  I won't be wearing this jersey to that game as it's too small for me to wear, but there are plenty other Avs jerseys with number 23 on them in my collection that I have to choose from.  I can't wait.
Let's Go Avs.
***Special thanks to Avalanchedb.com for their game logs and easy to access all-time Avs stats.  It's a GREAT Avalanche research site.  Be sure to check it out.