November 2, 2013 was a special night in Avs history.  It was the night the Colorado Avalanche Hockey Club retired its fifth jersey number, the number 52 of Adam Foote.
On nights like that teams have the opportunity to wear jerseys with unique patches.  Thankfully, that night was no different.  The Avalanche wore a one-game set of jerseys with commemorative patches on them.  Here's that good looking patch.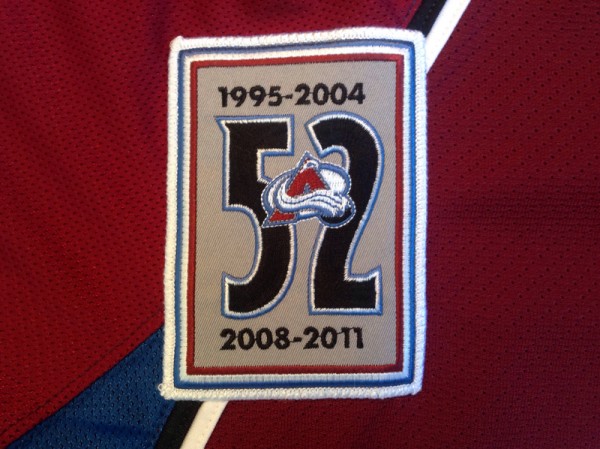 In the past, I had arrived at Pepsi Center early for Joe Sakic's and Peter Forsberg's retirement ceremonies in hopes of purchasing loose jersey patches that I could put on blank jerseys later.  I had no such luck on Adam Foote night.  The rumor was the patches sold out quickly and there were only about 60 patches available for purchase by the public at Altitude Authentics, the main retail store at Pepsi Center.  It looked like the only way that I was going to acquire a patch was to get a game worn jersey from that night.  I could do that.
The game worn jerseys were auctioned off soon after the game and, as expected, they went for a fair amount of money.  I passed on getting into the auction action in hopes of finding a jersey (or two) down the road from a winning bidder.  It took a while, but it finally happened as I had hoped it would.  Here are the newest additions to my Avalanche jersey collection.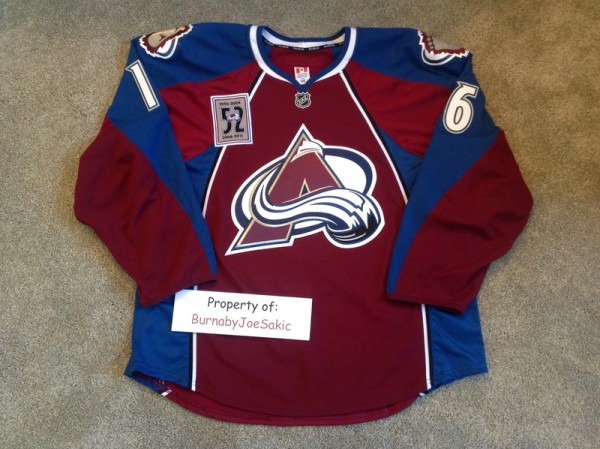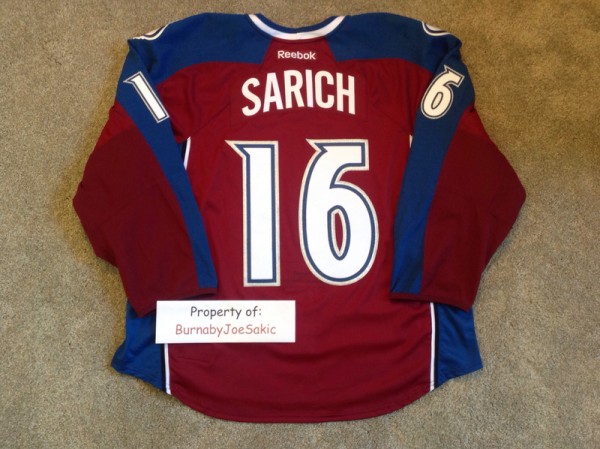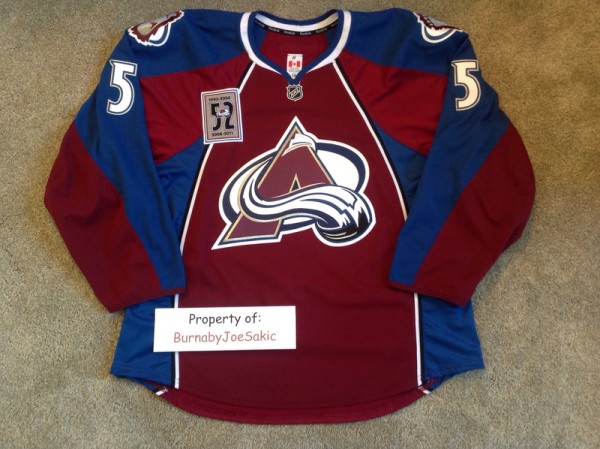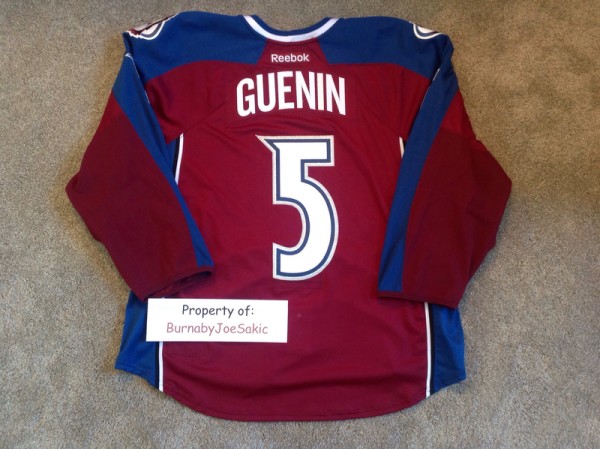 Cory Sarich and Nate Guenin have never been near the top of my favorite Avalanche players list, but when it comes to patched jerseys worn in one game I decided to not be too picky.
As with any game worn jersey I acquire, it was time to look for photo matches.  Jerseys with patches worn in one game are a little simpler when it comes to the photo matching process; simply look for the patch.  Here are the game highlights for your viewing pleasure.  I wanted to give you the chance to see these exact jerseys in action.
According to the official stat sheet from that night's contest, Nate Guenin logged 19 minutes and 39 seconds of ice time.  He had one shot on net and recorded two hits.  Cory Sarich played 17 minutes and 44 seconds.  He also had one shot and was credited with five hits.  Those numbers aren't too bad at all, but they still didn't amount to much (if any) game wear on the jerseys.  Upon close review all I could find is this faint mark on the crest of Sarich's jersey: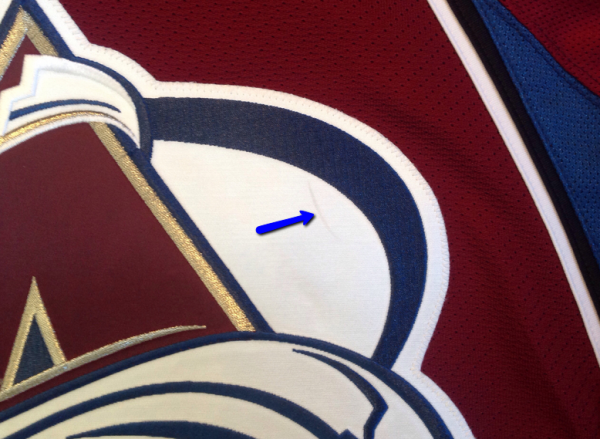 And this small burn on the lower left sleeve of Guenin's jersey.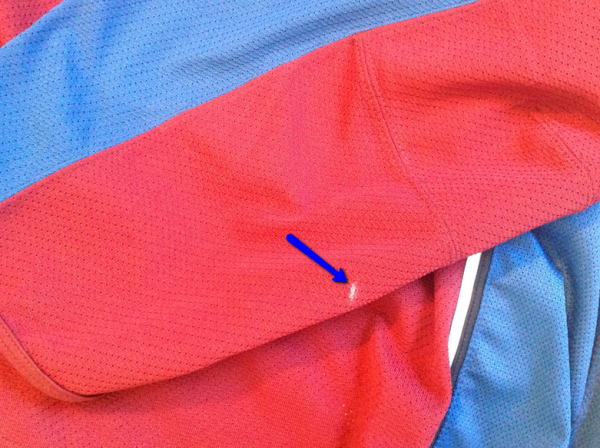 Either way, no problem, these jerseys are well-documented one way or another.
As always, I went through Getty Images to find images of the players wearing these jerseys on the ice at Pepsi Center.  That's a fun part of the documentation (and storytelling) process.  Here is the only picture captured of Guenin during the game.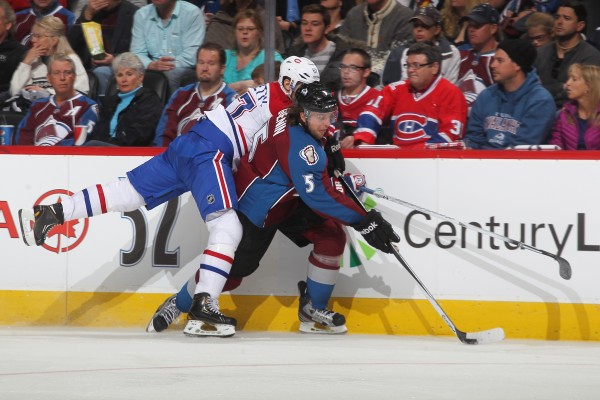 It's a REAL long shot, but maybe the burn on the left sleeve happened during this exact play.  A guy can dream, right?
And after the Sarich was offered to me this image made it even tougher to turn down the offer I had to add it to my jersey collection.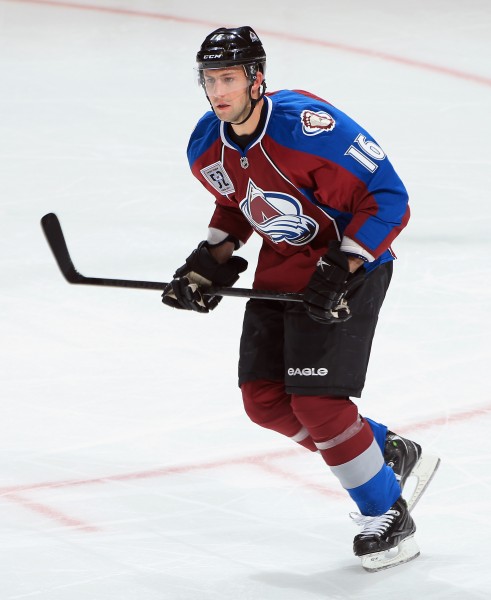 I was even able to match the mark on the crest when I zoomed in on the image from Getty.  Bonus!  (It's tough to see, but trust me, it's there.)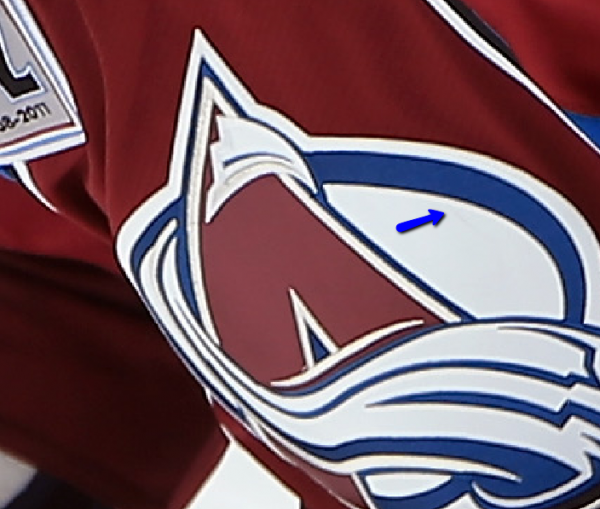 The Avalanche made Adam Foote night a little more memorable by defeating the Montreal Canadiens 4-1.  These jerseys got a chance to celebrate that evening and that's a very good thing.
So until my next game worn post(s), which will be soon, take care and Let's Go Avs.
***A very special shout out to Ben Ho for giving me the opportunity to add these jerseys to my collection.  Thanks very much, Ben!