It has been a little while since I shared an Avalanche jersey here.  I figured it was time.  Here is one of the latest additions to my jersey collection.
Steve Konowalchuk played just shy of 100 regular season games for the Colorado Avalanche.  His stay included 13 playoff games as well.  "Kono" became an Avs player via a trade with the Washington Capitals on October 22, 2003.  His career came to an abrupt halt just before the 2006-2007 when a heart condition forced him to end his NHL career.  Although we wasn't with the team very long he still is remembered and respected for his style of play and his leadership.  Those are just a couple of the many reasons why I jumped on this jersey when I had the chance.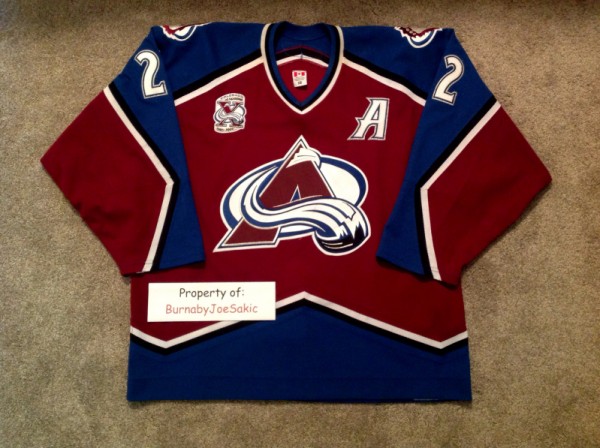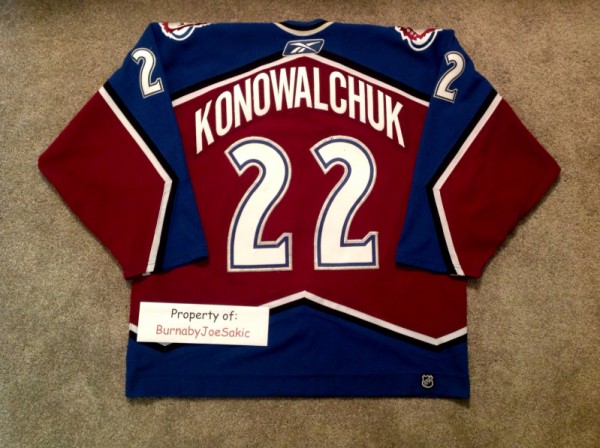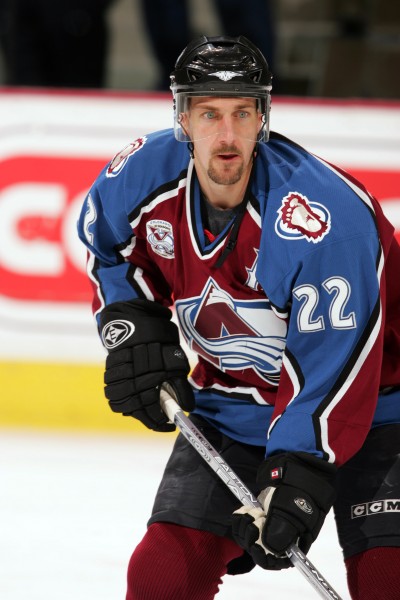 For those of you that know me well you know my passion for photo matching jerseys.  It's the "game within the jersey game."  I had this jersey matched literally moments after I knew it was mine and way before I had the chance to see it in person.  That was fun.  There are two distinct stick marks on the crest of the jersey.  They were all I needed.  Here's my picture of the crest.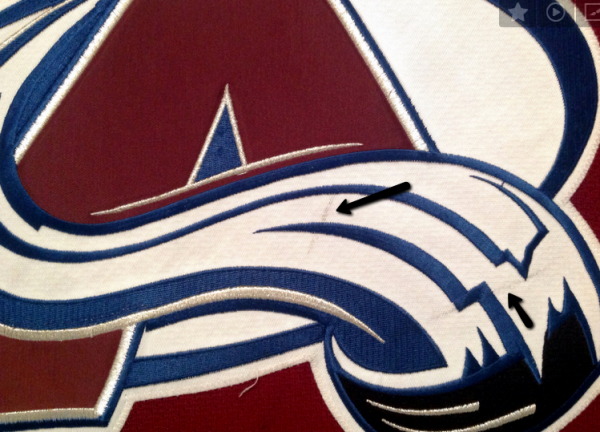 And here's a closer look at the above image from Getty Images.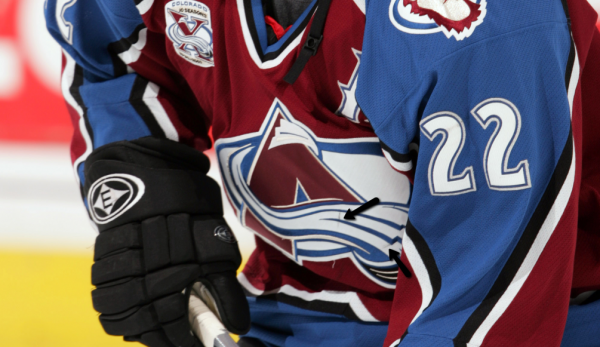 Matched.
The jersey lover in me really enjoys the name plate on this jersey.  It makes me appreciate the art of making the back of these jerseys balanced and symmetrical.  Denver Athletic had to do some work to make this jersey look good.  They're fortunate that Konowalchuk wore a larger size 58 jersey.  That fact definitely helped with some much-needed real estate for the extra long name plate.  It's very pretty.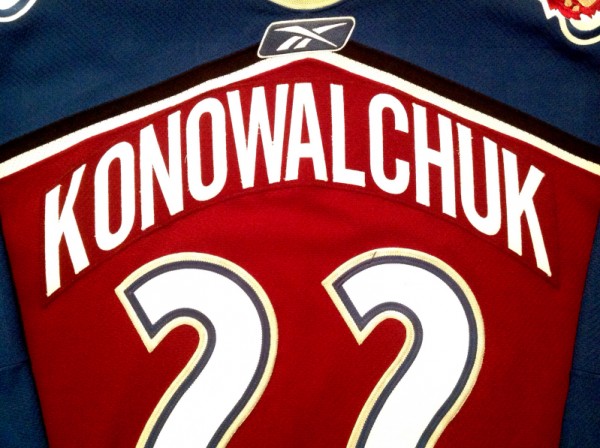 And a jersey with a commemorative patch?  Done deal.  I love jerseys with patches.
One more cool quirk.  The original MeiGray tag on this jersey had the 2004-2005 season on it.  That season never happened due to a labor dispute between NHL owners and the player's union.  Instead of retagging everything the Avs/MeiGray decided to simply add a small 2005-2006 patch to the left of the 2004-2005 patch.  Check it out.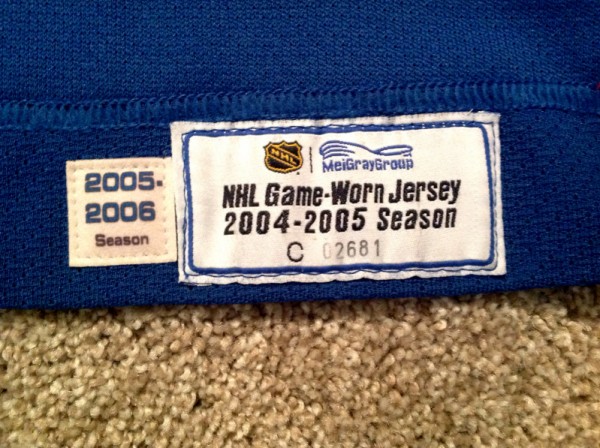 This jersey was from the first set of burgundy jerseys the Avalanche wore during the 2005-2006 season.  They were worn from the preseason through December 12, 2005.  Konowalchuk only played in 21 games overall for the Avs that season.  If my math is correct it looks like this jersey saw action in nine regular season home games.  There were three other home games when the team wore their burgundy alternate jerseys at Pepsi Center.  Unfortunately, the video of goals scored during the 2005-2006 season is no longer available on any NHL.com network site.  I was still lucky enough to find a meaningful clip on YouTube though.  This is a shorthanded goal Konowalchuk scored against the Nashville Predators on October 12, 2005.  It was one of the four goals Konowalchuk scored while wearing this jersey.
Special thanks to my man, Jake Dubin, for helping to make this jersey a part of my Avs collection.  Game worn, photo matched, patched, and size 58 jerseys are ALWAYS welcome in my closet.
More jerseys coming soon.  Just doing my part to help you (and me) get through the long off-season.  Stay tuned Avs fans.