Not too long ago Erik Johnson had a career/all-star year going and then it ended way too quickly.  The Avalanche hung in there without him, but his absence definitely didn't help the cause at all.  Even though E.J. missed the last 33 games of the 2014-2015 season (as well as the all-star game) with a knee injury, he was still able to set a career high in goals scored.  That's pretty impressive considering he missed just short of half of the season and that's also one of the reasons why I added this to my collection when I had the opportunity.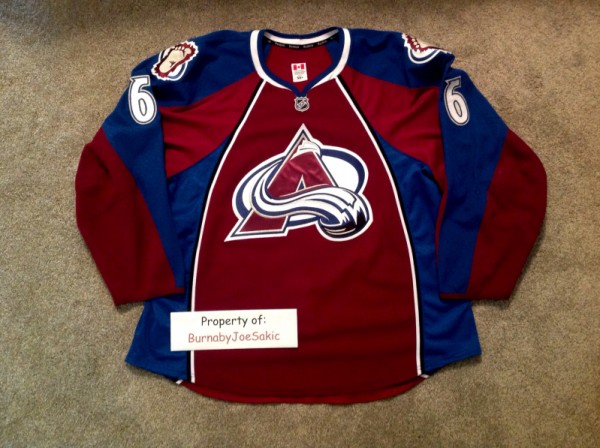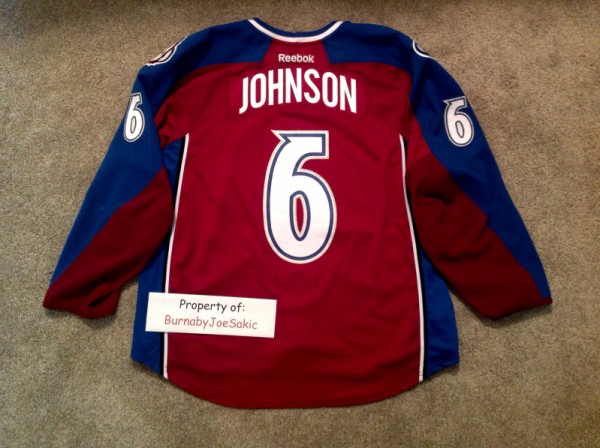 Even though Erik Johnson did a lot of things in this jersey there isn't a lot to photo match on it.  That made me sad.  There is a team repair and some wear near the left elbow.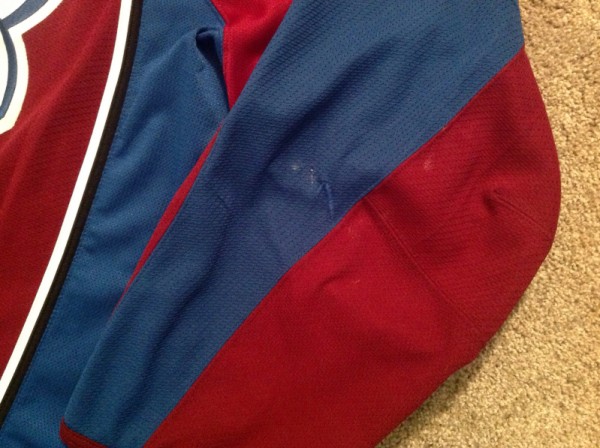 And there are some faint stick marks just below the crest as well.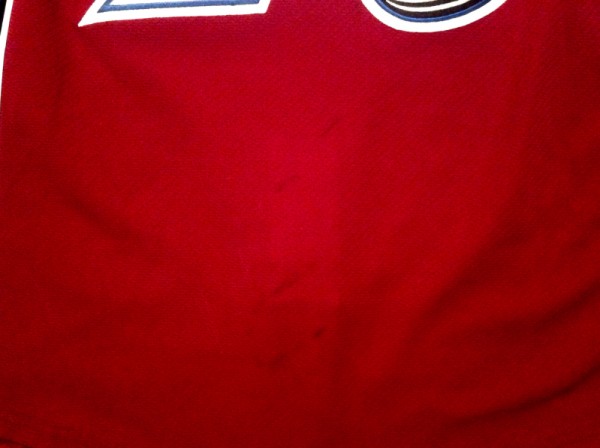 Overall though, for as much action as this jersey saw, I've had a hard time finding a definitive match.  The closest I have gotten is a thread pull off the six on the number on the back and another couple pulls on E.J.'s right sleeve number.  Here's a shot of him scoring his second goal of the game against the St. Louis Blues on December 13, 2014 at Pepsi Center.  This was his first career two-goal game.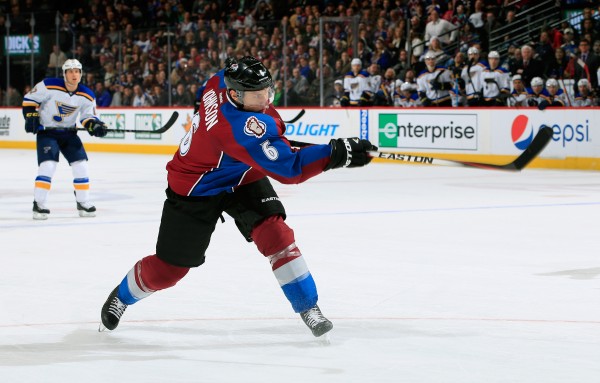 Let's zoom in on the thread pulls and get a closer look.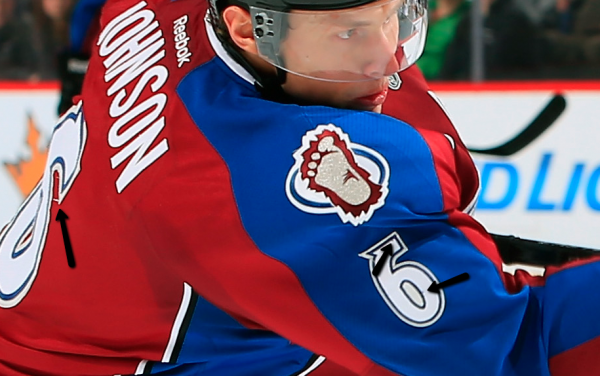 Here is Johnson getting some love from the bench after that tally.  Well done, E.J.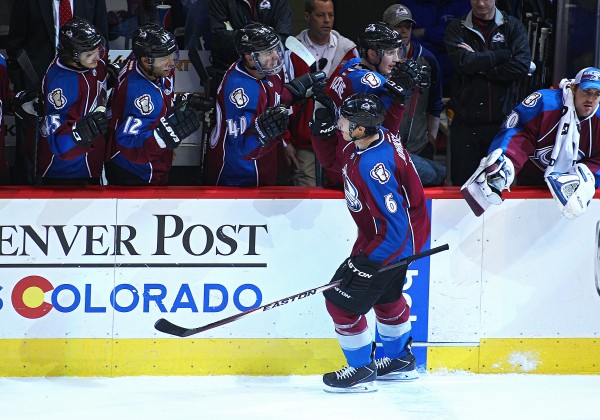 In the photo matching game sometimes you just have to do what you have to do.  It may not be a stick mark, a burn, an unrepaired hole, or a team repair, it may be something as simple as a pull or a hanging thread.  In the end, it ALL counts.
By the way, here is some video from the goal pictured above.  Tap the stick, let it rip, and pump the fist.  Beautiful.
In a related jersey note, the Avalanche are now auctioning off their game worn jerseys rather than going through The MeiGray Group.  For us long-time jersey collectors this has been a transition, but things are still okay.  Here's the new tagging that lets collectors know this jersey is an authentic game-worn Avalanche jersey.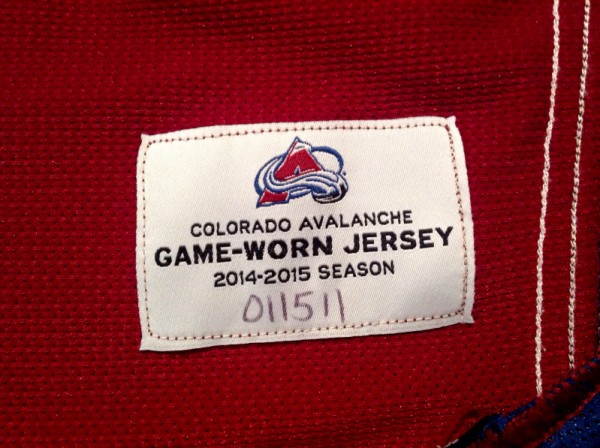 According to the Avs, and assuming my math is correct (which is always a stretch), Erik Johnson wore this jersey in 13 games at Pepsi Center (minus the home games when the team wore their blue alternate jerseys.)  He recorded five goals and three assists in those 13 games.  Here are the other four goals he scored (in addition to the video linked earlier in this post.)
October 30, 2014 against the Islanders.  This rocket gave the Avs a 5-0 lead in the third period.  Icing on the cake time.
November 22, 2014 against the Hurricanes.  This wicked wrister scored just after the power play ended got the Avs within a goal of the Canes in the second period.  Watch Johnson change the angle (Milan Hejduk style) just before he shoots it.  Spectacular.
In mid-December Johnson really started to heat up beginning with a two-goal effort against his former team.  The second goal is already linked above.  Here's the first goal he scored on the power play on December 13, 2014 which gave the Avalanche a 1-0 lead later in the first period.  This time E.J. goes with the big slap shot.
The final goal Erik Johnson scored while wearing this jersey capped a four-game goal streak (the first four-game goal streak by an Avs defenseman since Sandis Ozolinsh did it in 1996) and a stretch where Johnson scored six goals in six games.  This was on December 27, 2014 against the Blackhawks and gave the Avs a 2-1 lead about halfway through the first period.  He joined a potential rush and almost ended up giving up on that rush and getting back on defense.  Then, thankfully, Johnson noticed that Ryan O'Reilly had the puck and some space.  The rush was back on.  It's always cool watching hockey IQ at work.  Watch this highlight once and check out O'Reilly's work to gain the puck.  Watch it again and check out Erik Johnson's feet.  That's hockey!
So there's much of the journey of this jersey.  Plenty of highlights in a career first-half (plus a few games more) of a season.  I'm sure I speak for many of you when I say that I wish I could have seen the rest of Erik Johnson's 2014-2015 season.  Sometimes things just aren't meant to be.
Either way, here's to hoping that Erik Johnson's best hockey with the Avalanche is yet to be played.
Let's Go E.J. and Let's Go Avs.
***Special thanks to my friends at Avalanche.nhl.com for the statistics, videos, and details.  Creating this post was much simpler (and fun) because of the work you do.