Podcast: Play in new window | Download | Embed
In this show, James "Tapeleg" Gralian and Jay break down all of the Avalanche games since our last podcast, we talk about the Avalanche's chances in this year's playoffs, we answer your #AskAHP questions, and we discuss cupcakes because #CupcakeStrong.  Those topics and much more Avs and hockey stuff in episode #89 of The Avs Hockey Podcast, your home for almost everything Avalanche.
The Colorado Avalanche, your 2013-2014 Central Division Champions!  Another banner hanging in Pepsi Center? Yes please!
Useful links mentioned in the show that are worth checking out:
Brad Malone vs. Derek MacKenzie.  Advantage: Brad Malone
Tyson Barrie and Nate Guenin try to follow the bouncing puck while covering Blue Jacket players. Outcome: Not favorable.
April 5: Jay wins #AvsHeader again after the Avalanche defeat the Blues 4-0 and become the only NHL team to defeat every other NHL team this season.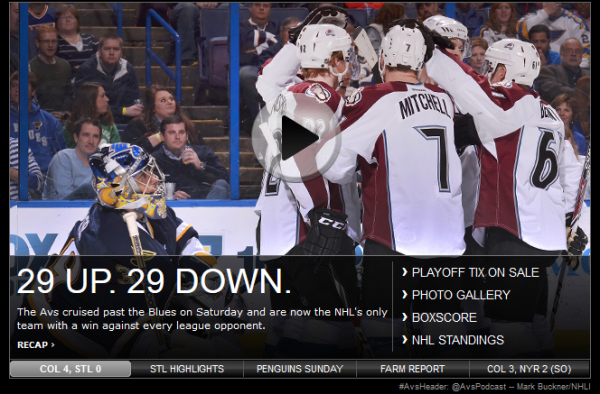 ESPN.com's Pierre LeBrun's piece on Patrick Roy's impact on this season's team, complete with a horribly lettered Roy jersey.
NHL.com picks Patrick Roy for the Jack Adams Trophy.  Sounds good to us.
NHL.com picks Nathan MacKinnon for the Calder Trophy. This sounds good to us as well.