My jersey problem addiction passion has been well documented here throughout the years, but cards were my passion way before jerseys.  I have been collecting sports cards of all types for over 30 years.  My collection and its focus has definitely evolved over time, just like the hobby has, but my interest and "thrill for the hunt" has never wavered.  I thought now would be as good as time as ever to share some of my game used Avalanche cards and where they came from on the jerseys.  I find it interesting to perform the research and it's fun for me to document and share.  Definitely a win-win.
To best bridge that gap between my jerseys and my cards, Panini America produces a set of Prime Authentics cards in their Prime release.  These cards feature tagging that's placed within the NHL jerseys that are worn by the teams on the ice.  The Colorado Avalanche use MeiGray as their authenticator, so their Prime Authentics cards feature the MeiGray tag that's sewn into every jersey every Avs player wears throughout the NHL season.
To begin, here is one of J.S. Giguere's Prime Authentics cards from the 2012-2013 Panini Prime set.  It is numbered 2/2 (printed on the left side of the front of the card), meaning that there is another one of these full tag cards out there somewhere.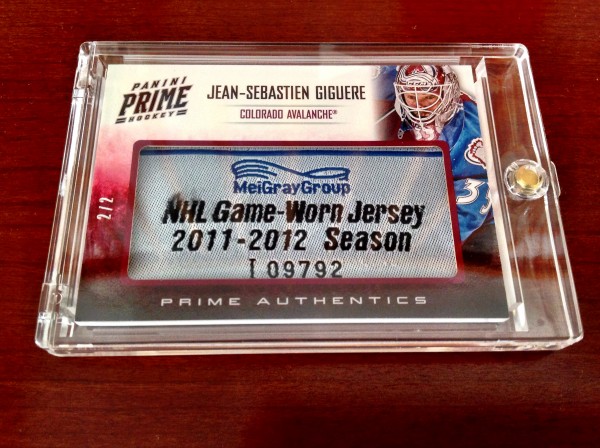 MeiGray releases a population report every season documenting when each jersey was worn so all the details that I need to figure out which jersey this tag was on is pretty simple.  It is from Jiggy's set one alternate jersey worn during the 2011-2012 season.
Next, here is a Gabriel Landeskog card from the same set.  It's numbered 3/3.  There is one more of the three on eBay right now, but the seller is asking way too much for it.  That happens.  That also makes me happy I have this one.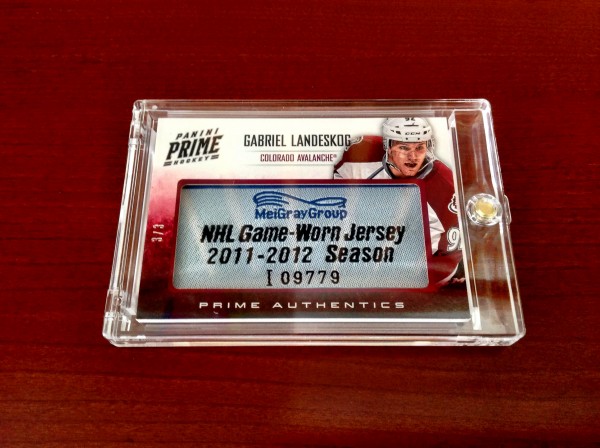 This is also from the Avalanche's first set of alternate jerseys they wore during the 2011-2012 season.
The last from this set in my collection (until more come along, obviously) is a Matt Duchene numbered 2/2.  The original seller of this card started the price at a little higher than what the card was worth but they incrementally dropped the price until I couldn't resist anymore.  Those are the eBay sellers that I prefer.  That's how you move cards and make money.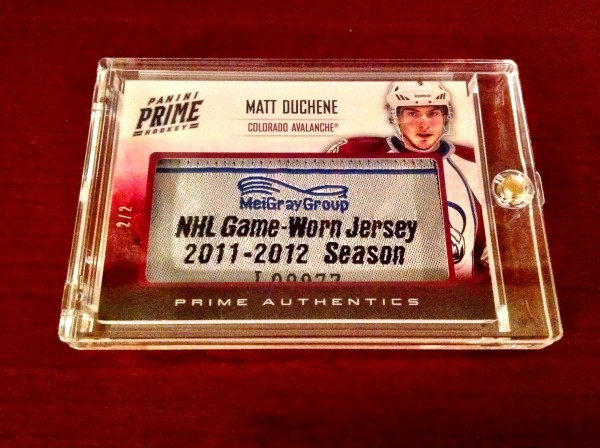 The number on this tag indicates that this jersey was the burgundy set three jersey Duchene wore during the 2011-2012 season.
Panini Prime Hockey includes many other awesome subsets as well.  Next up is the Prime Colors series.  This features patches cut from emblems and patches on the jerseys.  When I saw this unique patch I had to have this card.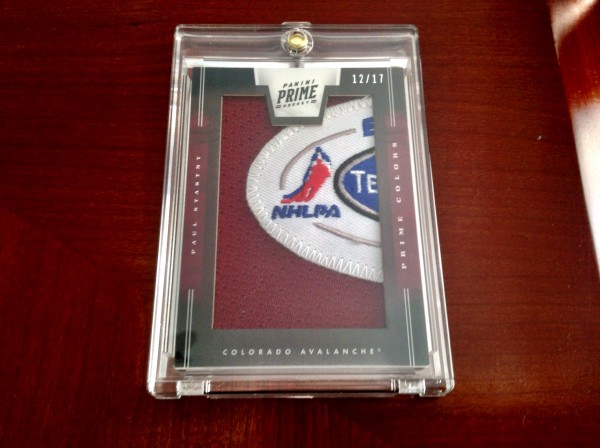 This is a Paul Stastny patch numbered 12/17 from the 2011-2012 Panini Prime Prime Colors set.  The patch was worn in one game during Paul Statsny's rookie season so I easily can track the history behind this jersey as well.  It was worn on January 5, 2007 at Pepsi Center.  This was a promotional set of jerseys each NHL team created in partnership with Garth Brooks' Teammates for Kids Foundation.  The jerseys were then auctioned off and the proceeds benefited the cause.  I have a Ben Guite game issued jersey from that game in my collection so I can share with you exactly what an entire jersey made for or worn in that game looked like.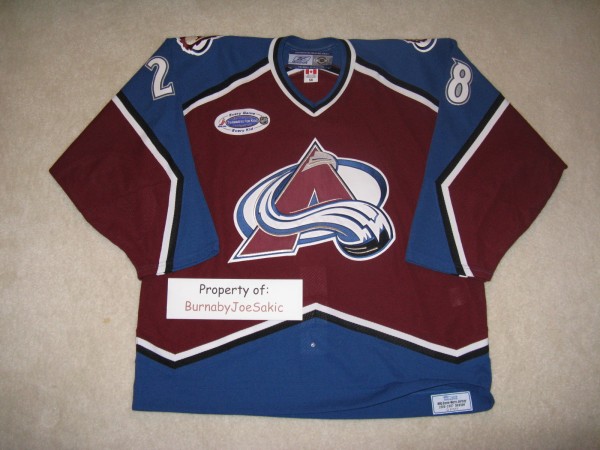 It's a little disappointing that a jersey that was worn in only one game has now become pieces of jersey in hockey cards, but when card companies acquire jerseys they obviously have that option.
Last, the Panini Prime set features a subset called Genuine Letters.  These cards are entire letters cut from the nameplates of game worn jerseys.  I featured my 2011-2012 Milan Hejduk complete Genuine Letters set in a blog post here.  And just for reference: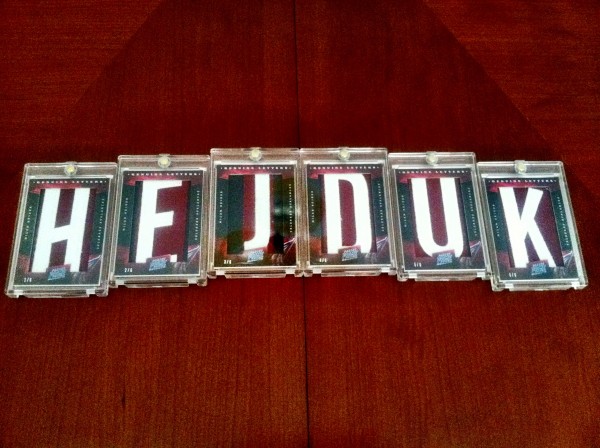 I'm not planning on completing this set, but a Gabriel Landeskog Genuine Letters card from the 2012-2013 set made its way to my collection not too long ago.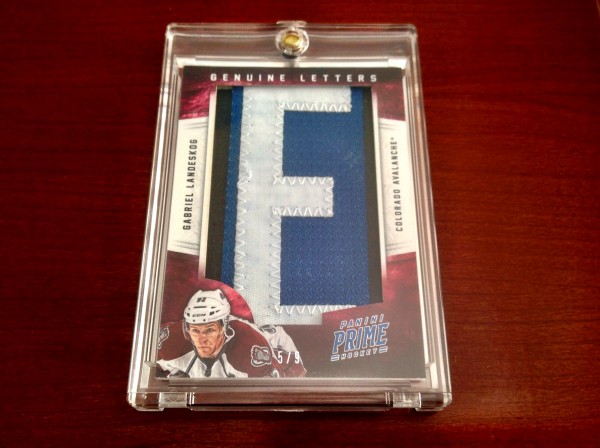 This card, as you can see toward the bottom of the front, is numbered 5/9.  This doesn't mean that there are nine of these "E" cards available, this means that "E" is the fifth letter in Landeskog's last name.  Also, it's easy to see that this comes from an alternate jersey that Landy wore on the ice.  Unlike the MeiGray tag cards though, it's impossible to tell which alternate jersey this came from.
This will be the first of a series of posts that I'll write about some of the cards in my collection.  I'm looking forward to sharing what I already have in my collection, as well as the cards that will join my collection in the future.  Thanks for taking the time to read it.
And, as always, whether it's jerseys or cards, Let's Go Avs.