Podcast: Play in new window | Download | Embed
In this show, James "Tapeleg" Gralian and I discuss: the Avalanche's hot start, Patrick Roy's debut as the Avs' head coach, and we give Cody McLeod credit for playing in his 400th game in the NHL as well as talk about his hit on Detroit's Niklas Kronwall.  Those topics and a whole lot more Avs and hockey stuff are included in episode #83 of The Avs Hockey Podcast.
The audio quality of this show, as James explains in the intro, isn't what we or you are used to on The AHP, but it was the best we could do and it's way better than nothing.
Welcome to the season, thanks for joining us, and Let's Go Avs!
Links for reference:
Deadspin: Patrick Roy Goes Nuts, Breaks Stuff
A great .gif of Patrick Roy killing the partition
A John Buccigross column on Patrick Roy
Steve Downie's hit on Predator forward Roman Josi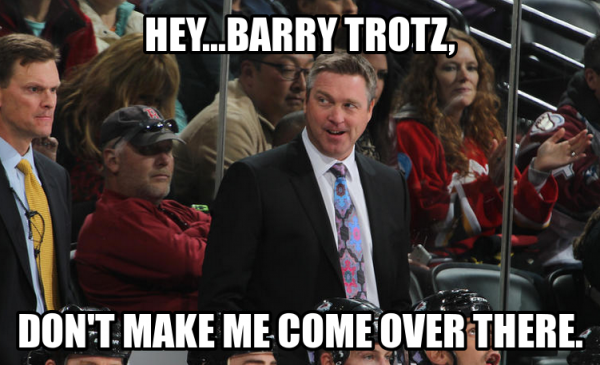 Matt Duchene skates faster than you do.  He's much faster than a tired Patrice Bergeron as well.  Here's proof.
Some more Matt Duchene love from Backhand Shelf's Justin Bourne
Puck Daddy's Harrison Mooney writes a piece about his five most surprising teams from the first two weeks of the NHL season
The Canadian Press' Stephen Whyno and his column on Varly
Puck Daddy Article by Greg Wyshynski about Varly's performance so far this season
Video and breakdown of Cody McLeod's hit on Niklas Kronwall and Mike Haynes' comment afterward from Harrison Mooney at Puck Daddy
James and I talked Avs with Jeff Ponder from  The Bash Brother's Podcast.  Check that out here.
And finally…