To begin, I wanted talk about jersey cards.  I am well aware of some of the strong feelings that come along with cutting jerseys up and placing them in trading cards.  Big time jersey collectors despise sports card companies for this practice and I understand those feelings.  There is a sense of history that is definitely lost when a jersey gets cut up into pieces.  I have been a sports card collector for three decades and have followed this progression closely.
There is also the other side of this issue.  I can only comment officially on Avalanche jerseys since I follow them so closely.  Each player wears three home burgundy jerseys, three white road jerseys, and two alternate home jerseys throughout the NHL season.  My point with providing these numbers is that, in most cases, there are  plenty of jerseys made to keep everyone happy.  If there is history behind a jersey, keep it intact.  No problem.  If the fun can be spread out and shared with a card company to make some really fantastic cards, there are jerseys left for that as well.
I actually live both sides of this argument with my collection.  I'm a big fan of jerseys and a big fan of cards as well.  My collections of both thrive either way and that's fun.
With that addressed, onto the story…
Milan Hejduk has always been one of my favorite Avalanche players.  He is well represented in my collection in both jerseys and cards.  When one of his Genuine Letters nameplate cards came up for auction on eBay last year it caught my eye.  Panini America took entire nameplates off of jerseys, cut each letter off the plate individually, and placed those letters in cards.  I figured being fortunate enough to have one of the cards from Hejduk's name in my collection would be pretty cool.  Each of the cards was numbered out of six, but that didn't mean there were six of each card.  The number out of six was referring to where that letter was in his last name: The "H" was 1/6, the "E" was 2/6 and so on.  This made each of the cards a true 1/1.
I originally didn't set out to complete the set.  What were the chances of actually completing this mission anyway?  Not good, but after acquiring a couple of the cards I figured it was worth trying.  In the end it took a lot of time, patience, and some luck as well (of course.)
Here we go…
Not long after the Panini Prime product hit the market, on September 4, 2012, I began my journey when I won the letter "J" on eBay.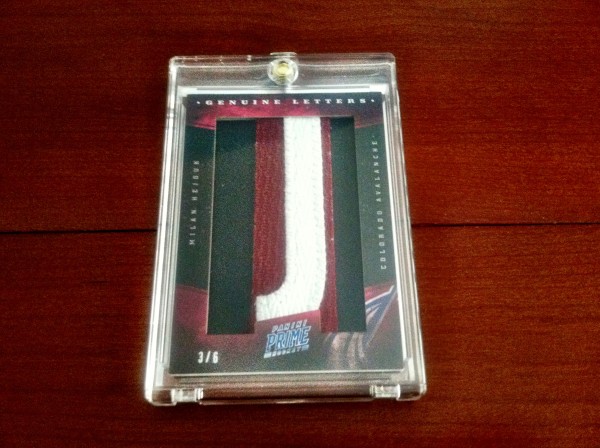 September 23, 2012.  "D" acquired.  The "H" was also on eBay at the same time.  This is when things became more interesting.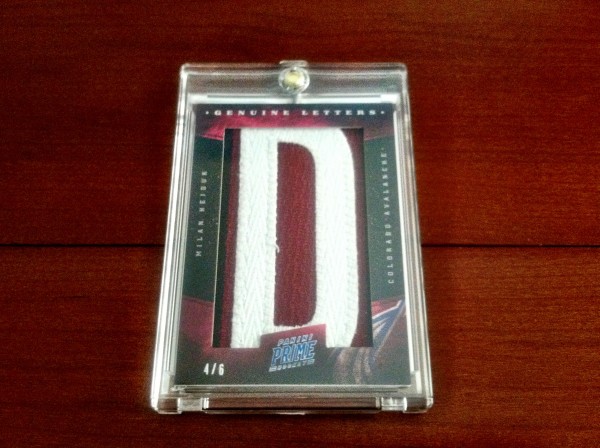 Also on September 23, 2012. "H" acquired.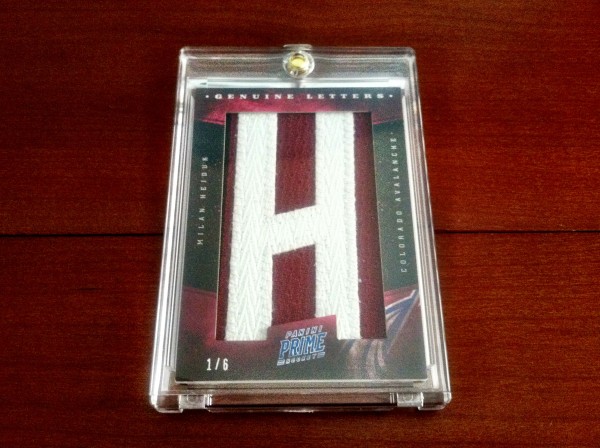 Halfway home already.  Might as well go for it now.
September 27, 2012. "U" acquired.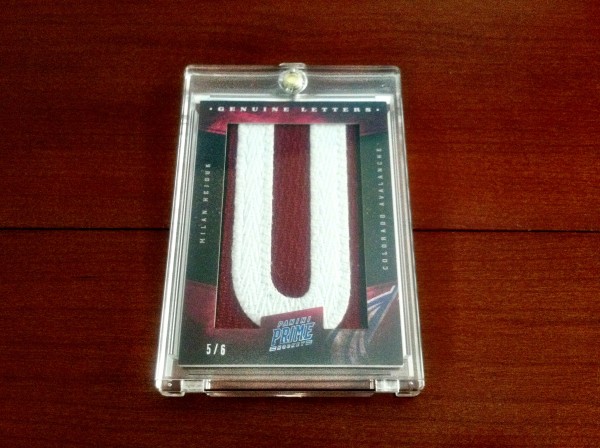 October 3, 2012. "E" acquired.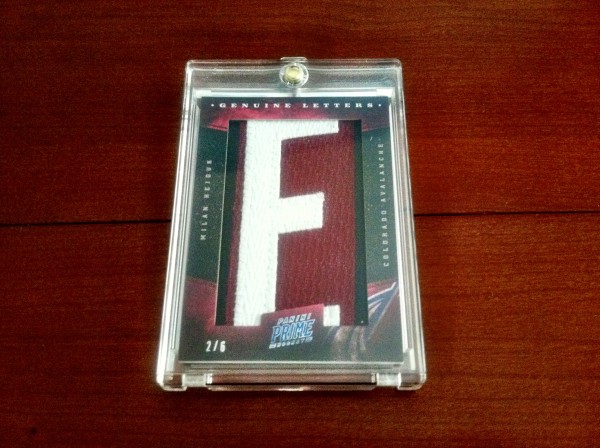 Within one day short of one month, I had five of the six letters in Hejduk's name in my collection.  Awesome.  Slam dunk, right?
This is when I began to worry as well.  What if that last letter was sitting in an unopened case or box somewhere and was never going to be opened?  What if someone got it in a pack, knew it was basically a 1/1 and wasn't going to sell it no matter what?  What if someone had the card, and since it was a 1/1, thought that it was worth way more that it actually was?  That happens on eBay pretty often with 1/1 cards.  I wasn't going to be a part of one of those deals.  I have my limits.  What if someone had the card in their collection and was thinking about completing the set like I was?  (Even though they would have pretty much no idea that one lucky person already had the other five cards in the set.)  This was getting complicated.
The longer I waited, the more I thought that I was just going to have to settle for having five of the six cards and calling it "close enough."
Fast forward almost ten months to late July, 2013…
The "K" shows up on eBay and I am beyond pumped.  It seems like I checked the auction every hour, on the hour, for the next week.  The price stayed low, which is always good.  I was ready to win this thing at the last minute.  The tricky part about that last minute was where I was physically when the auction ended.  I was at a soccer match at Dick's Sporting Goods Park.  As what happens at large sporting events, there were too many people in one place and not quite enough bandwidth.  I placed my bid with about ten seconds remaining in the auction and the bid never went through.  The ending price of the card was about half of what I paid on average for each of the other five cards I already had.
Damn.  This was a disaster.  What was I going to do now?  After beating myself for a bit about knowing better than to bid at the last second with a slower Internet connection I figured it wasn't time to give up quite yet.
I sent an email to the original eBay seller and asked them very, very politely for the email address of the person who won the auction for the "K."  Luckily enough, they gave it to me.  I emailed the new owner of the card and offered him twice as much for the card as he paid for it in the auction.  My offer to the new owner was right around what I was going to bid on the card originally anyway.  Through our discussions the new owner told me he was a big Milan Hejduk fan and already had a similar card from another set.  He agreed to sell me the "K" almost immediately.  Unreal!
A few weeks later this arrived in my mailbox: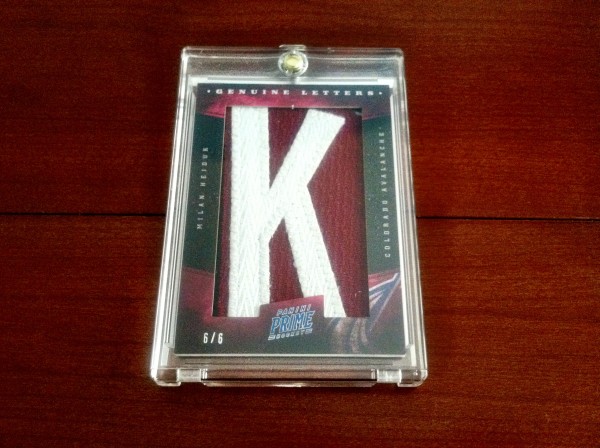 It's a beautiful card with a heck of a story behind it.
Here's the complete set.  I'm a very proud Papa.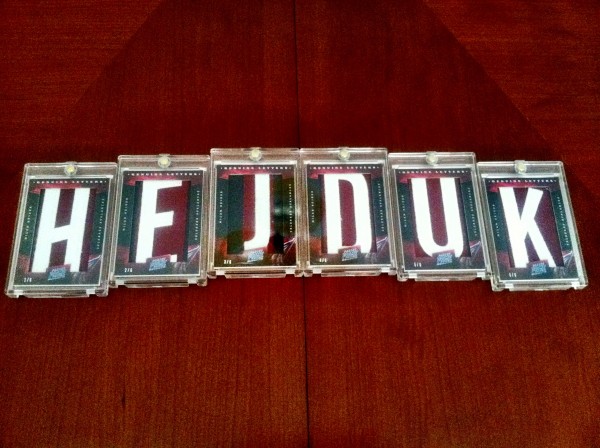 As I said before, I originally didn't set out to complete a set at all.  It just kind of happened thanks to some patience and a lot of luck.
So if it's an entire game worn jersey, or a particular sports card, each of them has a potential story to tell.  This set has a great story that I was excited to re-live and document it here.  I'm still not sure if I'll go after creating more sets like it knowing that the chances aren't very good to do this successfully one more time.  So, quit while I'm ahead or choose another adventure?
I guess I'll just wait and see what shows up on eBay next.