Game worn jerseys are generally expensive.  This is definitely not breaking news or anything.  I have my limit on what I'll spend on them.  I'm not one of those people that will ruin my credit or skip a mortgage payment to buy a jersey for my collection.  This limits my options at times and that's okay.  More money for more jerseys is always a good thing.
With that said, I have spent pretty good amounts of money on some pretty sweet jerseys in the past (if I don't say so myself.)  For example, there's this Joe Sakic game-issued jersey (with plenty more details here):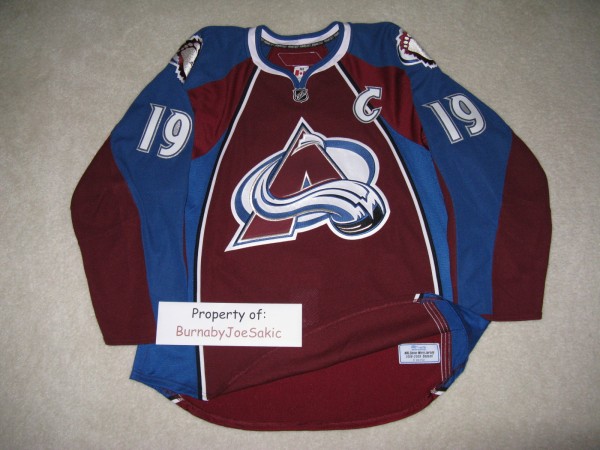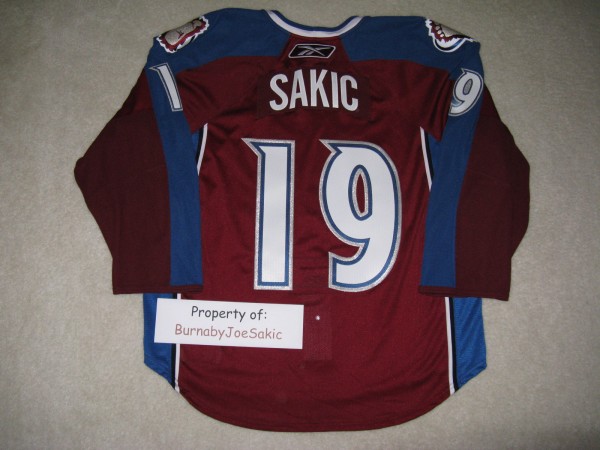 There's these Peter Forsberg game-issued jerseys (with plenty more details here and here):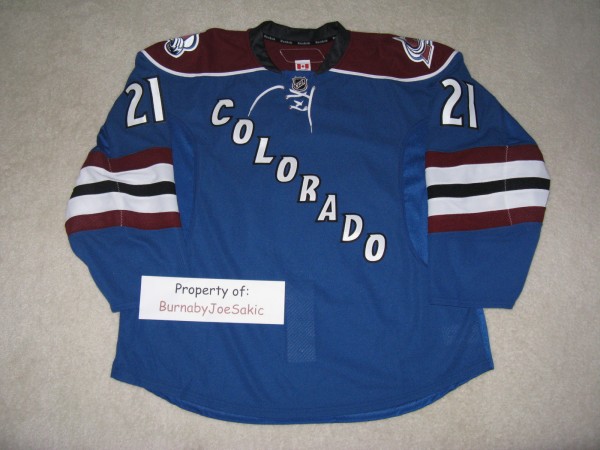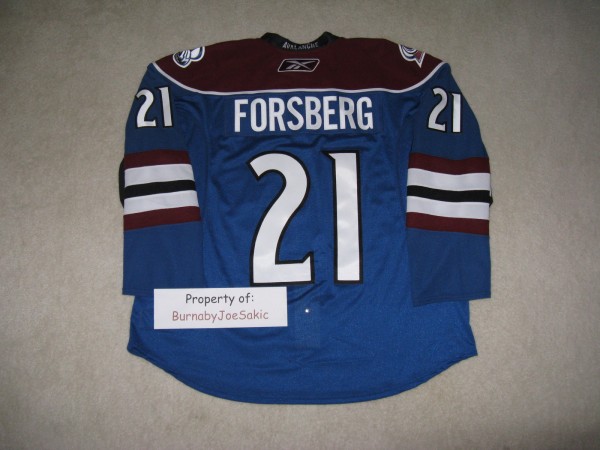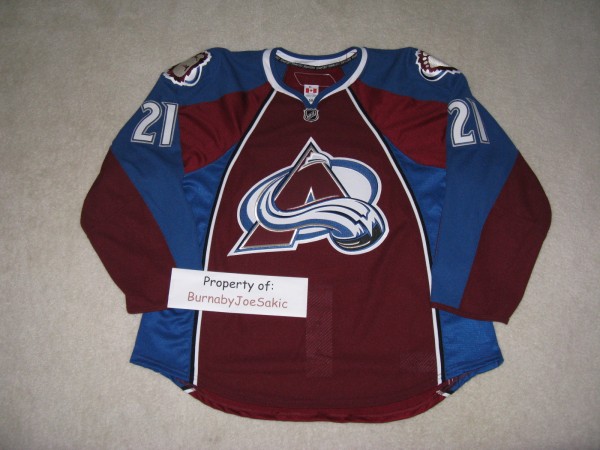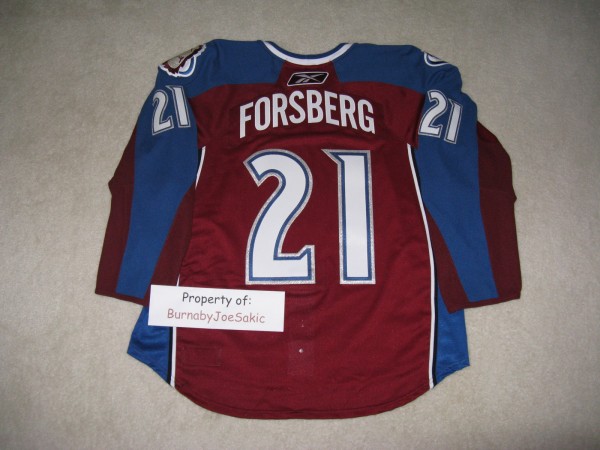 There's this Peter Forsberg game worn and photomatched jersey which was worn in one game in 2004.  Plenty more details here.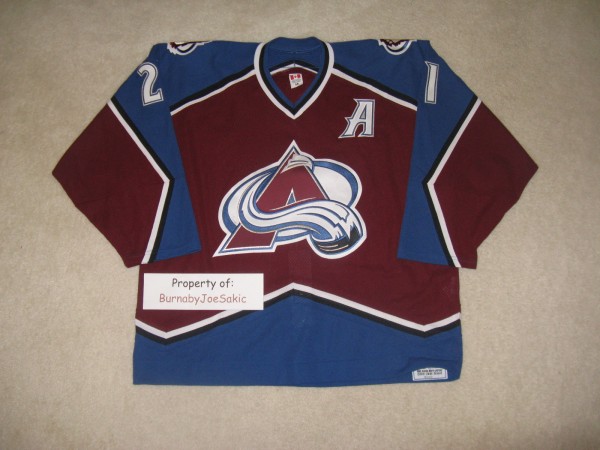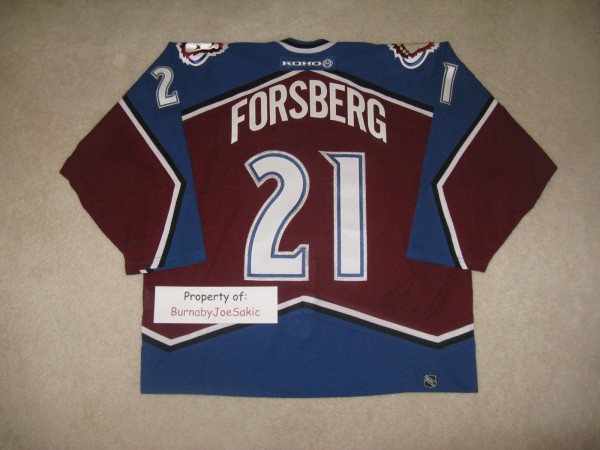 And last, but definitely not least because it's most relevant to this post, Ryan O'Byrne's game worn Peter Forsberg retirement night jersey.  More details here.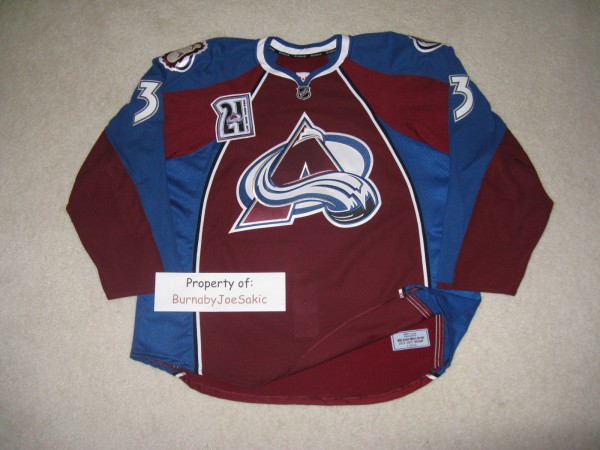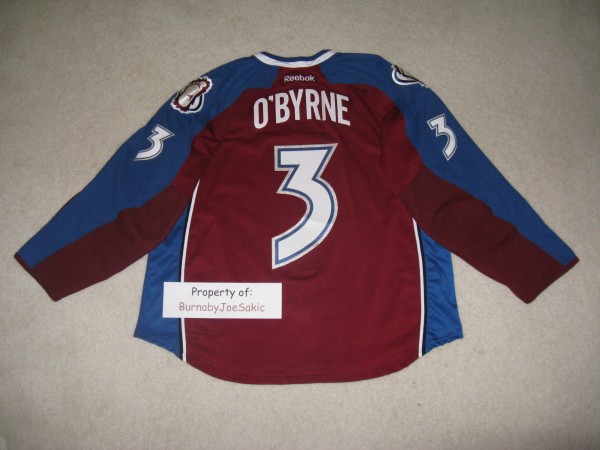 The jerseys above were not cheap by any means.  In order to have nice jerseys in the collection it's essential that money is spent.  On the other hand though, there are some ways around this.  It involves some creativity, some patience, and some strategy, but it's definitely possible to create a model of the same jersey that a player wore on the ice for a fraction of the cost.  One of the newest jerseys in my collection is an example of this.  Check it out: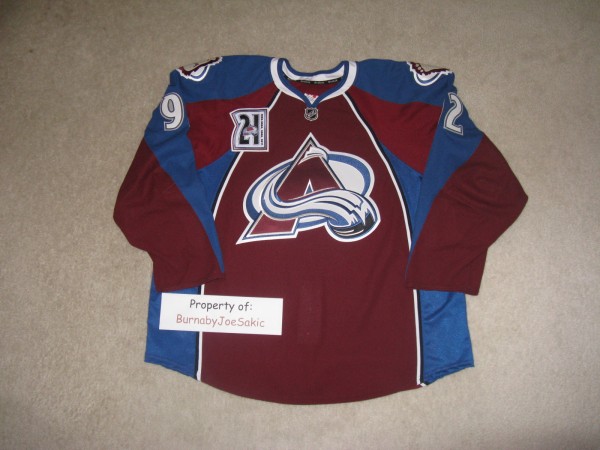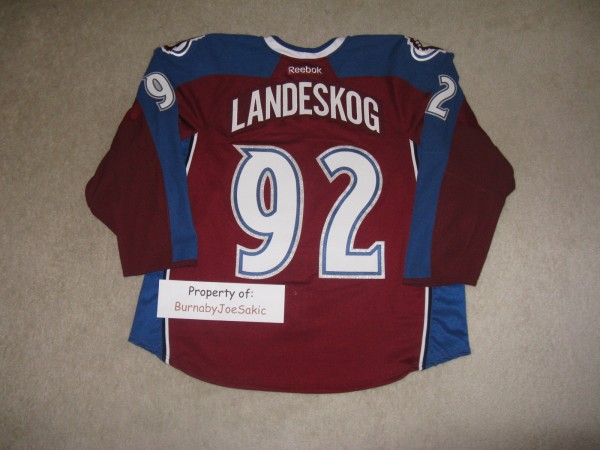 The jersey above is modeled after the jersey that Gabriel Landeskog wore during his first game in the NHL.  Landeskog began his Calder Trophy campaign on October 8, 2011 at Pepsi Center against the Detroit Red Wings.  The The Ryan O'Byrne jersey pictured above was the actual jersey O'Byrne wore during the actual game (details to come.)  The game worn Landeskog from that same game went for $3,521.  That price was obviously a little much for me, but that doesn't mean that I couldn't create something just like the game worn Landeskog for my collection.  Here are the steps I took in order to make that happen.
Step One: Get a Peter Forsberg night patch.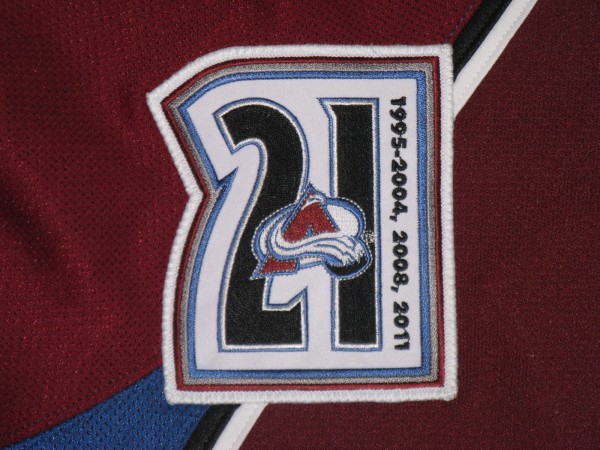 These patches were on sale at Altitude Authentics (the retail store at Pepsi Center) during and after Peter Forsberg night.  No problem.  I got three so I still have two that are waiting for jerseys to go on.
Step Two: Get a jersey to put the patch on.  Blank 2011-2012 jerseys in the same style the players wear on the ice are no easy find.  They aren't sold at retail and don't show up on eBay really ever.  The game-style jerseys on NHL.com aren't very close to what the players actually wear on the ice.  I like the real thing, so I have to work a little harder to make jerseys happen.
Small aside, and as I've mentioned in previous posts, the neck tagging on the 2010-2011 jerseys was different than on the 2011-2012 (and current) jerseys.
The back of the neck on the 2010-2011 jerseys looked like this: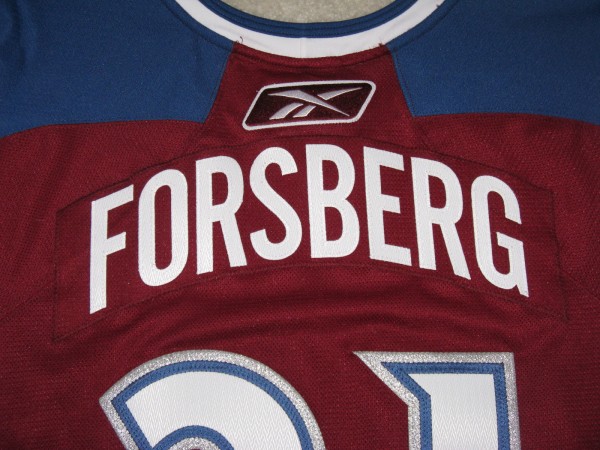 While the back of the neck on the 2011-2012 (and current) jerseys look like this: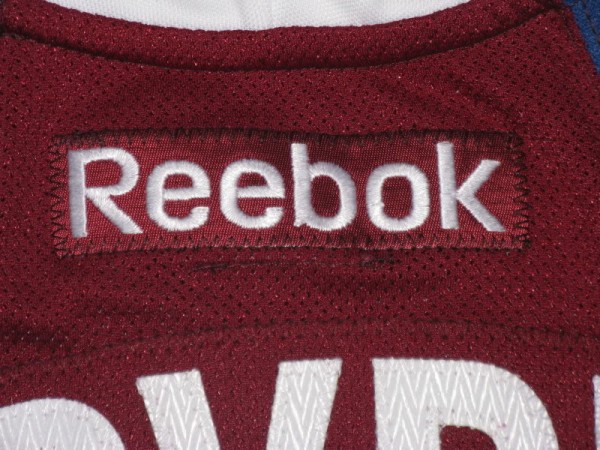 I pay attention to the small details on jerseys and I want every detail on the jerseys in my collection to be correct.  This is one of those small details.
In late spring of 2012 my friends at The MeiGray Group began listing a game issued jerseys from earlier in the season.  Included in these game-issues were a couple of Patrick Rissmiller jerseys.  (The other Rissmiller jersey I purchased was a blue alternate that I also had made into a Landeskog.)  To my advantage, Rissmiller is a big guy.  He wore a size 58+ jersey.  That's the size jersey I like to wear to games.  Rissmiller wasn't signed to a contract in Lake Erie during the 2012-2013 lockout so I went ahead and made the decision to purchase the jerseys and have their nameplates and numbers stripped off of them.  If Rissmiller was still in Lake Erie, in other words, if he ever had any chance of ever playing for the Colorado Avalanche, stripping the jerseys would not have been an option.
Step Three: Get the patch and the blank jersey to Denver Athletic so they can put the patch, "Landeskog", and "92" on the jersey.  Denver Athletic letters the jerseys the Avalanche wear on the ice so that's obviously a no-brainer.
Those three steps took a while from start to finish, but the finished product is beautiful and is definitely ready to be worn to a game at Pepsi Center.  And after doing all the math, I paid less than 5% of what the game worn jersey went for at auction to make the jersey myself.  Not bad at all.
Sometimes the jersey game is about having money available at the right time.  Sometimes it's seeing an auction that others have overlooked.  Sometimes it's about being patient and taking your time for the entire process to run its course.  The patience and time it took to get through the process of making my Landeskog rookie debut jersey is one of the things that helps me feel really good about having this jersey hanging in my closet.