As a fan, there are things that I prefer to see from my favorite team and there are things that I don't prefer to see.  Throughout this post I will talk about both.  Let's also just assume that I've seen enough of what I'd rather not see lately to make a blog post.
The 4-3 overtime loss to the Ducks on Sunday night was painful.  The Avalanche got a point, but this game definitely felt like a regulation loss for a few different reasons.  Let's break down some of the situations that continue to rattle around in my head even a few days later.
The play leading to Corey Perry's first goal of the game was controversial.  Take a look.
On his way (with the emphasis on "on his way") to defend a crossing pass or a shot, Greg Zanon's stick was knocked out of his hand by Corey Perry, who then obviously ended up with plenty of room to score the goal.  The non-call?  I get it.  There's no doubt that this could have been called a slash or an interference, but there are also a few different things that could have happened on the play as well.
It's clear to see that Greg Zanon was not in the best of positions to defend this play.  He gets in "scramble mode" pretty quickly after he loses track of Ryan Getzlaf while also underestimating how quickly Getzlaf was moving.  As a defenseman, offensive players behind you is not a good thing at all.  I'm no hockey coach or hockey expert, but in my opinion, while in scramble mode, Greg Zanon's stick is not quite where it should or could be.  I think we'd all like his stick in the potential passing lane rather than dragging behind him.  Corey Perry saw an opportunity and took it.  He gambled and got away with it.  I can't blame him.
What I'm definitely not interested in is the reaction by the Avalanche players on the ice.  I get why they reacted that way, but I'm not interested in seeing it.  Simply, the Avalanche players on the ice were flat beaten on the play.  There's no doubt about that, but Zanon reacting to the official before the play was over and Matt Duchene's and P.A. Parenteau's hands going up in the air after Perry scored didn't look too good on them either.  Watch the replay one more time and focus on the middle of the screen.  Notice how quickly the Ducks are moving forward and how slowly, in contrast, the Avs players are back checking.  I'm really not sure what Stefan Elliott was doing on this play at all.  In my humble opinion, the official's job becomes way simpler when defensive players are where they're supposed to be.  The Avalanche players weren't where they needed to be on this play and we have video to prove it.
Situation number two: I don't have video for this play, but Cody McLeod was taken out along the end boards behind the Ducks goal without touching the puck during this game.  It looked as though he was losing an edge at the time, but the Ducks defenseman rode him pretty hard into the boards as well.  It was a dangerous play that could have been called interference or boarding, but there was no call.
What I was interested in seeing was Gabriel Landeskog making a beeline to the nearest referee  after a stoppage in play during his next shift.  He did it respectfully as to not show the official up.  That's what captain's do.  I'm interested in seeing that as a fan, and I know the officials appreciate this approach while asking about a call or non-call.
Situation number three: Fast forward to overtime.  Ryan O'Byrne is called for a hook that gives the Ducks a powerplay that eventually ends the game.  The Avalanche don't agree with the call.  Again, no video but we all saw the play.  Ryan O'Byrne had been beaten to the front of the net by the Duck forward.  Hooking, or something that looked very much like hooking, was all he could do to prevent an uncontested scoring change by the opponent.  Again, bad defensive positioning putting the official in a powerful position.  The Ducks score quickly on the four-on-three power play.  P.A. Parenteau gets a game misconduct after the final whistle as well.  He wasn't even on the ice for the game-ending goal.  I'm not sure what he said to the officials, but we can all be sure it was not very nice.
Coach Sacco talked about the calls and non-calls after the game.  I'll let you decide what you make of his comments.
Let's look at the big picture here.  The Avs blew two leads during this game, 2-0 in the first period and 3-2 in the second period.  They also gave up three power play goals in this game.  The Avs  led the game in shots after the first period 11-6.  They were then out-shot 33-12 during the second, third, and overtime periods combined.  The Avs had one shot during the entire third period.  One.  And that lone shot happened less than 20 seconds into the period.  In fact, the Avs had two shots on goal in the final 24 minutes and 14 minutes of play.  That's not a pretty picture.
The next morning, The Denver Post's Terry Frei also chimed in on Twitter.  I definitely agreed with what he had to say.  (Start at the bottom.)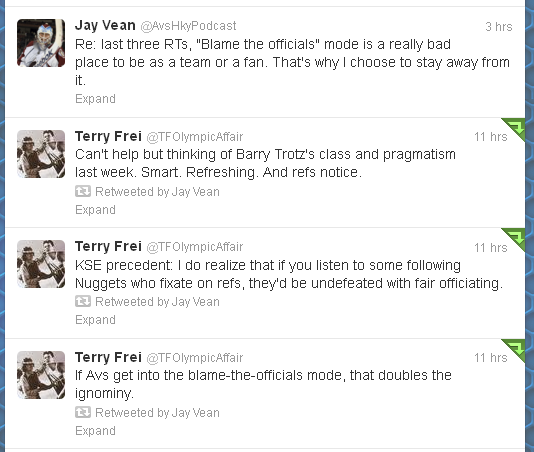 What I, as a fan, am interested in watching is a team that gives itself a chance to win by playing their tails off every game.
I'm interested in watching a team that doesn't have to make excuses for losses because they're too busy working hard to make excuses.
I'm interested in watching a team that takes questionable calls and non-calls and does their best to somehow use them as momentum.
I'm interested in watching a team that is in good defensive position so the officials don't have the option of making a call that has the potential to be classified as "borderline."
I'm interested in watching a team that acts like winners on the ice.
My team doesn't need to get at least one point in every game (like the Blackhawks), but a team with a winning attitude will be successful more often than not, even in defeat.
I'm interested in cheering for a winner.  We all are.
In our podcast and on Twitter I try to not preach about too much, but I do preach about two things when it's a relevant time to mention them.  One, officials don't win or lose games, the players do.  If the officials get any part of the blame for a loss they have to get some credit for a victory and that's never going to happen.  The other thing I preach about is that the bad calls and the good calls evening themselves out over the course of a season.  This game, and how the Avalanche responded to it, made me want to add just a little detail onto my original statement; the bad calls and the good calls even themselves over the course of a season if you work hard enough.
Hey Avs, in my opinion, it's time to work just a little bit harder.  Let's go.