I have been a sports fan for my entire life.  Some of my favorite athletes throughout the years have included, but definitely aren't limited to: Earl Campbell, Billy "White Shoes" Johnson, Tony Dorsett, Alex English, Fat Lever, Gary Carter, Joe Girardi, Walt Weiss, John Elway, Rod Smith, Terrell Davis, and the list goes on and on.
Let's make one thing painfully clear though, I have never cheered and rooted harder for anyone more than I have for Joe Sakic.  It's actually not even close.
One interesting thing though, I've never been able to put my finger on exactly why I respect Joe Sakic as much as I do.  This post is my chance to do just that.
It wasn't necessarily his then record-setting performance in 1996 playoffs:
It wasn't his league MVP performance during the 2000-2001 regular season that eventually led to one of the absolute coolest moments in sports history:
It was about some of this:
http://www.youtube.com/watch?v=zBriH4ZCLnQ
And this too:
It was the fact that no one, not even a Detroit Red Wing, has ever said anything bad about the guy.  That's something that just doesn't happen in sports near often enough.
It was meeting him on the driving range of my Dad's golf club many years ago.  It was me walking up to him, introducing myself, and trying to awkwardly put into words how big of a fan I was of his.  It was him then offering a handshake in the middle of my awkwardness and saying, "Hi, I'm Joe Sakic."
It was Joe being clutch.
It was undeniable class.
It was earning the utmost respect from his teammates as well as his opponents along the way.
It was Avalanche foes who dreaded playing against Sakic and his teams for all of the right reasons.
It was Sakic being known in the local media as "Quoteless Joe."  It was letting his game say everything that needed to be said and a so much more.
It was amazing ability and talent.
It was playing the game the way it's supposed to be played.
It was the complete package that is Joe Sakic.  An absolutely amazing hockey player and an even better person.
It was Joe staying behind at Children's Hospital, after all of his teammates had left on their team bus during one of their unannounced holiday visits, to spend time with a family that appreciated and needed the boost that number 19 brought to their day.  Joe eventually took a cab back to where the team originally left.  (My Mom used to work at Children's hospital.  These are the stories that never make the news.)
It's the huge amounts of money Joe donates to The Food Bank of the Rockies on one condition: no one gives him credit for it.
It's my closet full of Sakic jerseys, 21 (as of right now) to be exact.  Don't believe me?  Check this out.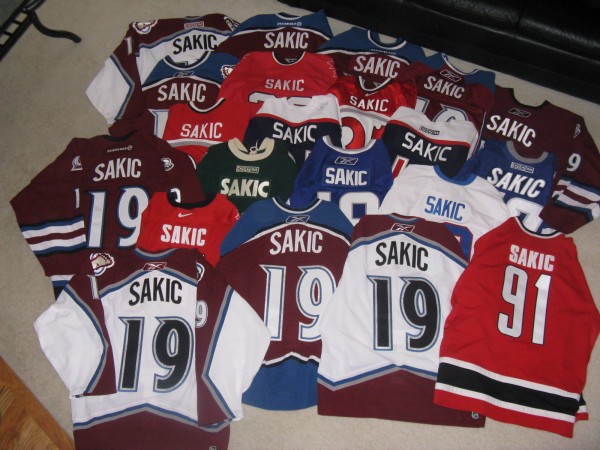 It's literally hundreds of Joe Sakic cards in my hockey card collection.
It's knowing that when you tell someone that you're a Joe Sakic fan that you're never, ever going to get a snarky comment back.
It was quite simply…everything.  (After I wrote this I added up how many things I listed and it was 19.  Go figure.)
The cliche in times like this is, "There will never be another Joe Sakic."  Sometimes that term is just a little overused, but in this case, and I don't care who you talk to, it's the absolute truth.
So thank you Joe Sakic for making me the hockey and sports fan that I am today.  I'm positive I wouldn't love the game near as much as I do without watching number 19 in the burgundy and blue for as long as I did.  There's nothing left to say but congratulations on your Hall of Fame induction.  Enshrined with all of the other all-time hockey greats is exactly where you belong.
Colorado Avalanche hockey isn't the same, and will never be the same, without you.