There are jerseys that I have acquired that excite me.  Then there was this jersey.  This was about two miles beyond excitement.  Here's the story, from the very beginning.
I have a friend in the jersey business who emails me once in a while to make sure I've seen a jersey that he thinks I might be interested in.  For the most part, I have already seen what he sends me, but it's always good to hear from him anyway.  People looking out for my collection is always appreciated.  This jersey slipped through the cracks though.  I had not seen it and I don't think I would have without his email.  I owe this one to him.  The subject of the email was, "You keeping an eye on this one?"  I obviously wasn't.  The jersey was being offered by Heritage Auctions.
This jersey was what is known as a "one game wonder" as well.  That usually that has to do with a patch that's worn during a single game.  This jersey was actually part of a patchless promotional set of jerseys the Avs had made during the 2003-2004 season.  Forsberg wore it on March 23, 2004 in a game against the Chicago Blackhawks at Pepsi Center.  Most of the teams in the NHL had a promotional set of jerseys made and worn during that season as well.  I wasn't sure whether it being worn in only one game would have an impact on the final price, but I would soon find out.
This auction was an interesting one.  There were two parts to it: an online component and a live component.  Bidding started low during the online listing, so I jumped in.  The Internet bidding ended with me as the high bidder.  Step one complete.  Then things got interesting.  The live auction option was available for only the people that had already placed a bid on the jersey during the Internet portion of the auction meaning it was now between myself and five other bidders.
Fast forward to mid-morning of the next day and the online live auction had now begun.  There were almost 900 lots total in the entire auction and the Forsberg jersey was about 20 from the end of that seemingly endless list.  It was obviously going to be a while.  That "while" actually being close to nine hours until it was finally my turn.  During the live auctions that I watched online I had seen very few items sell for the same price as the end of the Internet bidding.  People were watching and bidding.  Needless to say, I was worried.  I actually thought I'd get buried, especially since I wasn't willing to go any higher than I had during the live auction.
The Forsberg jersey finally came up for auction, again.  The auctioneer announced it, and within 10 seconds, (after all that waiting and without any additional bids from my competition) this jersey became the newest addition to my collection.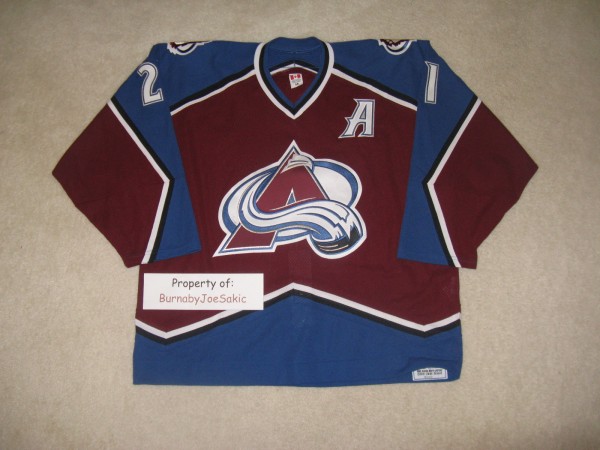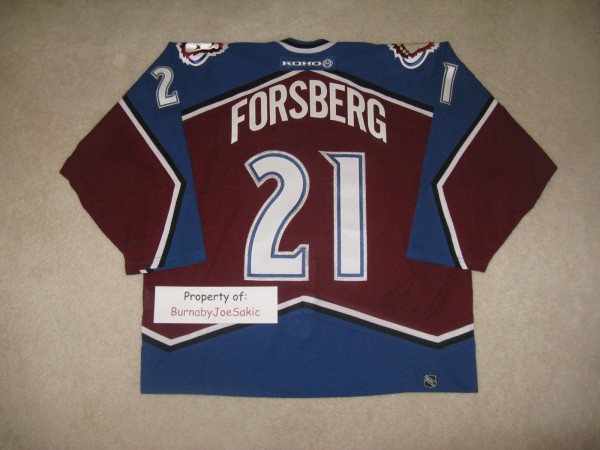 Now it was time to try and photomatch this jersey.  Being as it was only worn in one single game I thought the chances of this were pretty much slim to none.  As I examined the images the auction provided I noticed one distinct mark on the Avalanche crest that would be a possibility for a match assuming that Getty had any images from this game.  This was my only hope.  (By the way, for the items that were available for the online live auction Heritage Auctions provided outstanding images.  This one is just a small part of the "scrollable" image they had of the front of this jersey.  There were images of the same size and quality for the back, the size 58 hang tag, and the MeiGray Group tag as well.)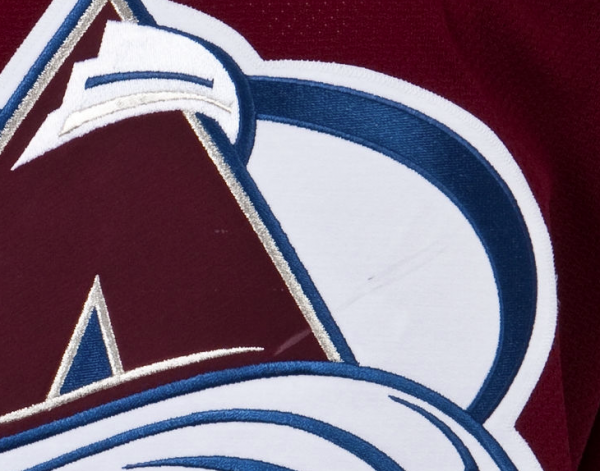 Next stop, Getty Images.  I had to get lucky and hope there was a Getty representative there to take pictures during this game.  Their photographers aren't there every game.  I searched "Peter Forsberg 2004" and crossed my fingers.  I navigated the pages until I got to the games played in March.  Luckily, there were three pictures from the game Forsberg wore this jersey in.  One of them was this.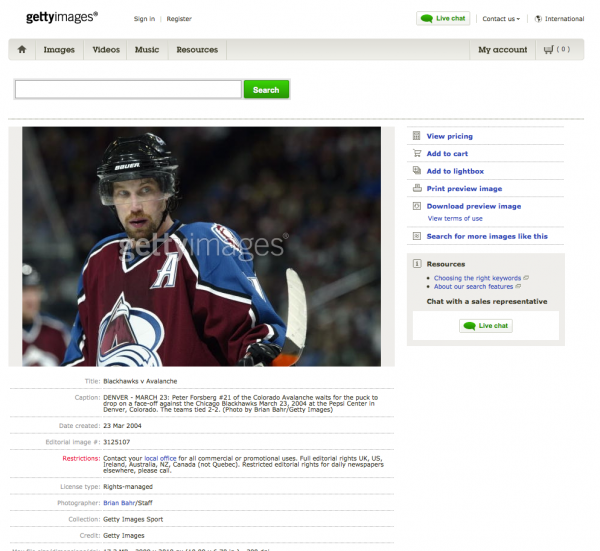 Here's another capture from another post I ran across in my research.  It's a little easier to see the slash mark on the crest in this image.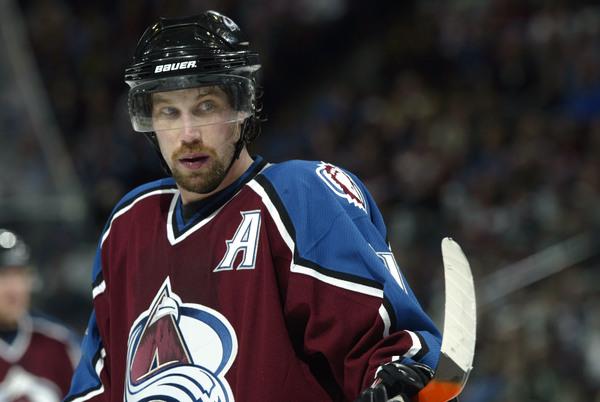 Right next to the nearly horizontal silver streak in the middle of the crest you can clearly see the photo match.  It's a beautiful thing.
The other interesting detail about this jersey, as well as this picture, is that I've used the image above as a profile picture on Twitter before.  I've always liked this picture.  For lack of a better term, it's bad-ass, just like the Peter Forsberg we all knew and loved.  Never did I think I would own the jersey Forsberg was wearing in the image above, but now I do.
Regarding the final cost to me from the auction, it was a fraction of what I've seen other Forsberg game worn Avalanche, Predator, or Flyers jerseys offered and sold for.  I guess the one game wonder aspect worked in my favor in this case.  That made this deal even sweeter.
So to sum it all up: a great price, an undeniable photomatch, a pretty decent performance (as usual) by good ole number 21 while wearing this jersey in action (click here for the game summary), and documentation from my friends at The MeiGray Group that the jersey was worn in one game and one game only.  Any jersey with these credentials is obviously more than welcome to join its friends in my collection.