Podcast: Play in new window | Download | Embed
In this podcast, my podcast partner James "Tapeleg" Gralian from "The Rink Podcast" and I talk about:
Whether Varly or Jiggy should be the Avalanche's number one goaltender right now.
We make it clear that you should be very happy that Paul Stastny is not Montreal's Scott Gomez.
We make Twitter predictions on what we think the Avs players and coaching staff did during the All-Star break.
We talk about how creepy Pierre McGuire can be.
And we have yet another installation of Peter McNab's "That's What She Saids."
Those topics and a whole lot more Avalanche stuff in episode number 70 of The AHP.  Thanks, as always, for the support Avalanche fans.
This episode is brought to you by a 2008-2009 game issued Avalanche jersey as made for former Avalanche goaltending prospect Peter Delmas.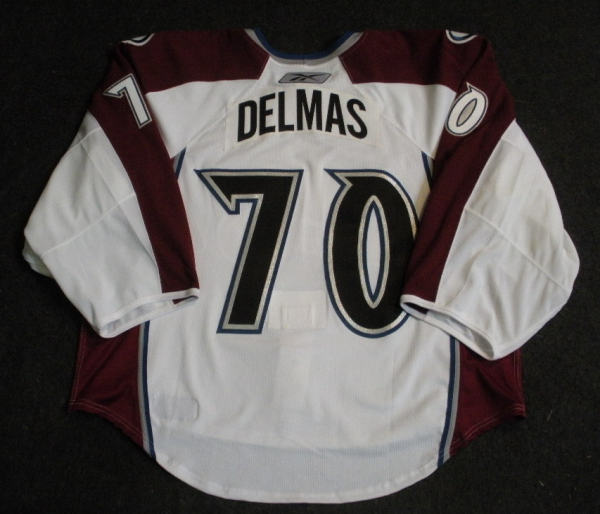 Helpful Links:
Varly refuses to talk to the media after a 6-1 drubbing in Phoenix on January 16, 2012:  http://goo.gl/lihqC
More Paul Stastny talk: Tapeleg's Take, January 25, 2012
Jay's tweet from the same day: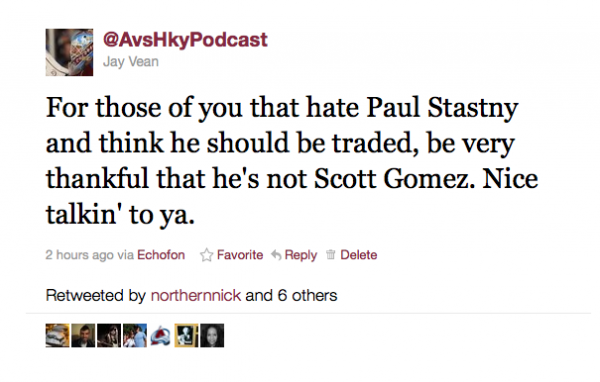 Paul Stastny as compared to Scott Gomez: Scott Gomez post on Backhand Shelf bu Chris Lund
DidGomezScore.com — Ouch.
What did the Avalanche do during the All-Star break?  Here are some guesses from us and a few other Avalanche fans: #AvsASGbreak 1/31/12
Proof that Pierre McGuire is indeed creepy.  For example: talking too much, personal space issues, and inappropriate "long stick" references.
History will be made:
More personal space and weird references:
And I couldn't agree with Marty Turco more right here:
Kevin Bieksa…not friends with any Avalanche fan right now.  Wow.  What an effort.