I received some outstanding news recently about this jersey.  (By the way, there are many, many more details regarding it and another Forsberg game-issued jersey that I acquired at the same time here.)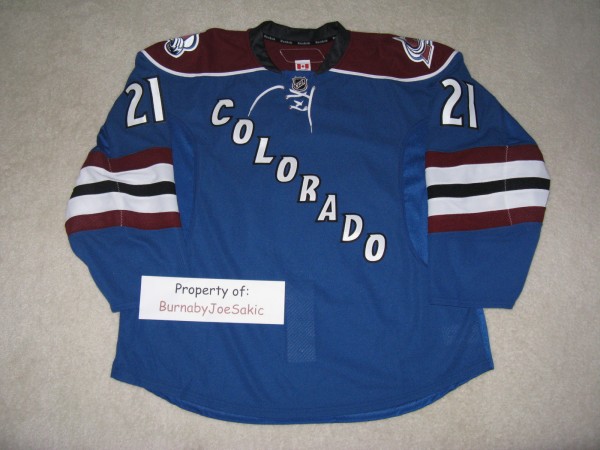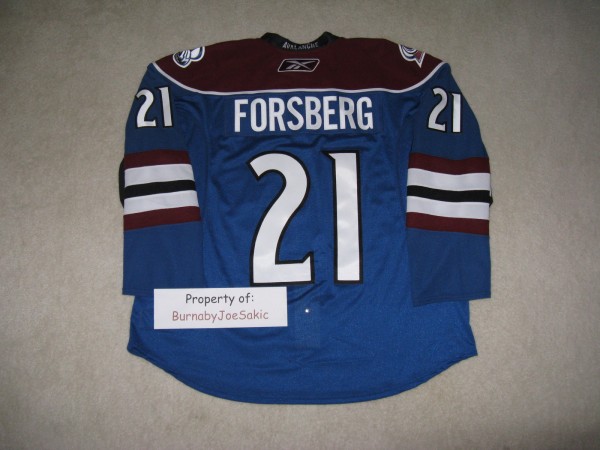 This is the jersey that Peter Forsberg would have worn on February 16, 2011 against the Pittsburgh Penguins at Pepsi Center.  Instead, he retired from the National Hockey League on February 14.
The interesting recent detail about this jersey is that it has now been officially documented that it was the ONLY one made for Forsberg to wear on the ice last season.  Normally the team makes two sets of alternates (and maybe one back up for guys that like to drop the mitts) for the players that are on the roster the entire season, but in Forsberg's case, the team only made one since he would have worn it, had he been healthy enough to play, for only three games.
If a fan decided to have this jersey made on their own, via acquiring a blank jersey and having it customized, it would be considered a "jersey foul" since Forsberg never wore this particular style jersey on the ice during an official NHL game.  But in the case of this jersey, it's the one and only Forsberg blue alternate that simply cannot be considered a jersey foul.  No other blue alternate Forsberg jersey has this distinction.
Thank you very much to my friends at MeiGray who made this jersey available to me.  Now my collection is just a little more unique and that's always a great thing.  I couldn't be more proud that this jersey now hangs in my closet.