I get messages on a pretty consistent basis from people saying they saw this or that Avalanche jersey for sale here or there.  When people see Avalanche jerseys I guess they think of me.  That's a very good thing.  One particular message was labeled "stuff" in the subject line.  When I opened the message and clicked the hyperlink in it, I quickly found out that this "stuff" was fantastic stuff.  It was a link to a for sale listing that included this: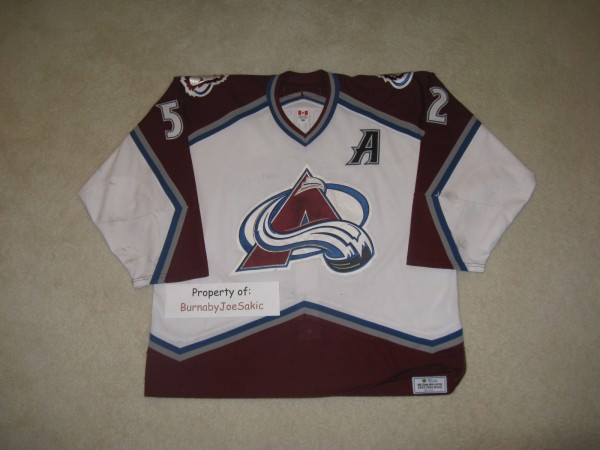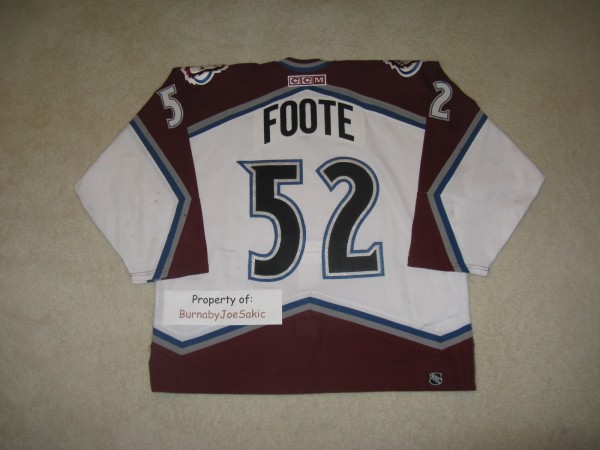 This is an Adam Foote game worn jersey from the 2003-2004 season.  It was the second white road jersey he wore on the ice that season.  This jersey was used for 19 road games between the dates of December 31, 2003 and March 12, 2004.  It represents, literally, what Foote was all about.  Take a closer look at the damage to this thing.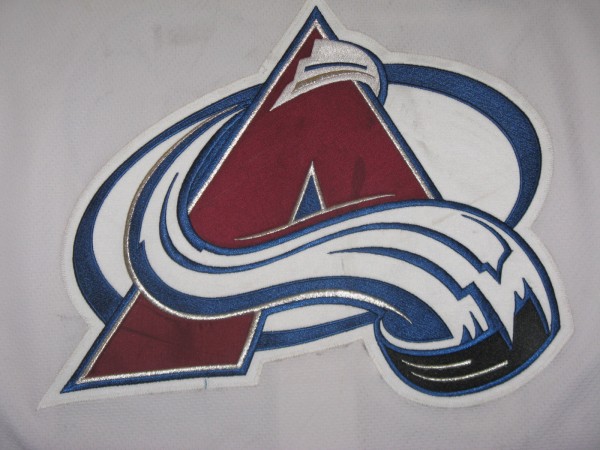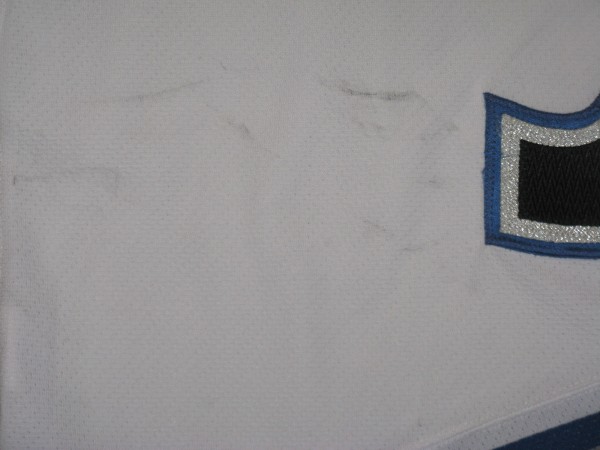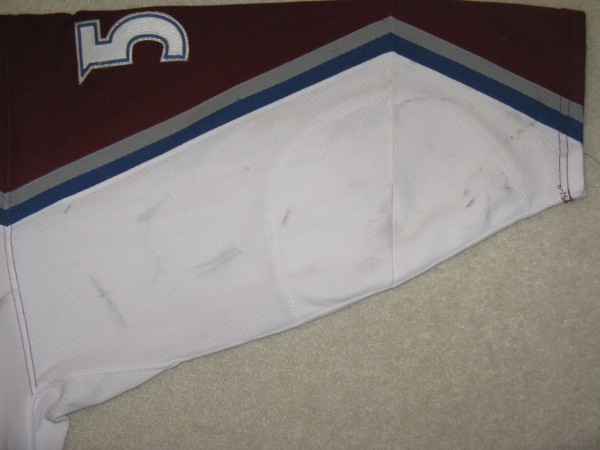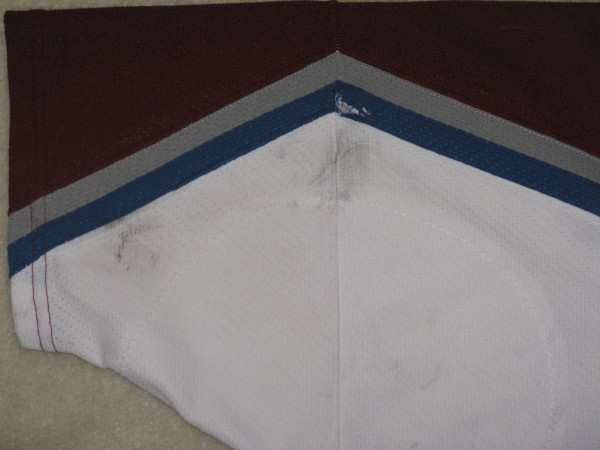 Adam Foote played a style all his own in the NHL, and that's what makes this jersey special.  There are puck and stick marks, stains, holes, snot (probably from an Avalanche opponents who tried to drive towards the Avs' crease), and who else knows all over this jersey.  The physical nature of Foote's game is definitely on full display here.
Now, let's play some match game, shall we?
http://www.youtube.com/watch?v=Mx00hmmUQxQ&feature=related
No…not that Match Game you silly goose.
Since the jersey is trashed the way it is, it was time to think photo-matching.  It's an entertaining "next-level" aspect of game worn jerseys.  Along with the jersey and the letter of authenticity from MeiGray, the seller sent along a 4×6 print of Foote wearing this actual jersey on the ice during a game.  Just by looking at the small picture, I was able to match at least four distinguishing marks on the jersey.  Check it out.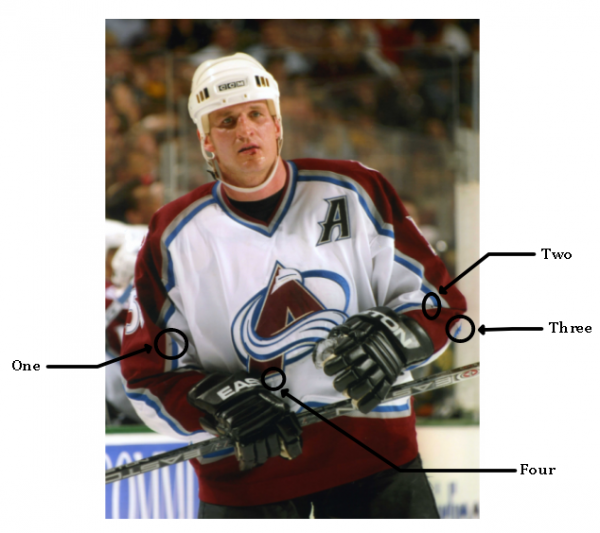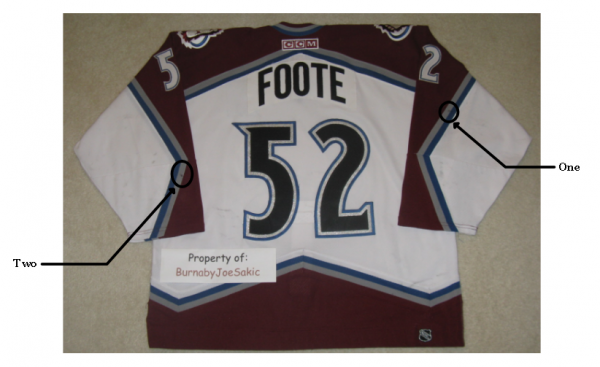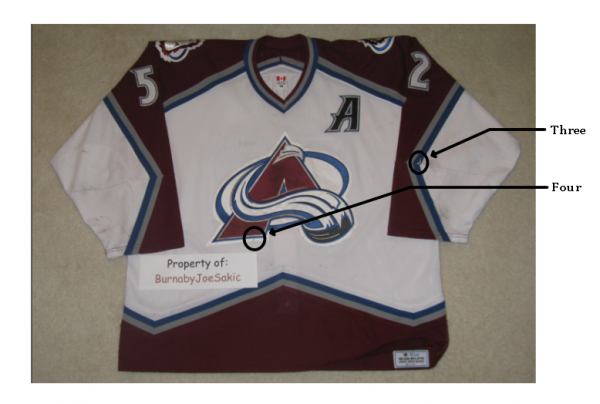 Mark one: Puck or stick mark in the gray area on the right sleeve.
Mark two: A hole punched in the gray area of the left sleeve.
Mark three: A hole/tear worn through a seam on the left sleeve.
Mark four: A blue mark just under the left side of the Avalanche crest.
There are game worn jerseys and then there are photo-matched game worn jerseys.  The former is cool, the latter is even cooler.
Needless to say, this style/brand of jersey is getting tougher and tougher to find.  The CCM (white away jerseys) and Koho (dark home and burgundy alternates) were worn by the Avs from the 2000-2001 season through the 2003-2004 season.  The Koho brand original alternates debuted during the 2001-2002 season and were worn through the 2003-2004 season as well.  In the grand scheme of things, and since it has almost been a decade since the team has worn these jersey brands and styles, they aren't seen for sale that often at all anymore.  I was definitely fortunate to get this and I was also lucky to get it for the price that I did.  Either way, it's one more unique game worn jersey for the collection and there can really never be enough of those.  Yep…famous last words.