I have two other Peter Forsberg game issued jerseys in my jersey collection, but the one featured in this post may just be my favorite.  It's unique, it has quirks, it has a story, and it's international.  That's a good combination.
This is a jersey made for Peter Forsberg to wear during the 2008-2009 Euro Hockey Tour.  Details about the Euro Hockey Tour can be found on Wikipedia here.  As any hockey fan knows, Forsberg's health seems to come and go quite quickly, so I'm sure this jersey was made by the team "just in case."  Again, it's not game used, but was made for him to wear on the ice.  That keeps the price lower while still being uncommon.
Here's the front.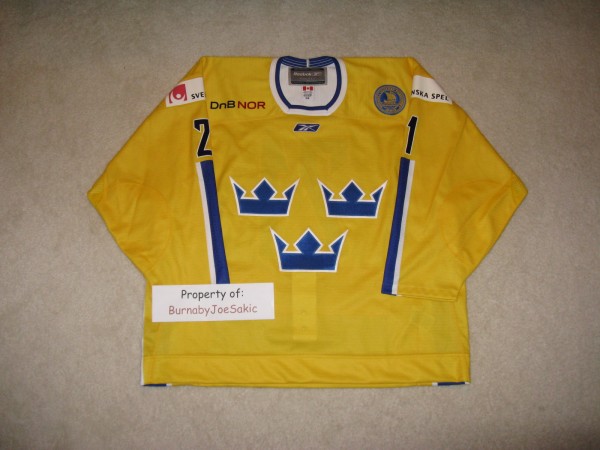 And here's the back.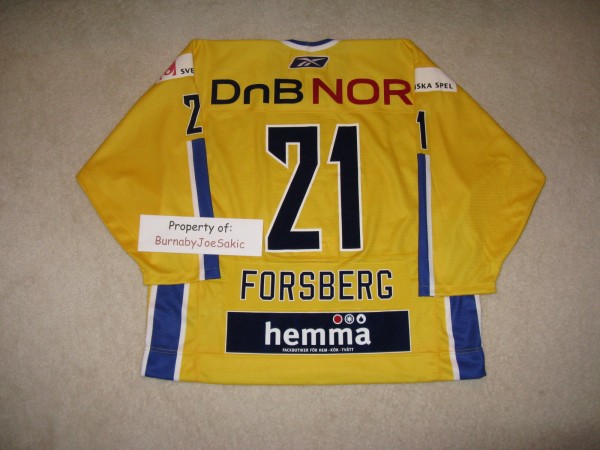 The name below the numbers is always an interesting look.  Here's a closer look at the nameplate.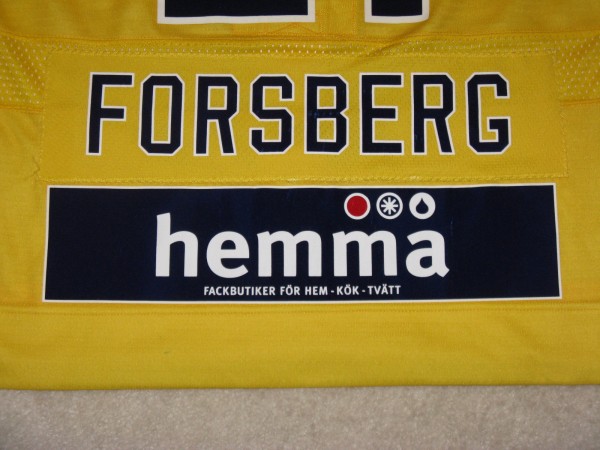 Hemma, by the way, is a Swedish appliance store.  Their prices are very competitive too!  (I have no idea about that, just thought it would be entertaining to add.)
Each sleeve also has a Svenska Spel patch above the numbers.  This company is big in the regulated gambling business in Sweden.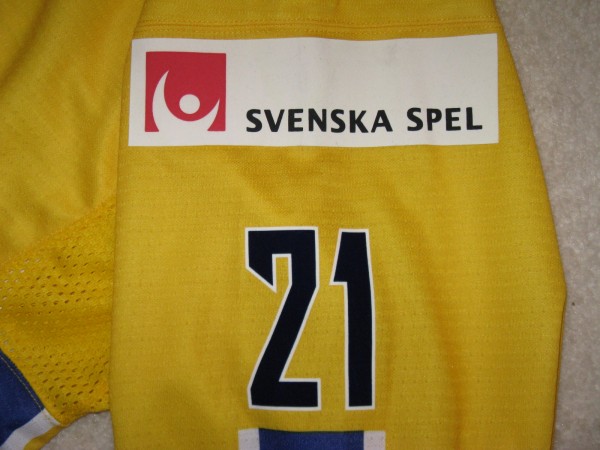 The other advertising patches on the jersey feature a company called DnB NOR.  This is Norway's largest financial service group.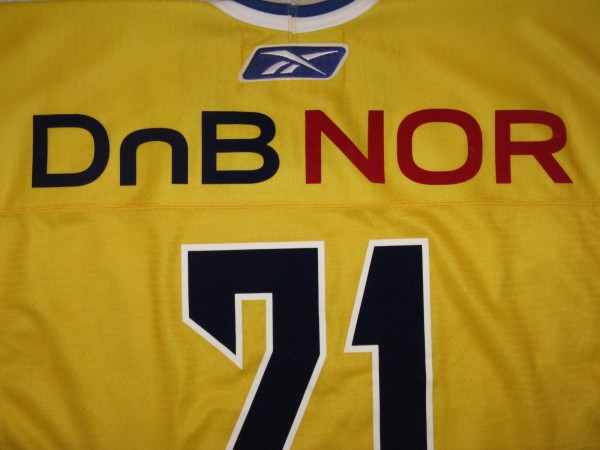 Enough about the patches already, let's talk a little more about the jersey itself.  One thing about international jerseys is that they have similar construction for the most part.  One, the numbers are made of a felt-like material.  Here's a closer look.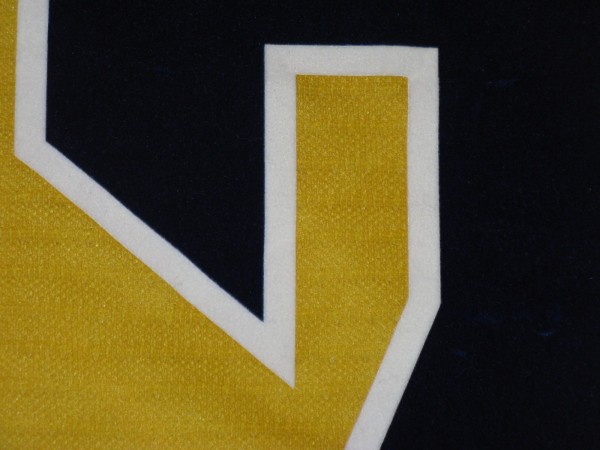 Another thing is that these numbers aren't stitched on the jersey at all.  I'm not sure whether it's because the fabric is so light that stitching is not needed or because the jerseys won't get quite as much as use as your normal NHL jersey, but this is seen often on international jerseys.  The letters on the nameplate are only heat pressed as well.
Another thing I noticed right away was the use of different fabrics.  There is a mesh material, a traditional Air Knit nameplate, and another Air Knit-like material that makes up most of the jersey.  Check out the specifics in this close up.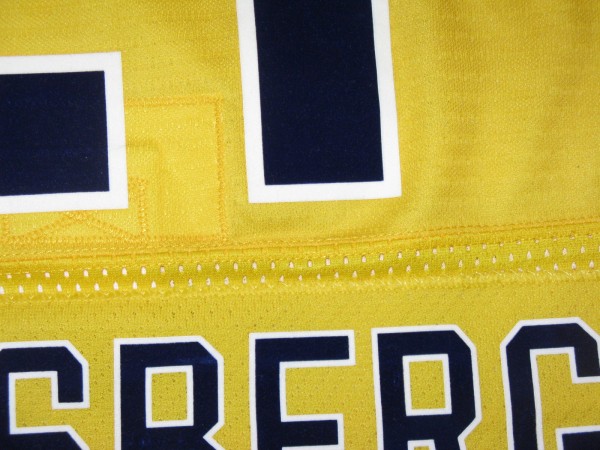 One thing that's fun about my collection is that I can attempt to wear a jersey to a game that I'm positive no one else will be wearing.  Sometimes the difference in my jersey is just a patch or an alternate captain's "A".  Saturday night, October 8th, 2011 (opening night against the Detroit Red Wings as well as the night the Avalanche retire Peter Forsberg's number 21) I'm 100% positive that they'll be other gold Tre Kronor (Three Crowns) Peter Forsberg jerseys at Pepsi Center.  I am also 100% that no other gold Team Sweden jersey will be just like mine.
Thanks for the jersey, your injuries (which led to this jersey being much more affordable), and the memories, Peter Forsberg.  Next stop for you, if many Avalanche fans had an actual vote, would  be the Hockey Hall of Fame in Toronto.