I popped my (hockey) jersey collar once, and then I popped it again, so naturally I'd like to pop it one more time because poppin' collars is just plain fun.
I ran across a rare 2000 World All-Star jersey blank on eBay a while back and knew there was at least one more Avalanche player, besides the players on the jerseys in the posts above, that would look great on it.  That someone turned out to be Latvia's own (check out the left sleeve below)  Sandis Ozolinsh.  Ozo was known as one of the premier offensive defenseman of his day and had five great seasons with the Colorado Avalanche.  I won the jersey on eBay, bought a red Air Knit nameplate from a buddy of mine, and had Denver Athletic work their magic to create this jersey.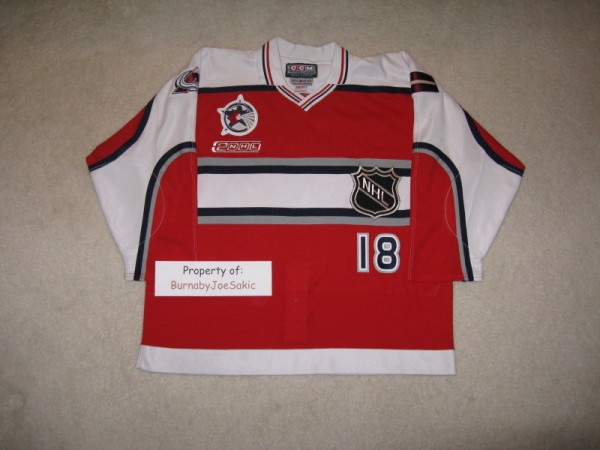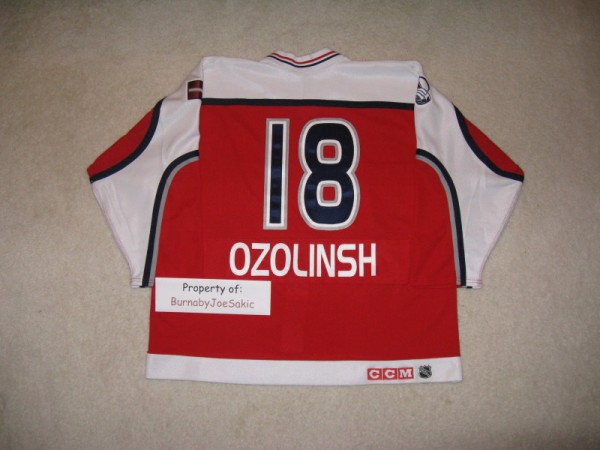 Why number 18 rather than his usual number 8?  Ozolinsh must have had a small discussion with then Mighty Ducks of Anaheim right wing Teemu Selanne prior to the game.  It's the player with more career goals that usually gets to keep their jersey number if there are duplicate numbers for the game.  That was the case here.
Quick!  What's the only thing better than one All-Star patch on an All-Star jersey?  Answer: Two commemorative patches.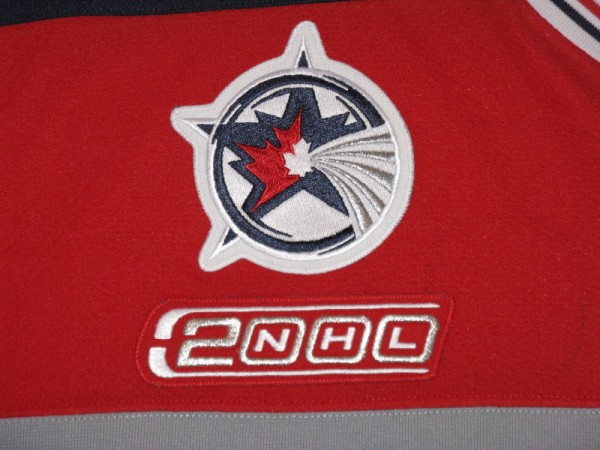 The NHL 2000 patch, in various team colors, was worn by every team in every game throughout the 1999-2000 NHL season.  The All-Star patch was worn by the Maple Leafs all season as the All-Star game was played in Toronto at Air Canada Centre (I love spelling things that way) on February 6, 2000.
Ozolinsh's claim to fame in this game didn't come by way of a multi-goal MVP performance or even a large handful of assists, it came by taking the only penalty of the game, a hooking call, at 5:51 of the third period.  Oops.  You have to work VERY hard to get called for a penalty during an All-Star game.  Way to go Ozo!  Nicely done!
Based on the rosters from the 2000 and 2001 NHL All-Star games I believe I'm done poppin' my collar when it comes to this style of jersey.  Only the World style of jerseys from those two games had collars on them.  I guess I could always venture outside my favorite team's jerseys, but that would be a dangerous move for my collection, the extra space in my jersey closet, as well as my bank account.  That's definitely not the plan for right now, but I guess you never know.  Stranger things have happened, like someone taking an actual penalty during an NHL All-Star game.  Thanks for the memories Ozo.