In case you were wondering, the title of this post was inspired by one of the most epic press conferences ever.  Ladies and gentleman, I give you Allen Iverson.
http://www.youtube.com/watch?v=eGDBR2L5kzI&feature=related
And if you're into remixes, you'll LOVE this:
http://www.youtube.com/watch?v=exOxUAntx8I
My collection includes three Colorado Avalanche practice jerseys, all of them are different colors and all have their own "personality."  These jerseys are made of Ultrafil (which the Avs have never worn during game action in their history in Denver) and they all have fight straps.  When it comes to getting one of these jerseys, there are practice jerseys available through retail dealers, but they won't be the same style as these jerseys.  The retail versions of the jerseys are more of a replica than they are an authentic jersey.  And just for the record, I have never seen an authentic practice jersey available through any retail seller.
The first practice jersey I added to my collection was gray.  Apologies for the glare in the images.  I guess Reebok wanted NHL hockey players to be able to be seen by drivers when they're riding their bikes and running near busy roads late at night while wearing this jersey.  Mission accomplished.  *FLASH!*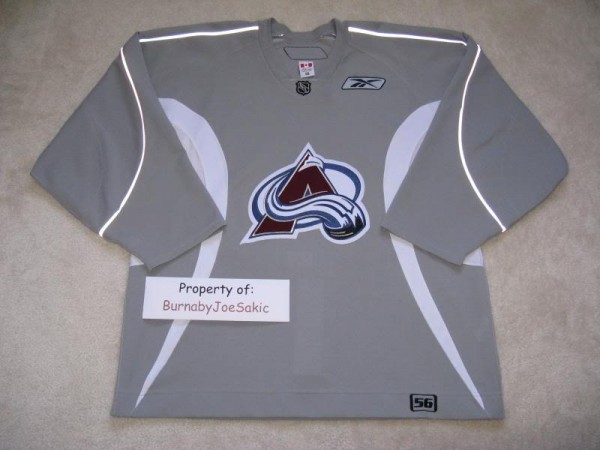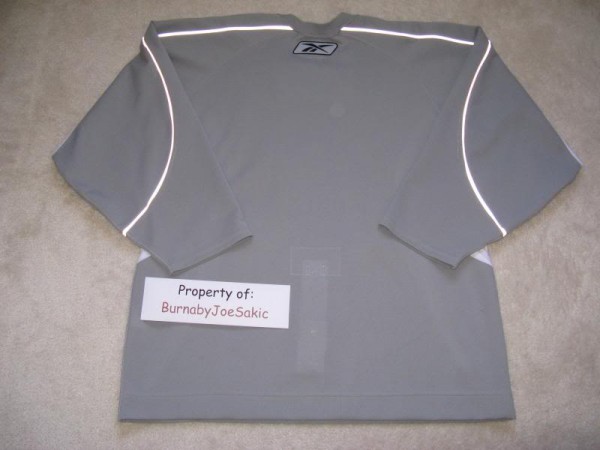 The next two jerseys I acquired at the 2010-2011 Avalanche annual equipment sale at Pepsi Center.  This was the first sale that I knew was going to include player used jerseys of any kind so I made it a point to be there early and I wasn't disappointed.  When I walked in I was greeted by a whole rack of practice worn jerseys, in sizes 56 and 58, with various numbers on the backs for $50 each.  That was an easy sale there.  I picked up a black jersey: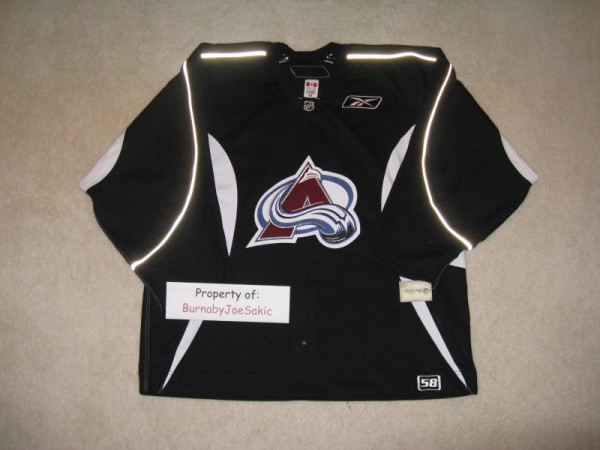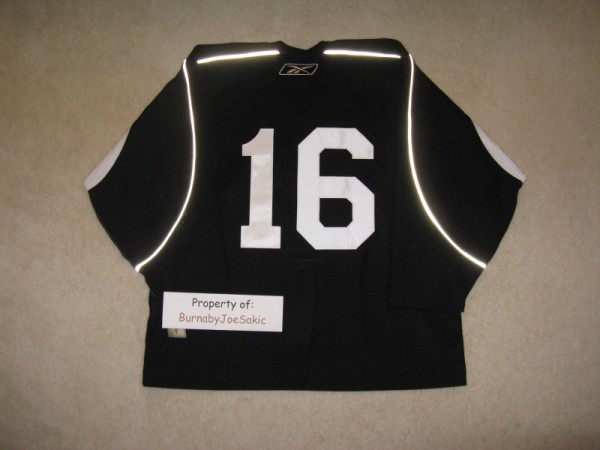 And a blue version, which people comment on in a positive way pretty often.  There's something about the color of this jersey I guess.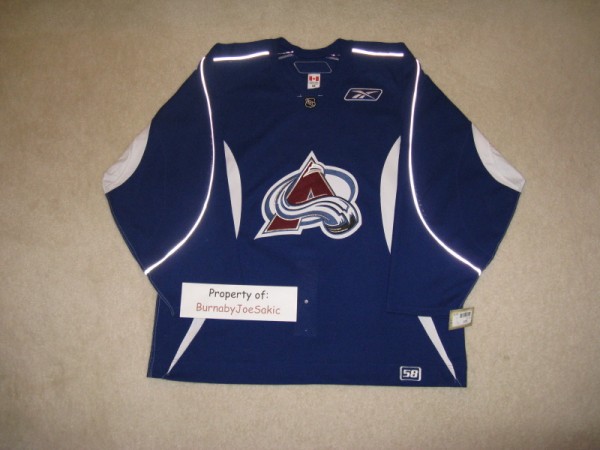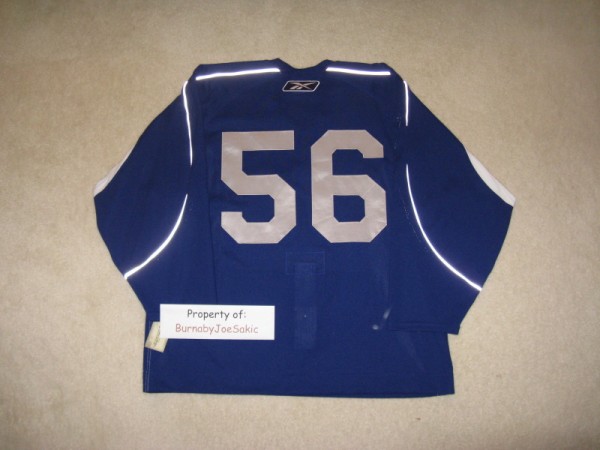 As far as the numbers, don't even ask.  I have no clue who wore these in action and there's pretty much no way to confirm it even if I did have some kind of a clue.  One thing is for sure, they were used at one point or another by the team.  They don't show a lot of wear, but there's enough to know they were worn on the ice.
Speaking of the numbers, they distracted me so much that I missed a detail that I usually pick up on right away on any other jersey.  The NHL shields are different on the two jerseys I picked up at Pepsi Center.  The blue jersey has the "old" NHL emblem on the front of the neck, as shown here: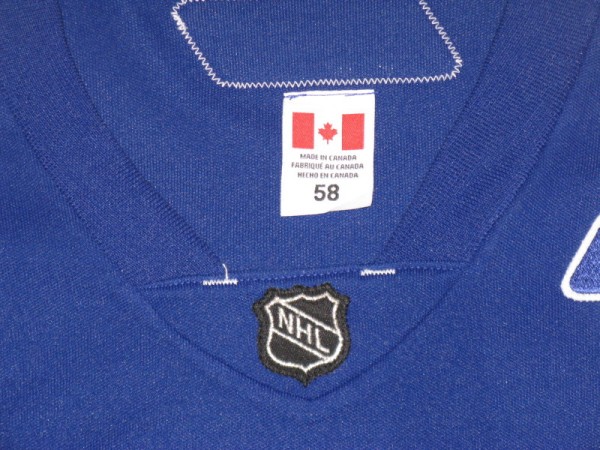 This shield debuted in the late 90s.  It has a sparkle that the newer version doesn't.  The black jersey I purchased featured a "new" NHL shield with the letters in "NHL" going up.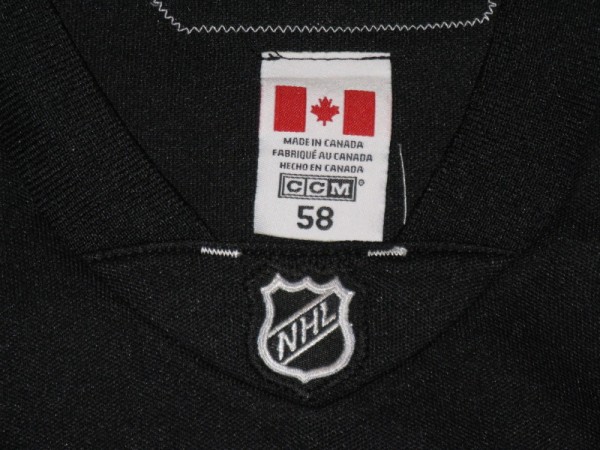 The league changed to this emblem after the lockout of the 2004-2005 season and they're still using it.  The lesson here, pay attention to your emblems.  They make it simpler to tell which era an NHL jersey is from.
Overall, I'm happy with these jerseys.  They're a nice change from jerseys we see all of the time on the ice.  They are also perfect to wear to stick and puck sessions.  I don't have to worry about damaging these jerseys if I happen to totally wipe out lose an edge.  An extra mark or two won't make any difference at all.
So…Allen Iverson may not be able to make his teammates better by practice, but I can definitely make my collection better with practice…um…jerseys.