As a jersey collector there simply are some jerseys you just have to wait for and this was one of those jerseys.  This is a 2000 All-Star jersey that I purchased blank that was then customized by Denver Athletic into a Joe Sakic classic.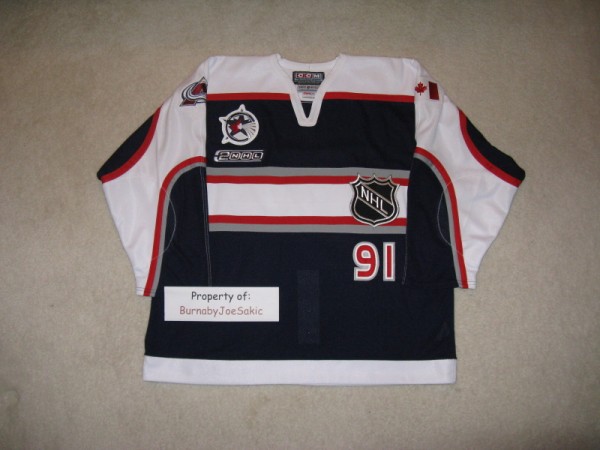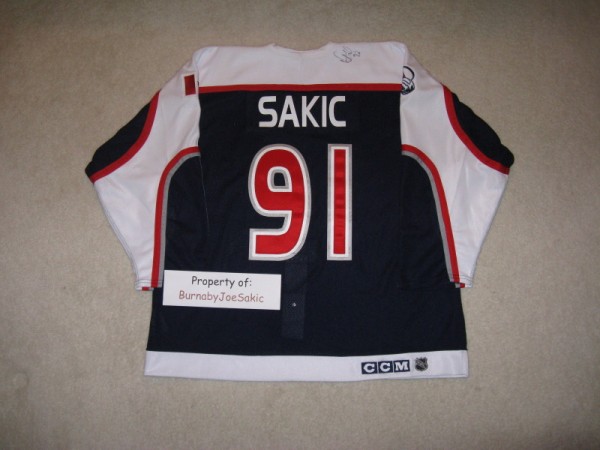 Why 91?  Back in 2000 Steve Yzerman was still playing for the Red Wings and was obviously a regular when it came to all-star games.  As tradition goes, the player with more career goals and/or seniority gets to keep their jersey number if there are duplicate numbers.  Sakic then switched the nine and the one and became 91.  Sakic had also done this in past international tournaments when Sakic and Yzerman were both on Team Canada.
Acquiring this jersey took a lot of patience and time, but it was worth it.  Blank jerseys in a style this old don't pop up on eBay very often at all.  The eBay auction had a mystery attached to it though.  You can see on the back of the right shoulder that this jersey is autographed.  I usually don't make a habit of buying jerseys that are autographed because I like to wear them to games, but I had waited too long for a blank version of this jersey to pass on it.  Here's the autograph.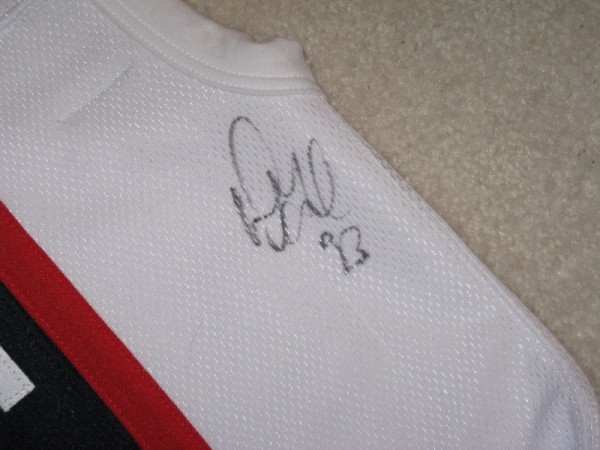 The seller didn't list who the jersey was signed by and I had a really tough time figuring out who it was as well.  I did know, right away, that unfortunately it wasn't Joe Sakic's signature.  I won the auction for a decent price and waited for an explanation.  I didn't have to wait long as details were within the confirmation email from the seller.  They notified me that, per eBay policy, they weren't allowed to list who the jersey was signed by without proper documentation.  According to the seller the signature was from recent Hall of Fame inductee, number 93, Doug Gilmour.  Gilmour didn't play in the 2000 All-Star game so I have no idea what his signature is doing on this jersey.  And on a quick side note, he really likes apples.
There are ways to get pretty much anything off jerseys, including signatures in Sharpie, but I think I'll leave it on there.  Why not?  It's not hurting anything.  Two Hall of Fame players represented on one jersey is a pretty good thing and plus, they'll always have a special connection.