Greg Mauldin played in only 29 games for the Colorado Avalanche during the 2010-2011 season, but that doesn't mean that Avs fans don't know who he is.  Making your presence felt right away never hurts.  Mauldin made his Avalanche debut on November 12, 2010 in Columbus against the Blue Jackets.  He paid immediate dividends as he scored his first NHL goal, a shorthanded goal, at 10:57 of the second period wearing this jersey.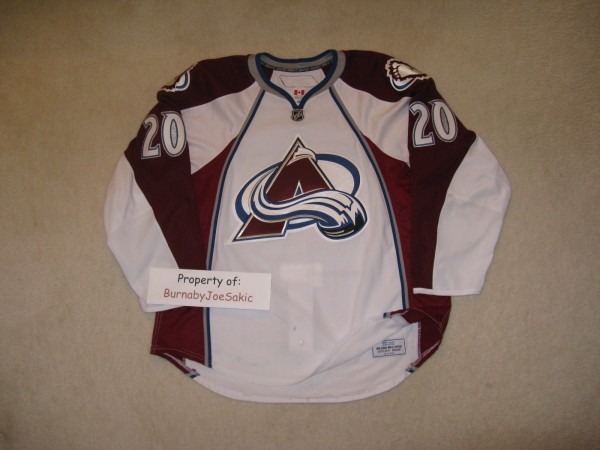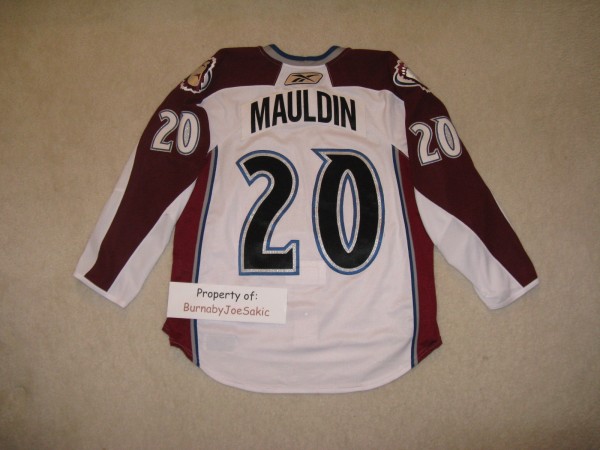 I guess this smile doesn't hurt things either.  Here's an image right after he scored his first NHL goal.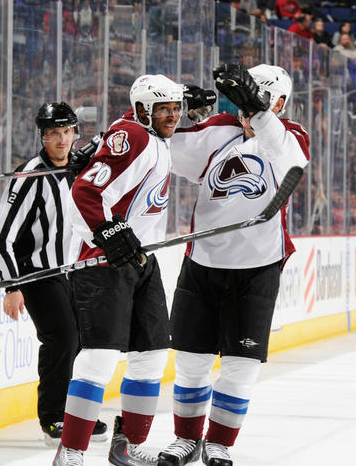 Here's some video of the goal as well.  One of the many things that Avalanche fans loved about Mauldin during his stay with the big club was his speed.  Watch closely as Mauldin simply smokes Blue Jackets defenseman Kris Russell as Russell attempts to back check before this goal.  It's a beautiful thing if you're the type of person that prefers Avalanche goals.
And would you care for a little icing on your cake? Mauldin's first NHL goal proved to be the game-winning goal in the Avalanche's 5-1 victory against the Blue Jackets that night.
Breaking things down a little further, just because it's fun, I guess a secondary assist could be given to Blue Jackets forward Jakub Voracek for missing his big drive on the short side of the Avalanche's net and actually initiating the Avalanche's two on one, but that would just be being plain picky right?
Mauldin continued to earn his spot on the Avalanche's roster, even as players began to get healthy and return to the lineup.  The 28 year-old rookie had eight points in his first 14 games with the Avs which included a four point (two goals and two assists) effort against the Wild at Pepsi Center on November 27.  That performance earned him Puck Daddy's first star of all 11 games played that night in the NHL.  The ten other NHL games even included a hat trick by Penguins star and league poster boy Sidney Crosby.  When someone chooses your performance over a Sidney Crosby hat trick, it's safe to say you've done pretty well.
One detail I almost overlooked with this jersey was that I got to see it in action in person at the RBC Center in Raleigh, North Carolina on December 3, 2010 as the Avalanche took on the Hurricanes.  I didn't have much to cheer about during the game as the Avs lost 2-1 in overtime, but when I did cheer it was actually documented.  Milan Hejduk scored the lone Avs goal 12:51 into the third period.  The fan they show clapping at the end of this clip is yours truly.
Good times!
Greg Mauldin's hot streak inevitably cooled off.  He failed to record a point for 12 straight games between December 17, 2010 and January 12, 2011 and was sent back down to the Lake Erie Monsters in Cleveland.  Mauldin was not recalled for the remainder of the Avalanche's season.  He is an unrestricted free agent and Avs fans will find out in the fairly near future whether he will remain with the Avalanche organization for the 2011-2012 season.  So Greg Mauldin may or may not be back with the Avalanche next season, we will see.  If he does return though I know it will make many, many Avs fans (including myself) very happy.