Dear Colorado Avalanche Organization (especially whatever group within the organization's job it is to actually connect with the fans),
We, the fans, want more.  At the same time, we want less.  Let me explain.
You currently, as of May 31, 2011, have 20,584 fans following your feed on Twitter.  Out of ALL those people that follow you, you in-turn follow 22 people.  You're not even following players from your own team that now have Twitter accounts.  I'm not asking you to follow every Avalanche fan that mentions the Avalanche in a tweet.  I am asking you though to connect to your fans.  Let us know you're there.  Let us know you're listening.  More on this as a whole here in a second.
You also currently, as of May 31, 2011, have 253,802 following your official Facebook Fan Page.  That's an amazing number, but what do Avalanche fans get there?  We are blanketed with links to stories on your website.  I can guarantee that pretty much every single one of those fans on Facebook knows where to find your website, so, with all due respect, what's the point?
Let's talk big picture here.  If I "unfollowed" your feed on Twitter and "un-liked" your Facebook Fan Page, what would I miss?  Nothing at all.
I follow, visit, and see retweets from other Twitter accounts for many other professional sports teams.  I routinely see retweets of fan tweets along with replies to fans from representatives in the team's PR department whose job it is to connect with the fans.
For example:  Here's a screen shot the the Chicago Blackhawks official Twitter feed.  Notice they are interacting with their fans with replies every once in a while.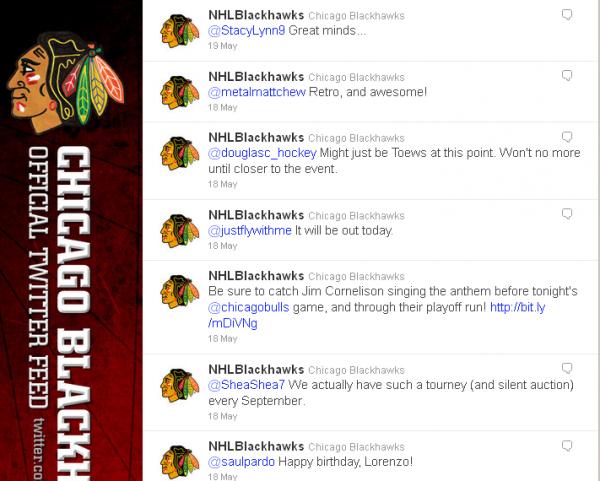 Here's a screen shot from the Edmonton Oilers' Twitter feed.  Notice the retweets from the players on the team that have Twitter accounts.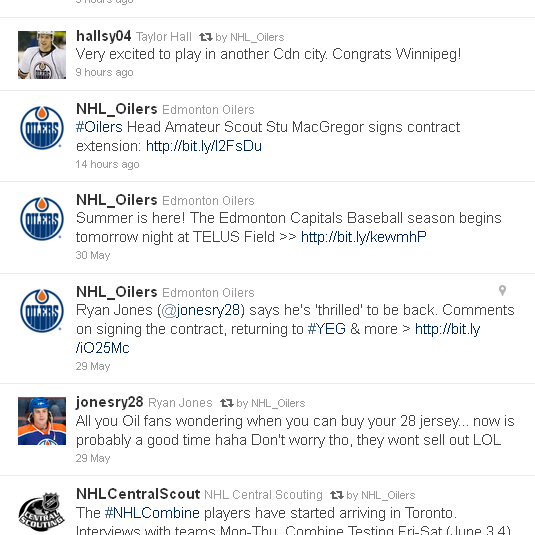 The Vancouver Canucks and the San Jose Sharks both have separate live in-game official Twitter accounts so people can follow the game if they're not able to watch it on television or listen to it on the radio or stream the game online.  I don't follow other NHL teams, but I imagine that many of them have the same type features within their team's Twitter account.  I like that.
I see, every once in a while, from other team's official Twitter feeds, who is starting in net for that night's game fairly early in the afternoon.  The only "official" Avalanche news that most fans get is from The Denver Post's Adrian Dater.  Avalanche radio play-by-play man Marc Moser does what he can, but during the games it's tough for him to stay that active because he's doing his job live.  Moser does his best to connect with fans, he's a total class guy, but there's only so much he can do.  Mike Haynes also does his best to connect with fans via Twitter, but again, it's difficult with the job he has.  I give them both all the credit in the world for the effort though.  That means a lot to fans.  The many fans that have received replies and mentions from either or both of them know exactly what I'm talking about.  It's a good feeling.
And overall, the teams, for the most part are following their fans.  There are a few exceptions that you'll see here, but I'll let the fans of those teams speak up when it's their time.  Here's a breakdown of your Western Conference competition when it comes to Twitter.
Let's begin with the most and work our way down.  These numbers are current as of June 1, 2011.  Check out the second column above "Following."














And some other local teams…



The Broncos are an exception on the point that I'm making here.  They don't follow many people, but they connect with the fans in other ways.  More details below.
And then there's the Avalanche.  Following a whole 22 of their fans directly on Twitter.

Again, I'm not asking you to follow absolutely everyone that mentions you Twitter, but it does make me wonder how St. Louis Blues fans feel when they get that email notifying them that their favorite NHL team now follows them on Twitter.  I imagine that's somewhat exciting, but that's just me.
And the hometown Denver Broncos may just be your best example to follow when it comes to Twitter.  They are approaching their fans in a whole new way after a long stretch of mediocre football.  Jim Saccomano, Vice President of Public Relations for the Broncos, has an active Twitter account.  John Elway, Executive Vice President of Football Operations for the Denver Broncos, has a Twitter account and uses it often.  And when former coach Josh McDaniels was relieved of his duties during last season, the announcement wasn't made during a press conference, or on the Broncos' website, or on a ticker tape during a newscast;  the announcement was made on Twitter.  There is usually a string of news on Twitter before news like that breaks from many sources close to the team, but the very first mention I saw of the firing was official word from the Denver Broncos Twitter feed.  Since when did details follow on a website when it came to breaking news?  Since Twitter.  That's rethinking what you're doing based on what's available and I like that a lot.  It made me feel like my follow on Twitter was worth while.  I have never felt that way about following the Avalanche's Twitter feed and that's too bad.
It obviously would be pretty silly to retool your entire PR department so your lives all revolve around Twitter and Facebook.  That wouldn't make sense.  You obviously are the experts and have experience that I lack in that side of business.  But I am asking you to let the fans know you're there and listening every once in a while.  And this isn't a table with a couple people sitting at it at the top of the main staircase at Pepsi Center.  It's time to connect with the fans in a virtual sense too.  A retweet or a reply may be all one fan needs in order to get them that much more excited about the team as a whole.  It's VERY simple and it only takes, literally, a few seconds.  Do that a couple times a day and who knows what will happen.  Thank the fans that follow you religiously and see what happens.  If not now, when?  And if no, why not?  You have NOTHING to lose.  The tools are available and they're free.
Please take some notes from a few of your Western Conference opponents as well as the hometown football team.  Help relevant Avalanche news and notes find the fans.  We're already waiting for it.  You don't even need to ask.  With web and mobile tools people are connected all of the time.  News these days finds people.  People don't need to look for news any longer.  You just have to feed in what the fans want and that doesn't include mainly links to stories on your website.
In reality, attendance and/or fan morale can't get much worse after the worst season in Avalanche history.  Now is the time to take a chance.  It won't hurt.  I promise.  And over a quarter of a million people promise too.
Thank you for your consideration and see you at Pepsi Center.  I'll always be a fan of the Avs, no matter what.  I'm just hoping that you can make the experience of being an Avalanche fan a more pleasurable one for fans like me.
Yours Truly,
Jay Vean, (Host, The Avs Hockey Podcast) on behalf of Colorado Avalanche fans all over the world