April 10, 2011 marked the end of an era in the National Hockey League.  After 19 regular seasons of action, and almost two full seasons (158 games) worth of playoff hockey, Adam Foote retired.  He was the final player still playing in the league that had worn a Quebec Nordiques sweater.  There is a small handful of players that played for the Nordiques that are still playing professional hockey, but they don't play in the NHL.
I think Mike Haynes, Avalanche television play-by-play man, put Adam Foote's style of play in perspective for me best when he said that if a young player who is getting drafted is described as an "Adam Foote type player" that team knows exactly what kind of player they're scouting.  Adam Foote had his own style, there is little doubt about that, and Colorado Avalanche fans will always love him for it.  There really isn't a word or adjective that would accurately describe Adam Foote's style of play, but Avs fans know it when we see it, and that's plenty good enough for us.
I worked hard to get Adam Foote's jersey from opening night of this season, but as I described in this past post that didn't work out.  I continued to keep an eye Foote during the season and still felt that having one of his jerseys would be a great addition to my collection.
As the 2010-2011 season rolled on it became evident that this may be about it for Foote as well.  He still had the leadership skills, but it was obvious that physically he was having a rough time.  Those tough times got even rougher in Vancouver on March 16, 2011 when he was hit on the left ankle by a slap shot late in the third period.  Referee Stephen Walkom shouldn't have blown the whistle to stop play because Foote wasn't hit in the face with the puck or in a vulnerable position because of his injury, but Walkom did.  I truly believe that it was simply a sign of respect from Walkom to Foote.  I'll always remember Foote thanking Walkom discreetly as he was assisted off the ice by linesman Thor Nelson.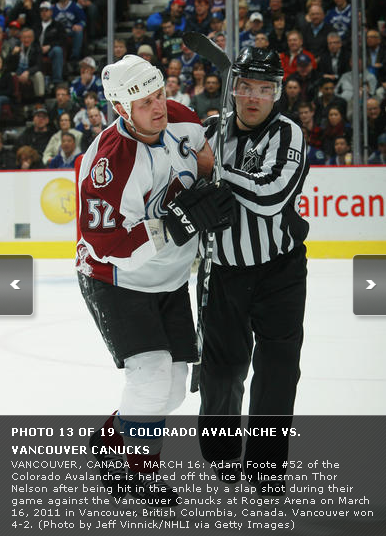 Little did us Avs fans know at the time that that was the last time that we would see Adam Foote on the ice until the season finale on April 10, 2011.  It was later revealed that Foote played that final game on a fractured ankle that was still healing.  Foote is a hockey player and that's what hockey players do.
Let's back up a day or two though.  During an April 9, 2011 press conference at Pepsi Center, Adam Foote announced that he was going to retire and that, surprisingly, he would play in the last game of the season against the Oilers the next afternoon.  That's when I went to work.  I called my friends at MeiGray Group that Friday afternoon and tried to reserve his burgundy set III jersey that Adam Foote would wear in his final NHL game.  MeiGray employees told me that he was going to keep that jersey and give it to his sons.  (I later found out that he wore two game jerseys during the game against the Oilers and gave one to each of his sons.)  Since the burgundy jersey he wore wasn't available I chose to pre-order the jersey that he was wearing when he got hit on the ankle against the Canucks on March 16.  That fact made this Adam Foote's final game worn jersey that was available to the public.  That makes it very special to my collection and to me.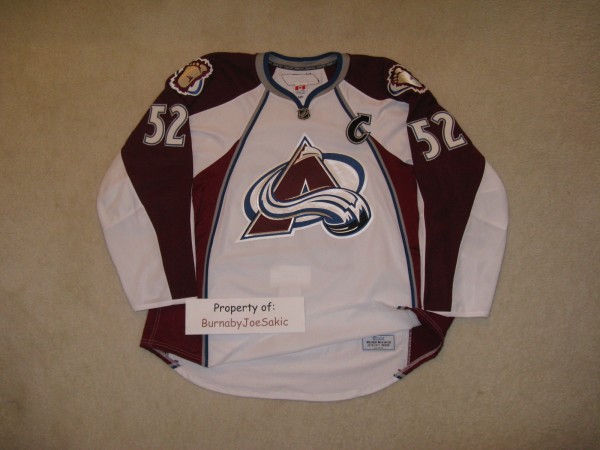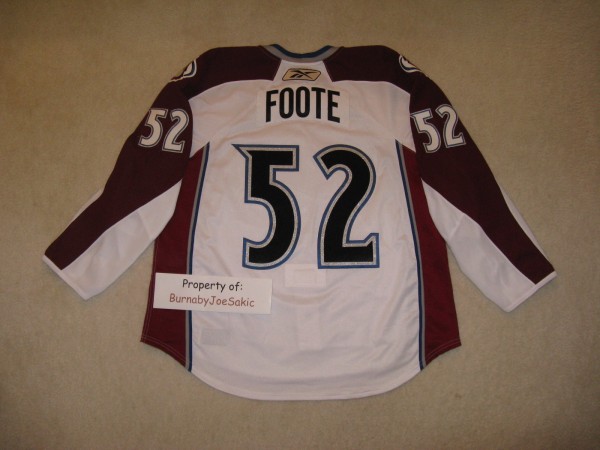 Considering the type of game that Foote plays the jersey has very little wear on it.  I'll definitely need to check MeiGray's population report when it comes out.  It will indicate exactly when the Avs moved from their set II white jerseys to their set III jerseys.  I imagine this jersey wasn't worn in more than just a few road games.  The only marks on it at all are a few stains near the end of each sleeve.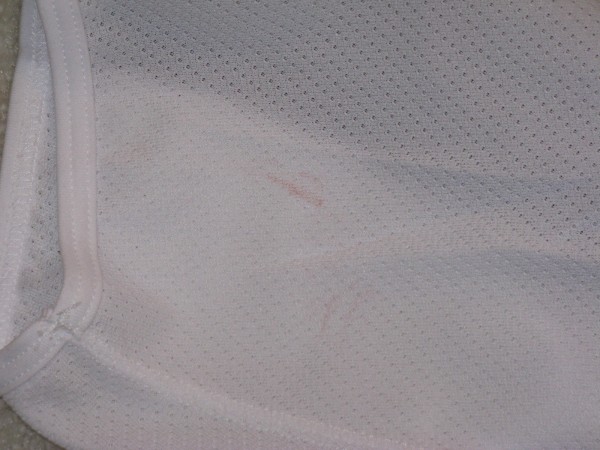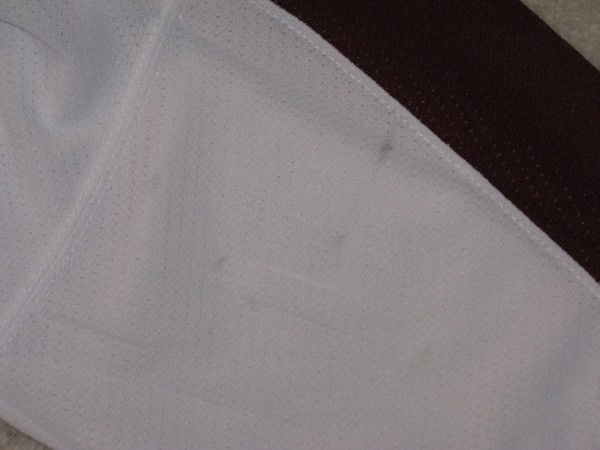 I had MeiGray work on a photomatch for the jersey to be positive that it was the jersey that Foote wore that night in Vancouver, but due to the lack of marks on it they said they couldn't do that.  But that fact in itself was a photomatch because the set II white jersey that Adam Foote wore earlier in the season had identifying marks that worked perfectly for a photomatch.  So this jersey is actually photomatched due to the lack of marks on the jersey.  That was definitely a first for me.
Also, here is a picture of the neck tagging and the famous captain's "C".  This looks great next to my Joe Sakic game issued jersey.  The three marks above the Canadian flag on the neck tag indicate that this jersey was the third white jersey worn during the season.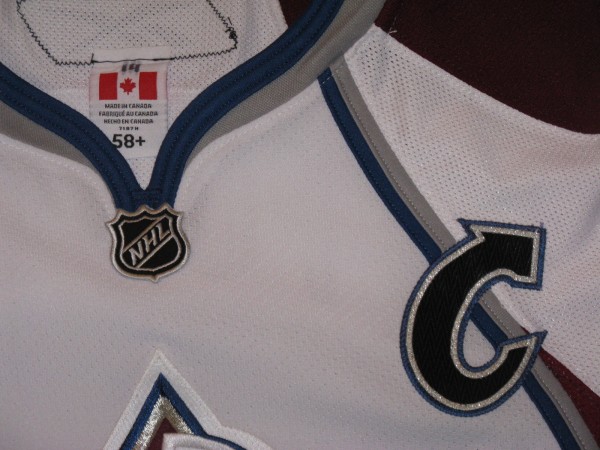 So another game worn or game issued jersey of an Avalanche legend has found its way to my collection.  I, along with many Avalanche faithful, expect to see the number 52 hanging from the rafters of Pepsi Center within the end of next season.  I feel he's definitely earned that honor.  And of course, and as I think you'd expect, I'll be wearing this very jersey to the game where the Avalanche organization retires the number 52.  I'm definitely looking forward to that game already.