Every Avalanche retirement makes people happy and makes people sad.  Joe Sakic's retirement made me as well as every Avs fans sad, but it also made me happy that he hurt his back and lost his fight with a snowblower because it led to this jersey being in my collection.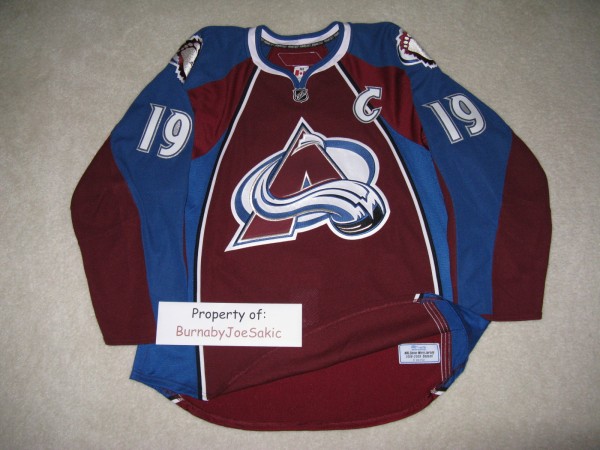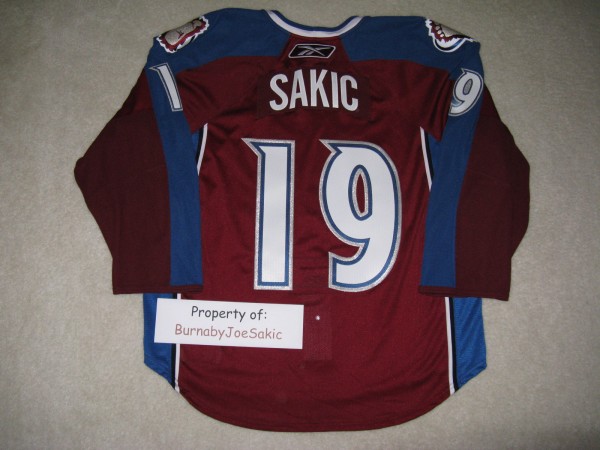 This is the jersey that Joe Sakic would have worn during the end of the 2008-2009 season, his last in the National Hockey League.  It is hanging in my jersey closet.  There are plenty more details about this jersey in this blog post from a while back.
Now, back to the title of this post.  Jersey Fouls, as defined by our good friends at Puck Daddy, are "the rules and etiquette for proper hockey jersey creation and exhibition."  Not every Jersey Foul is agreed upon, there is some gray area every once in a while, but for the most part, you know them when you see them.  Click on the Puck Daddy link above for more examples of fouls than you'll ever need.  As a friend of mine likes to say, Jersey Fouls are funny, and sad, all at the same time.
One foul that many people agree with is wearing a style of jersey that particular player never wore on the ice.  Take the Ray Bourque blueberry alternate in this Puck Daddy Jersey Foul post.  Bourque had actually retired before even the burgundy alternates were debuted by the Avalanche at the beginning of the 2001-2002 season.  Almost a decade had elapsed before this particular style of Avs jersey was put into play and Bourque had played his final game for the Avs.  Definite jersey foul.  No doubt about that.
Now take a look at this.  What's your first thought?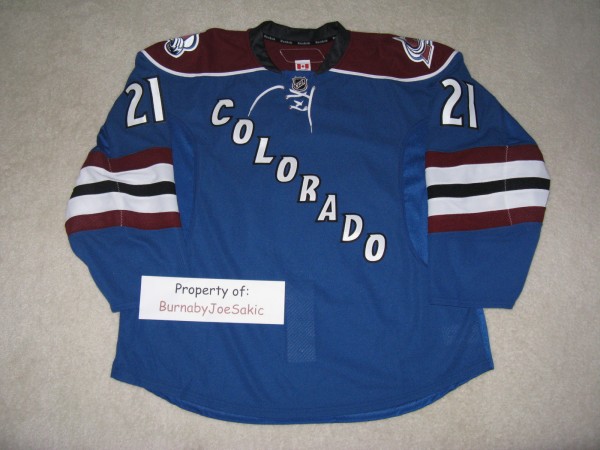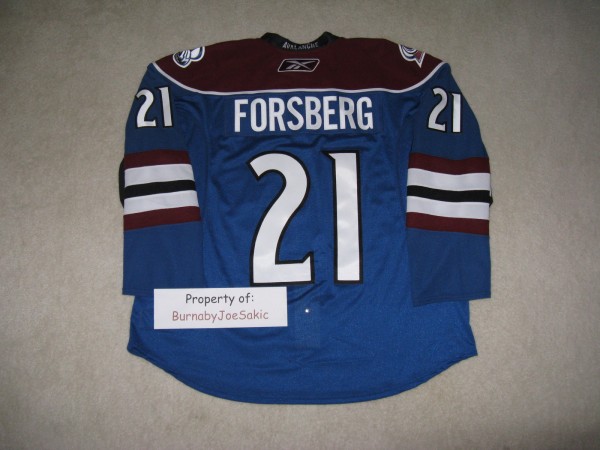 You can't help but think jersey foul, right?  I don't blame you, and I have news for you, you're wrong.  This is the one and only Forsberg blueberry alternate that cannot be considered a jersey foul.
This is the alternate jersey that Peter Forsberg would have worn if he had been healthy enough to play in more than two road games with the Avs during the 2010-2011 season.  It's a jersey foul because he never wore this style, but this would have been THE jersey he would have worn at Pepsi Center on February 16, 2011, against the Penguins.
Here is some comeback history that will help fill in any gaps.
During his final comeback Forsberg played in two road games.  One was in Columbus against the Blue Jackets on Friday, February 11, 2011.
He also played the next night, Saturday, February 12, 2011, in Nashville against the Predators.
…And he was still the same old Peter Forsberg, or so we all thought.
Excitement grew in The Mile High City as we all prepared to watch Peter Forsberg take the ice again sporting the burgundy and blue that Avs fans always thought he looked best in. Then, on the morning of Monday, February 14, 2011, it was over.
My initial feeling was shock.  Forsberg was a combined minus four in the two games he played in, but he didn't look that bad at all.  It was clear from the beginning of this comeback that it was going to take a week or two to get his game legs underneath him, but it was his right foot that let him down in the end…again.
The Avs still had a game that night though.  They went out and made the fans, as well as Peter Forsberg, proud by trashing the Flames in an epic victory were promptly handed the worst loss in franchise history.  The Calgary Flames destroyed the Forsberg-less Avs, 9-1.
After the shock from the retirement and the game wore off I started thinking jerseys.  You're probably more than surprised by that. I thought there had to be at least a burgundy jersey as well as the jersey I posted pictures of above made for Forsberg to wear on the ice.  An email was sent to my friends at MeiGray group, I got myself on the waiting list for an eventual Peter Forsberg game issued home burgundy and/or alternate and then played the waiting game.  About a month later I received an encouraging email.  I made a phone call and found out that both the alternate and the burgundy were available for purchase.  I did what any honorable jersey collector and die-hard Avalanche fan would have done and reserved the pair.  Here's the jersey every Avalanche fan wishes Forsberg would have worn on February 14, 2011, at Pepsi Center against the Flames.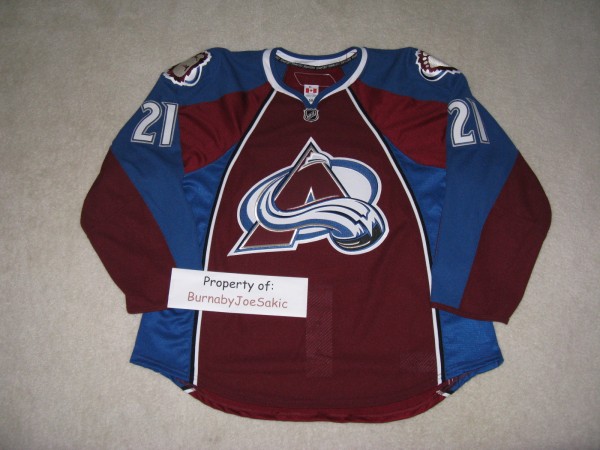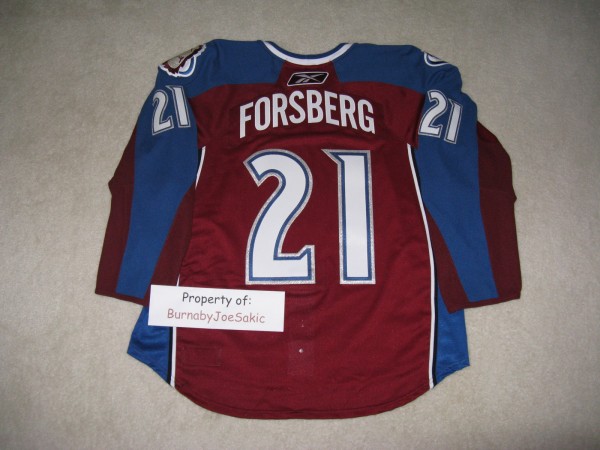 And, by the way, this isn't a jersey foul either.  Forsberg's comeback late in the 2007-2008 season and into the playoffs is when he wore this style jersey on the ice.  The two goals he scored during that comeback are here:
And here.  This goal is great because about 90% of the Wild fans are watching where Jeff Finger's stick ended up in the crowd rather than watching Peter Forsberg bury one in the back of the net.  Beautiful!
One interesting detail on both of these jerseys is the stamp on each of the fight straps.  This is some very expensive ink.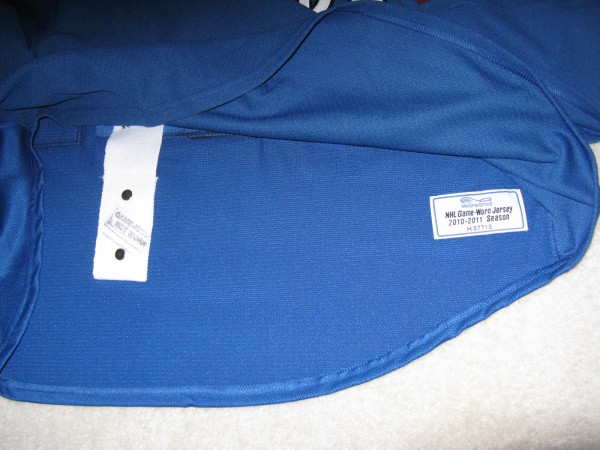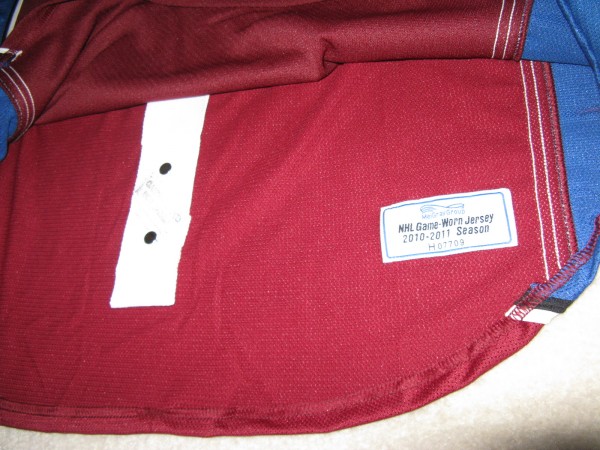 It's a little tougher to read it on the burgundy jersey, but they both read, "Game-Issued Not Worn."  This is huge for resale purposes.  The difference in pricing between a game worn and a game issued jersey is over $2,000.  Like I said, that's some expensive ink.  Both of the images above also feature the Meigray Group tag that proves that this jersey is a legitimate game worn or game issued jersey and not just a retail authentic that someone had made into a Peter Forsberg.
So, as stated above, I guess every retirement makes people sad and every retirement makes people happy.  Forsberg's opposition was pleased that they didn't have to deal with this junk any more.
http://www.youtube.com/watch?v=xRtrQ1YrCzw
Avalanche fans were very disappointed for the reasons demonstrated quite clearly in the video above.
Me?  I'm somewhere in the middle.  I sure wish I would have seen Forsberg play in the jerseys above, but that doesn't mean that I'm sad to have them in my collection.  Another game issued jersey (or two) from a true Avalanche great, and future Hall of Famer, can never be a bad thing.
Thanks for everything Peter Forsberg, including the many memories and the fantastic jerseys.  We will miss you.