A great friend of mine, who I grew up with, now lives in Wilmington, North Carolina.  We've tried our best to make it a tradition to get together whenever we have the chance.  As part of a new tradition, we made our way to Raleigh, North Carolina a few seasons ago to see this great comeback by our favorite NHL team.
I can definitely vouch for the fact that The RBC Center is one of the loudest buildings in the NHL, but it can also get pretty quiet when the visiting team comes back from two goals down to steal the game in the third period.  Thanks for the memories Marek Svatos.
When the schedule for the 2010-2011 season came out my attention went immediately to when the Avalanche would be back in Raleigh.  Flight reservations were made and tickets were acquired.  Steps one and two, done.  That was easy.
Step three (and for those of you that know me at all this is a very important step) it was time to decide what jersey to wear.  For most people, that's a simple task.  Just open the closet door, grab your Avalanche jersey, and head out the door to the game.  For me, it's obviously not quite that simple.  If I went with a white jersey, I may have blended in with the home town crowd.  I didn't want that at all.  I brought a jersey for my friend to wear because he has a lot of Martin Brodeur jerseys and no Avs jerseys.  I'm cool with that.  He's a true hockey fan so I don't give him too much stuff.  Here's what he wore to the game: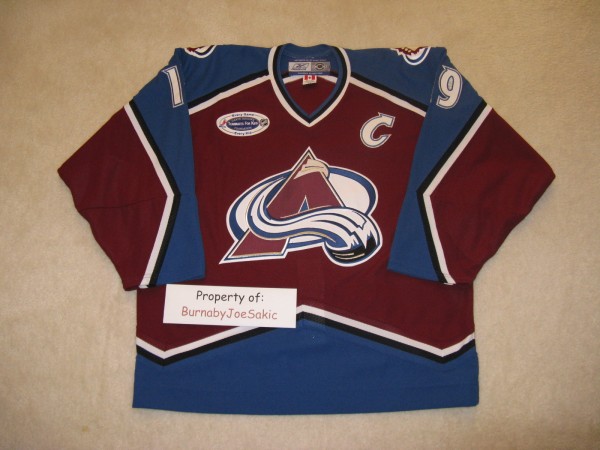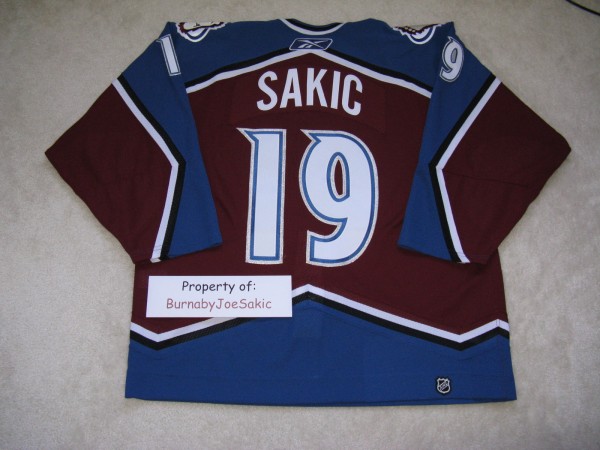 Since I brought the burgundy jersey for him, I was going to go with one of the two alternate jerseys the Avs have worn through the years.  The burgundy alternate might have been lost in the sea of red and white in Carolina, so I went with my game issued blueberry David Koci jersey.  It was made for him to wear during the 2009-2010 season.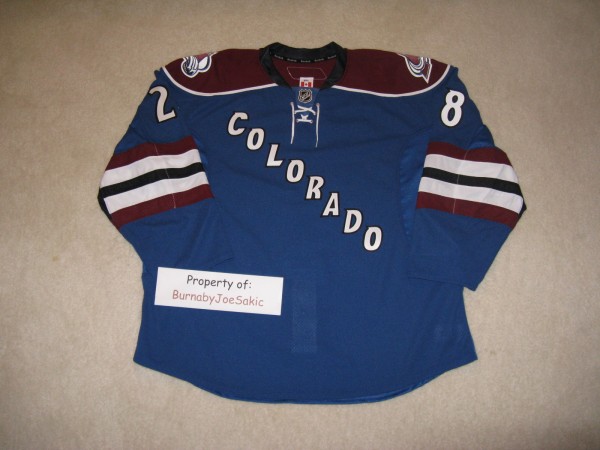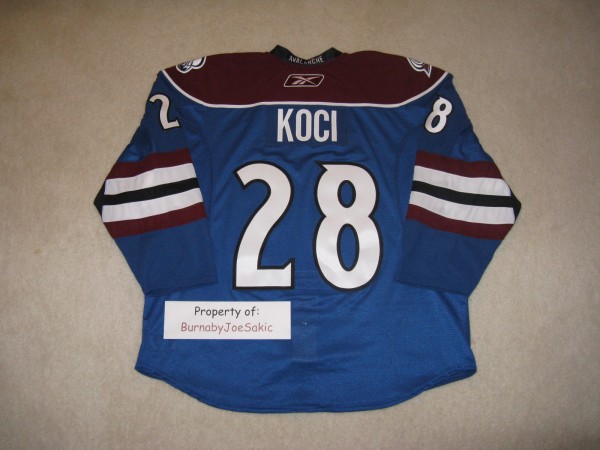 As marked on the collar tag,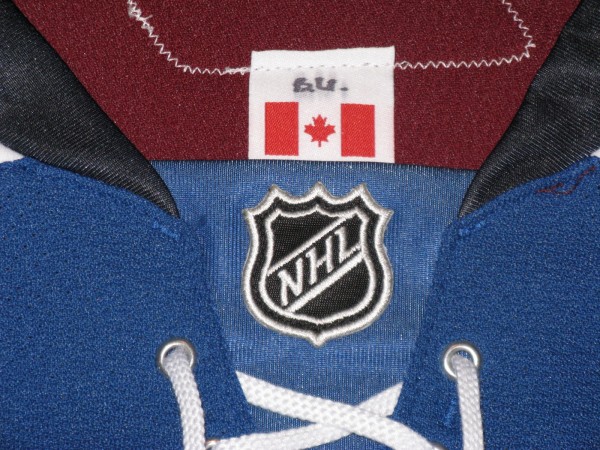 …this jersey was a backup ("B.U.") alternate jersey for the 2009-2010 season as Koci's jerseys can take a beating (pun very much intended) at times.  Here are a few examples of why a backup jersey is needed.
December 13, 2009.  Fight against Calgary's Brian McGrattan.  Check out the neck of the jersey at the end of this one.
And something similar happens to his jersey during Joe Sakic night on October 1, 2009 during a scrap with San Jose's Jody Shelley.  And for those of you that are into that type of thing, check out the Meigray tag towards the end of the fight as well.  It's the white tag with blue stitching that's sewn into the inside of the back tail of the jersey.  Here's the Meigray tag on my alternate.
As far as the jersey goes, I've received more heat concerning it than any other jersey in my collection.   People sometimes don't think much of David Koci because of his limited role and limited skating ability as well, but, honestly, he's never really given me any reason to not like him.  I purchased the jersey for two main reasons.  One, I wanted that style represented in my jersey collection.  And two, it fits me just in case I ever decide to wear it to a game.
Fast forward to December 3, 2010 in Raleigh, North Carolina.  My buddy and I were excited about our seats knowing that they were three rows from the ice, but we became even more excited when we saw exactly where they were located.  The RBC Center is one of those buildings where the opposing team has to skate from one of the corners of the rink to their respective bench.  Our seats were exactly four seats away from where the team entered and exited the ice.  We got there plenty early so we could watch pre-game skate as well.  That's when the magic began.
A couple of the Avalanche equipment managers and trainers noticed my jersey right away.  They called me over and asked me a few questions about it.  They even took a picture of the back of it.  I'm assuming they were going to show it to Koci himself.  It was unexpected and exciting to draw some attention from the people with the team.
Then, after the Avalanche tied the game at one in the third period with a Milan Hejduk goal, my jersey made its network television debut.
For those of you that haven't met me in person, that was me cheering on my team at the end of that highlight.  For those that had met me in person, the tweets and Facebook posts began to show up.  I caught a little bit of flack from fans complaining that I didn't stand up though.  First, we were packed in like sardines down there.  I didn't have the time to squeeze myself out of the seat.  Second, I didn't want to be "that opposing fan."  We've all been at a game with that fan there, and we all know how difficult that can be.  I did my best to choose the classy and laid back route.
So the jersey in my collection that hasn't gotten much love from anyone in the past definitely came through for me.  In the end though, it didn't come through for my team as they lost 2-1 in overtime.  Here are your highlights.
I've begged my buddy to stay in touch with the guy he got the tickets from because seats don't get much better than that.  I'll never forget the experience I had that night, and that was actually before I knew I had been on television.
And being as David Koci was a healthy scratch for the game and didn't even participate in the pre-game skate, the jersey that was made for him to wear last season got more air time than the jersey the team brought with them for Koci to wear that night.  That's a type of thing that doesn't happen very often at all.