Podcast: Play in new window | Download | Embed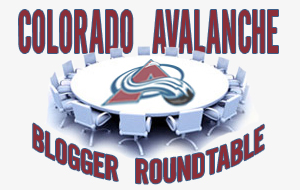 My responses to The Avs Blogger Roundtable rolls on with day two.
Today's questions, as answered within my podcast above include:
No goalie faced more shots last year than Craig Anderson  and the Avalanche have lost perennial shot blocker Brett Clark (who ranked 11th in blocks last year despite missing 18 games). With the six other core defensemen all returning and no veteran acquisitions to augment the squad, can the Avs tighten things up defensively this year?  Other Avs blogger responses to this question are here.
The last time an Avalanche defenseman scored 40 points in the regular season was the 2006-2007, when John-Michael Liles scored 44. Who do you think will be the next Avalanche blueliner to hit that mark?  Responses from other Avs bloggers are here.
Joe Sakic scored 62 points as a 19-year-old rookie with the Nordiques and then improved to 102-points his sophomore year. 19-year-old Matt Duchene scored 55 points last year. What kind of point total can we expect from Duchene next year?  Responses from the Avalanche bloggers are here.
Be sure to visit the Mile High Hockey Avs blog to read the responses to these same questions by other Avs bloggers.  I'll be linking responses as they are posted on MHH as well, so check back often if you don't follow their blog already.  Thanks for the listen Avs fans!