I know what some of you are thinking, "Seriously Jay?  Another Scott Parker jersey?  Do you really need two of them in your collection?"  Hang with me here, I can explain.  First, I am a stickler for small details.  The jerseys I love and prefer are the jerseys that are either worn on the ice or made for players to wear on the ice.  That way I know they are done right, and that's a big deal to me.  Second, I am not only a jersey collector, but I'm also a jersey wearer.  My Dad and I go to about 25 games a season at Pepsi Center so I like to have options.  Third, I'm a big guy.  I'm six feet, four inches tall and I weigh 250 pounds.  Finding jerseys that fit me is tough.  In the old style of jersey, the Koho/RBK 6100 model, I was able to wear the same size as most of the players wore on the ice.  That was a size 56.  I also get along just fine with a size 58 as well.  With the new Edge jerseys, there are only three Avalanche players that I can wear because of the newer, more tapered style.  These three Avs wear a size 58+: Adam Foote, David Koci, and Wes O'Neill.  Scott Parker was another Avalanche player whose jersey fit me in the Edge style, but as you already know, if you're an Avalanche fan or a loyal reader of my blog, Parker retired a couple of seasons ago.  His retirement wasn't before he wore this jersey in a 2008-2009 preseason game though.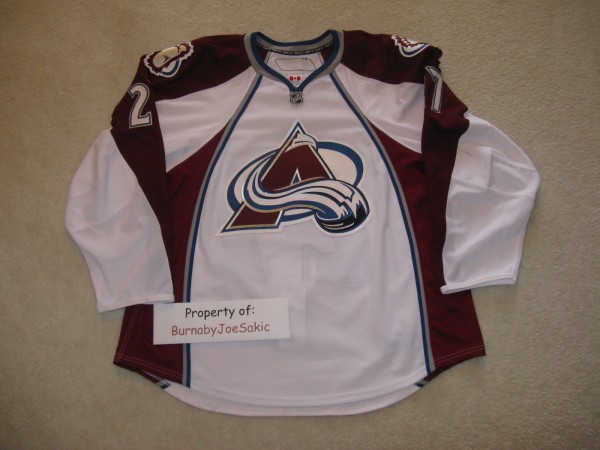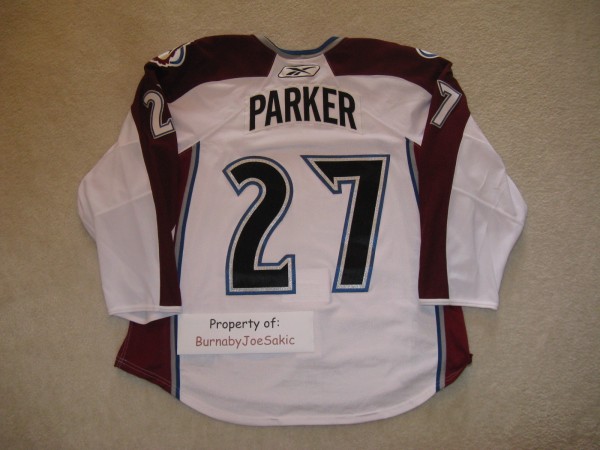 The Sheriff must not have played that much in the games when he wore this jersey because the only evidence of game use is this simple stick mark on the left elbow.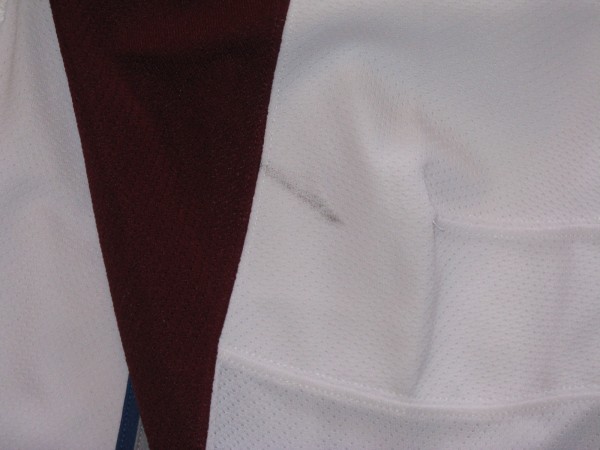 In the grand scheme of things a mark like that isn't that big of a deal, but jersey collectors will say it's pretty darn cool.  It's the type of stuff we love.
Even though "Parksie" didn't skate very much in this jersey during the small handful of preseason games that it was worn in doesn't mean that it wasn't designed to withstand some serious action and abuse.  I had no idea this modification on the the neck was there until I unfolded the jersey from the box it came in.  Check out the stitching on the NHL shield.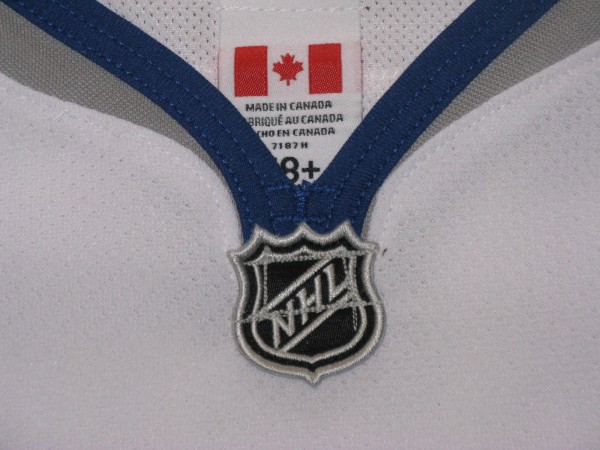 Here's what that stitching is holding in place.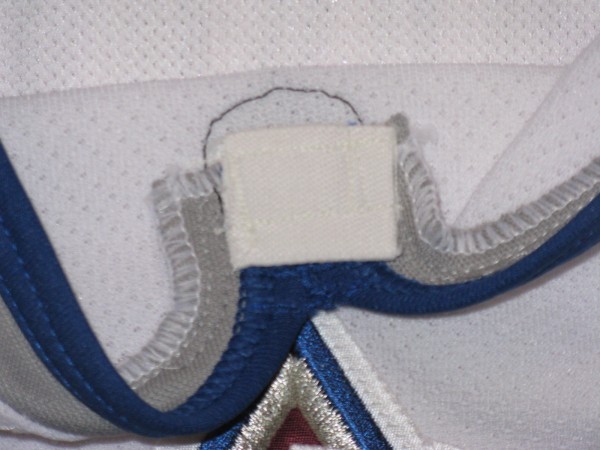 That's a piece of elastic that's sewn on to keep the jersey from tearing down the middle when it's stretched during fights.  The same precaution is found on two game worn Ian Laperriere jerseys in my collection found here and here.  These are the "small" details that I love when it comes to collecting jerseys.
I hope my explanation at least makes some sense as to why there are so many obscure players in my collection.  I'm always looking for great deals on jerseys that I can wear to Pepsi Center while I cheer on my favorite NHL team.  As for why I need so many of said Avalanche jerseys?  Don't ask.  I really don't have an answer to that question.  It's a sickness that I'll admit to someday, but that day's obviously not today and tomorrow's not looking so good to be that day either.