The Moser Golf Challenge Part 2 is scheduled for Friday, August 13, 2010.  It will include yours truly and another Avs fan on Twitter taking on the radio voice of the Avalanche, Marc Moser, and his partner, Kyle Keefe, from Altitude Sports and Entertainment.  We're not sure of the format, but we are sure of the time and the location.
Moser made part two of his golf challenge official on August 9 at 1:45 PM with this harmless tweet.  (By the way, I'm @AvsHkyPodcast and my partner, Arbon Reimer, is @RhymeswCarbon.)
It's official. Next Moser golf challenge is officially this Friday as Kyle Keefe and I take on ——> @AvsHkyPodcast @RhymeswCarbon
And then things quickly turned ugly with this tweet posted by Moser, one minute later, on August 9 at 1:46 PM:
Mark it down on your calendars…this will forever be known as the day that —-> @AvsHkyPodcast @RhymeswCarbon quit the game of golf.
I only have one question when it comes to a statement as bold as that, does this look like the face of someone who's capable of ending someone's golf career?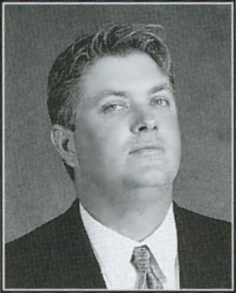 Image courtesy of the 2000-2001 Colorado Avalanche Media Guide.  "The Mose" is lookin' pretty darn serious.
My partner Arbon put it best in his tweet posted on August 9 at 1:54 PM.  Moser is @avalancheradio on Twitter.
@avalancheradio : Marc picked the right business: he has a face for radio.
Enough said.  I'll let you guys know how things go on Friday afternoon.  I'm looking forward to it and I'm sure we're going to have a great time.  Talk to you later.