(***Quick side note for the readers that don't follow hip-hop at all, the title of this post comes from this song by Three 6 Mafia.  Not the best song ever, but fun to listen to anyways.  You'll understand the connection as you read and see the pictures.  Trust me!)
A collar on a hockey jersey?  Never thought I'd see that, until the 2000 World Team NHL All-Star jerseys debuted.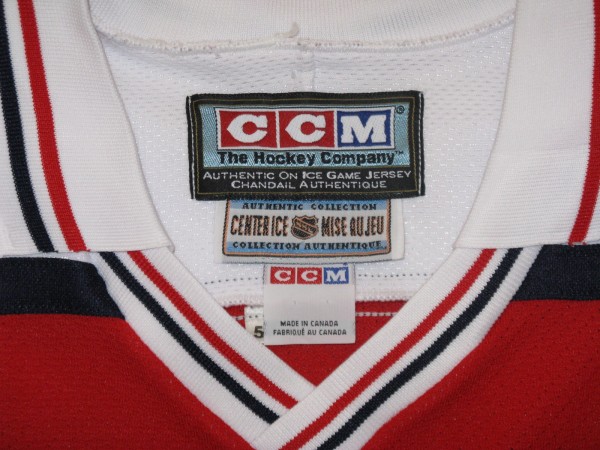 A little different, right?  I'll cover the 2000 Milan Hejduk (the collared jersey above) that's in my collection in a future post as it has a little more to its story, but I wanted to share the pair of 2001 NHL All-Star jerseys now.  The 2001 All-Star jerseys are basically the same jerseys as the 2000s except for some small patch, tagging, and logo details.  I picked two of them up blank from a seller on eBay a few years ago for what I'd call "eBay prices."  I like eBay pricing.  It's a good thing.  Have I mentioned how much I love eBay lately?  I actually received the jerseys still wrapped in plastic, which is pretty rare for jerseys that have existed for as long as they had.  Here are the photos of the blank originals: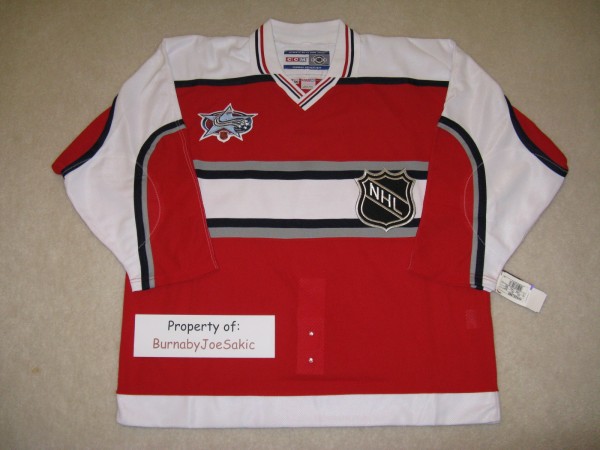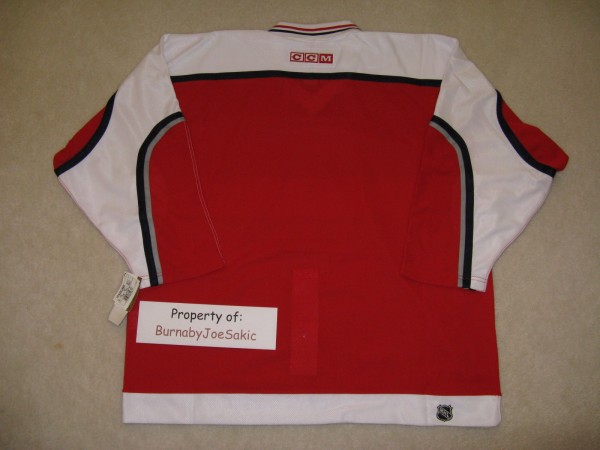 And what Avs fans don't love the memories involved with this patch?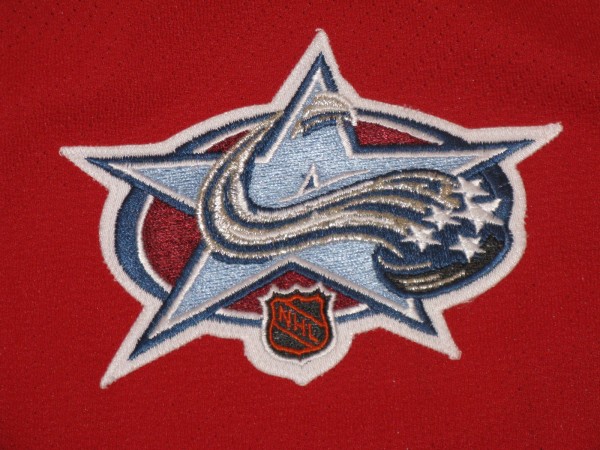 After dropping them off at my favorite jersey place, who also lettered the jerseys for the 2001 All-Star game here in Denver, here is what they look like now.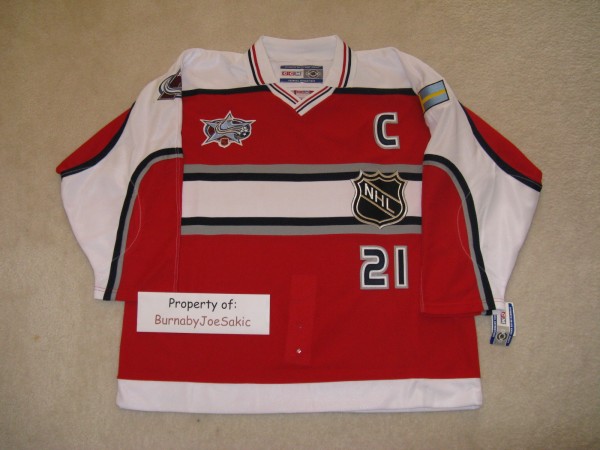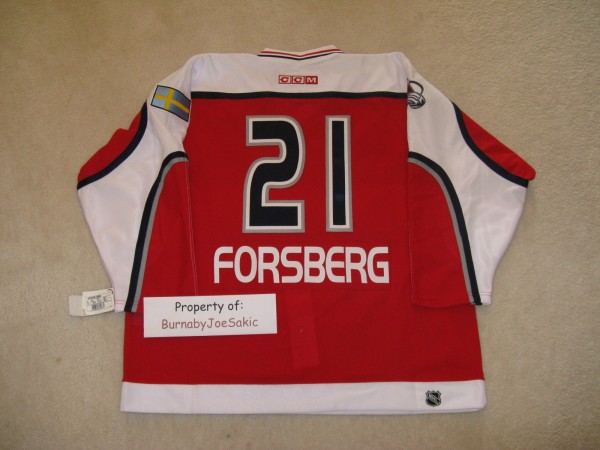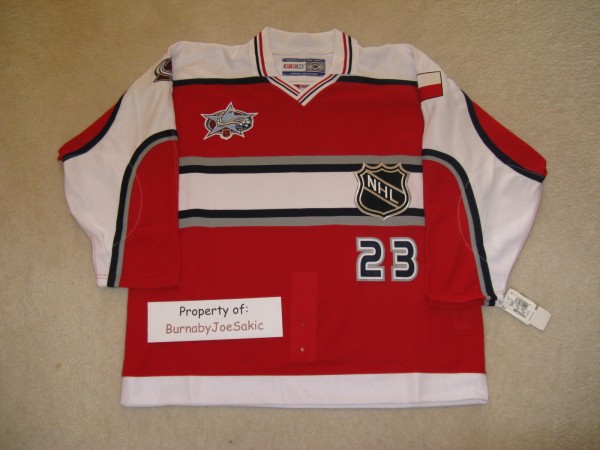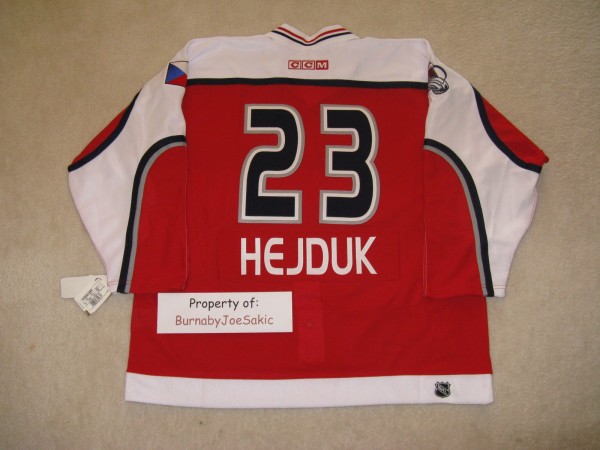 I love the captain's "C" on the Forsberg.  All-Star captains from your favorite team don't happen that often.  It's important to take advantage when the chance is there.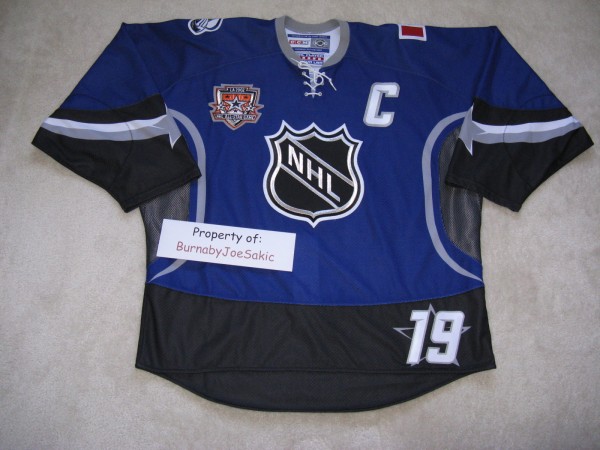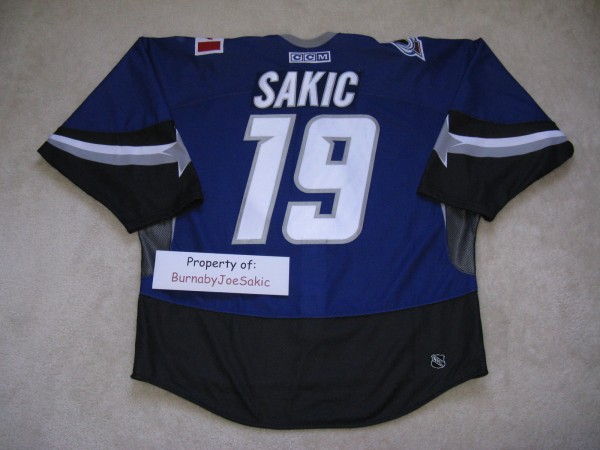 Please don't tell me that you're at all surprised to see that jersey.  You guys know how I roll by now!  I'll talk about this one in a later post.
The collars?  Not too bad if you ask me.  They've grown on me throughout the years.  I've met a lot of collectors that don't like these jerseys at all.  Me?  I like them.  I don't know if it's the good memories attached to them or what, but I think they're just fine, collars and all.  They're perfect for poppin' when I'm at Pepsi Center and that's all that really matters anyways.