Six foot, five inches, 240 pounds.  That's what's known in the NHL as a heavyweight.  They don't come around very often and they definitely serve a purpose.  In his 51 fights in an Avalanche jersey, Scott Parker protected some of the best players in the game.  He was a first round draft pick of the Avs, the 20th pick overall, in the 1998 draft.  He left for the first time when he was traded to the San Jose Sharks on June 21, 2003.  Then on February 27, 2007 the Sharks traded Parker back to the Avalanche.  When he returned this is one of the jerseys he wore.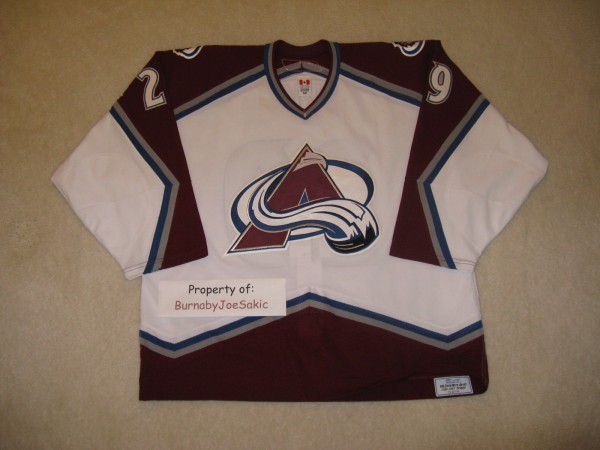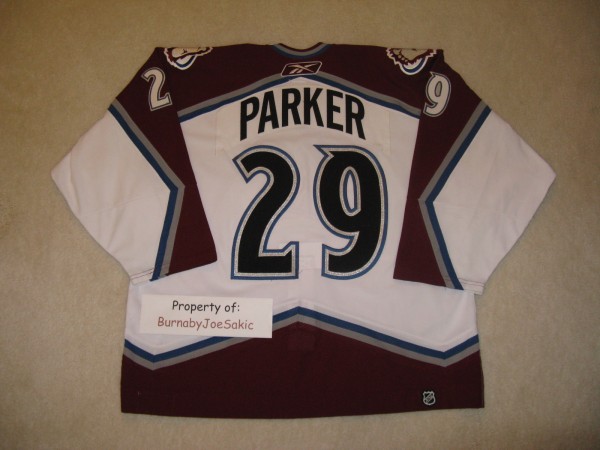 Many of you will remember "The Sheriff" wearing number 27.  He wore that jersey number for 232 of his 242 games with the Avs.  When he was traded back to the Avalanche in 2007 defenseman Ossi Vaananen was wearing 27 at the time.  Vaananen signed outside the NHL during the 2007 off season and Parker was able to get his regular number 27 back.  This jersey being from one of the 10 games that Parker didn't wear number 27 was one of the things that drew me to it.  Here is one of the other reasons.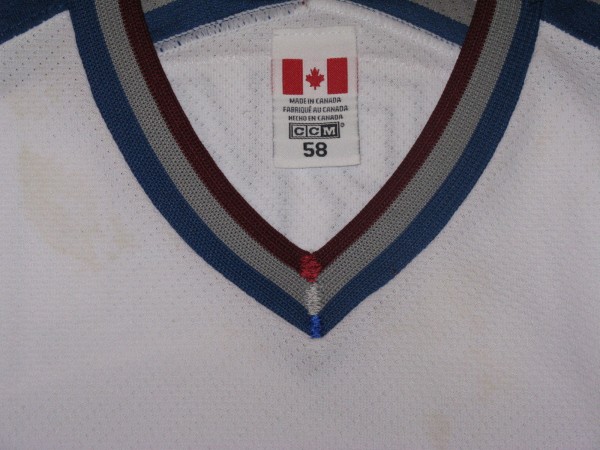 And here's a better look, courtesy of gamewornauctions.net.  They have a better camera than I do.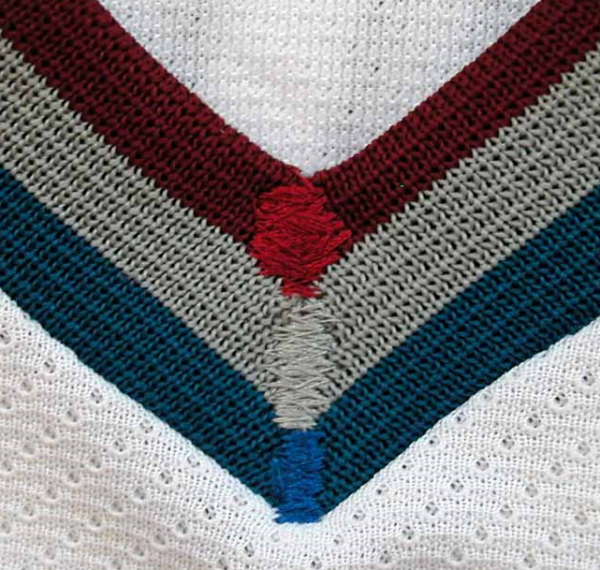 As a fighter, Parker put a lot of stress on the necks of his jerseys.  Check out this example from the 2001-2002 season.  Photo again courtesy of gamewornauctions.net.  Their camera rocks.
Scott Parker obviously kept the equipment manager for the Avs busy.  I love the color coordination on the white jersey.  There are also stains pretty much all around the neck.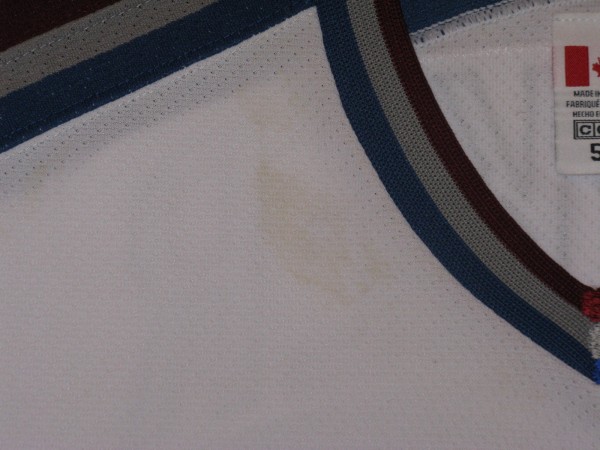 As well as some staining and a stick or puck mark on the piping just under the Avalanche crest on the chest.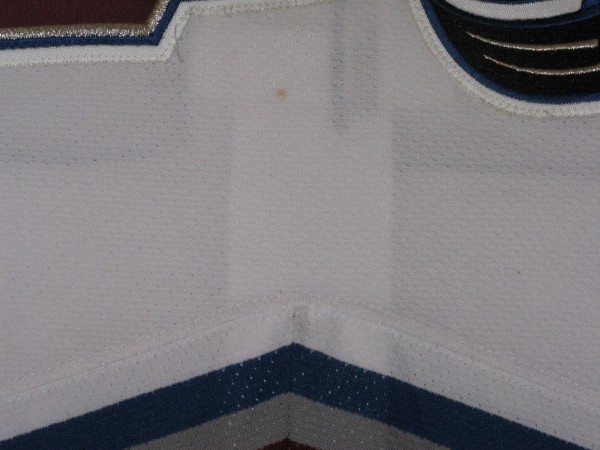 This jersey definitely tells a great story, but another interesting story is about Scott Parker ended his career with the Avalanche as well as retiring from the NHL.  It's not your everyday retirement.  Parker played 25 games with the Avalanche during the 2007-2008 season.  He had no points in those games and logged 70 penalty minutes.  During one of those 25 games he suffered a concussion and ended up on the injured reserve.  Here's where things get foggy in terms of the story.  Supposedly, when Parker was deemed healthy he was assigned to Colorado's AHL affiliate.  That was an assignment he never showed up for.  The terms of what really happened were never really made public, and I really don't have a guess as to what happened either.  What I do know is that his contract was eventually terminated for insubordination.  That's something we, as sports fans, don't see every day.
Parker also retired in a strange way.  He never officially announced that he would no longer play in the NHL until he went on a local radio show and said it there during an informal interview.  This was the result of too many concussions in too short of an amount of time.
I have to admit, Parker was never one of my favorite Avalanche players (and I have caught a little heat from fans thinking the same thing), but I also have to admit that I'm really happy that I had the chance to add this jersey to my collection.  Between the story behind the number and the neck reinforcement/repair that I had never seen on a Avs jersey before, it fits in my closet better than I ever thought it would.