Yes jersey fans, there are particular reasons why huge fans like me like it when Hall of Famers get hurt.  There aren't many reasons, but jerseys are one.
Let's start with pricing.  Joe Sakic is a lock for the Hall of Fame on his first year of eligibility.  He is one of, if not the, best clutch playoff performer of all-time.  Any questions?
And let's just add an 8th to that overtime game winner list.  Why not?
He is, without a doubt, one of the most respected leaders of his hockey generation.  As a result of these reasons, these statistics, and many, many other tangibles and intangibles, his game worn jerseys sell for a TON of money.  (Examples here, here, here, and here.  I think you get the point, they're kind of expensive.)  Not just anyone has the chance to purchase a game worn Joe Sakic jersey too.  These are for the serious collectors with the serious money, A.K.A. "The Big Boys at gameworn.net."  As much as I love jerseys, I have a tough time spending over $1,000 on one.  That's a lot of money.
When Joe Sakic left the game with a back injury against the Phoenix Coyotes on November 28, 2008 little did we know that would be the last time we would all see him on the ice as a player.  But what's shown below is a direct result of that back injury.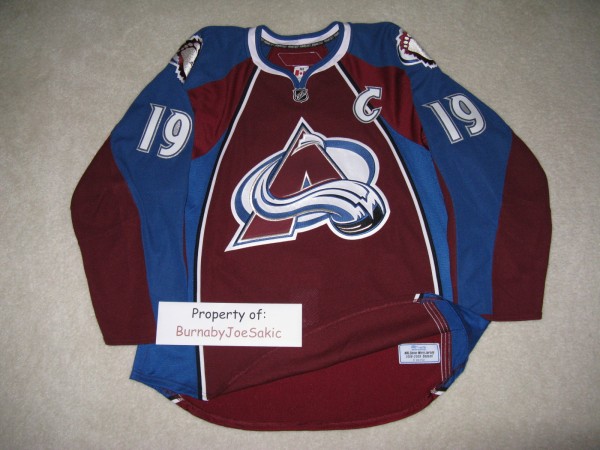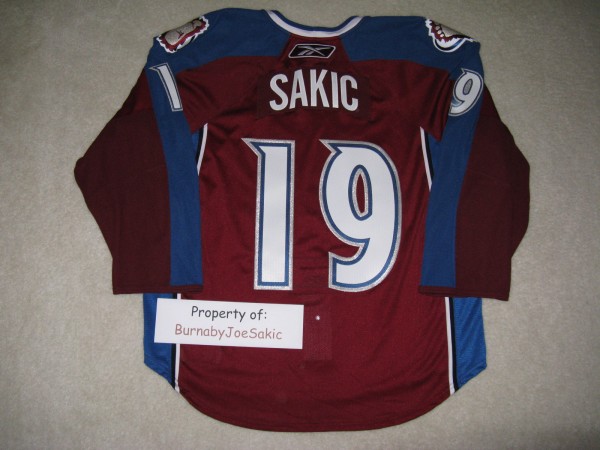 This is the jersey Joe Sakic would have worn in his last NHL games if he would have been healthy enough to play in them.  It is a game issued, set 3 jersey.  For the past few seasons the team has worn three sets of their burgundy and white jerseys during the season.  Here is one other image of one of the huge highlights of my jersey collection.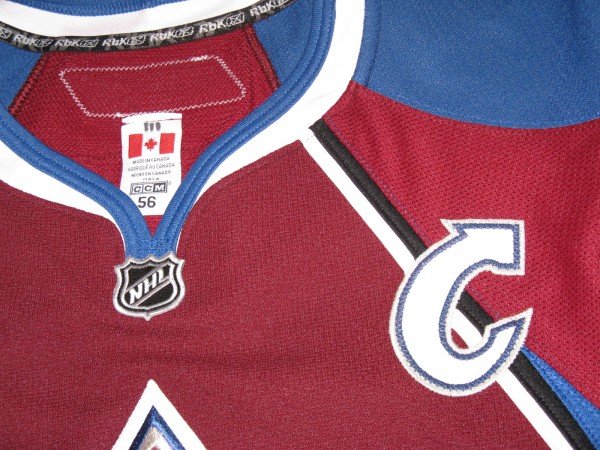 The three tick marks, made with black marker, on the top of the size tag on the back of the neck indicate "set 3."  And the Captain's "C" speaks for itself.  They'll be other captains for the franchise, but they'll never be a Joe Sakic.
As far as the game wear, there obviously is none.  This was made for him to wear and he was never healthy enough to wear it in a game.  Lucky for me too because if he played one shift in this jersey I would not have it hanging in my jersey closet right now.  Game issued jerseys sell for a fraction of game worn jerseys, no matter who they're made for.  That's another reason why I like game issues jerseys so much.
The story behind this jersey is interesting as well.  The company that sells the Avalanche game worn jerseys has had a summer sale the past few years.  People from all over the U.S. and Canada make their way to New Jersey to take advantage of the sale and to talk and deal with other people with jersey sicknesses remarkably similar to my own collectors.  Just days before the 2009 summer sale this Sakic and the white version of the same jersey became available on their web site.  I knew with the summer sale coming up that collectors would jump all over this piece of history.  I'm happy I saw it when I did because the white version of the jersey was gone the morning of the sale.  Quite simply, I got lucky.
Like I mentioned before, this is obviously one of the highlights of my collection.  I have been a huge Sakic fan through the years as anyone would see with my hockey card collection that features him, along with many customized jerseys that I've turned into Sakics throughout my jersey collecting career.  It's safe to say this jersey isn't going anywhere anytime soon.  I don't, and never have, collected jerseys for the money, I collect them for the stories and the memories.  This jersey brings up plenty of both for me.
…And this jersey represents the ONLY reason why I'll always be grateful that Joe Sakic hurt his back.