If you follow me and a few of my friends on Twitter you'll know the significance of my title.  A few of us made it an ongoing thing to guess what David Koci does during the game rather than play hockey.  We can obviously all agree that his role this year was one that would be classified as "limited."  I'd link to some examples of the beauties that people posted, but I found out the hard way that Twitter only saves searches for a short amount of time.  Thanks so much Twitter.  You'll just need to trust me, it was entertaining.  In fact, our list was way more entertaining, and much less painful, than watching David Koci actually play the game of hockey.
Anyways, I didn't care at all for the new thirds when they were debuted earlier this season.  In a word, I thought they were ugly.  The color, the shoulders, the way the Avs played in them for the most part this season, all yuck.  Then, not too long after the season ended, I got the chance to get one in my hands…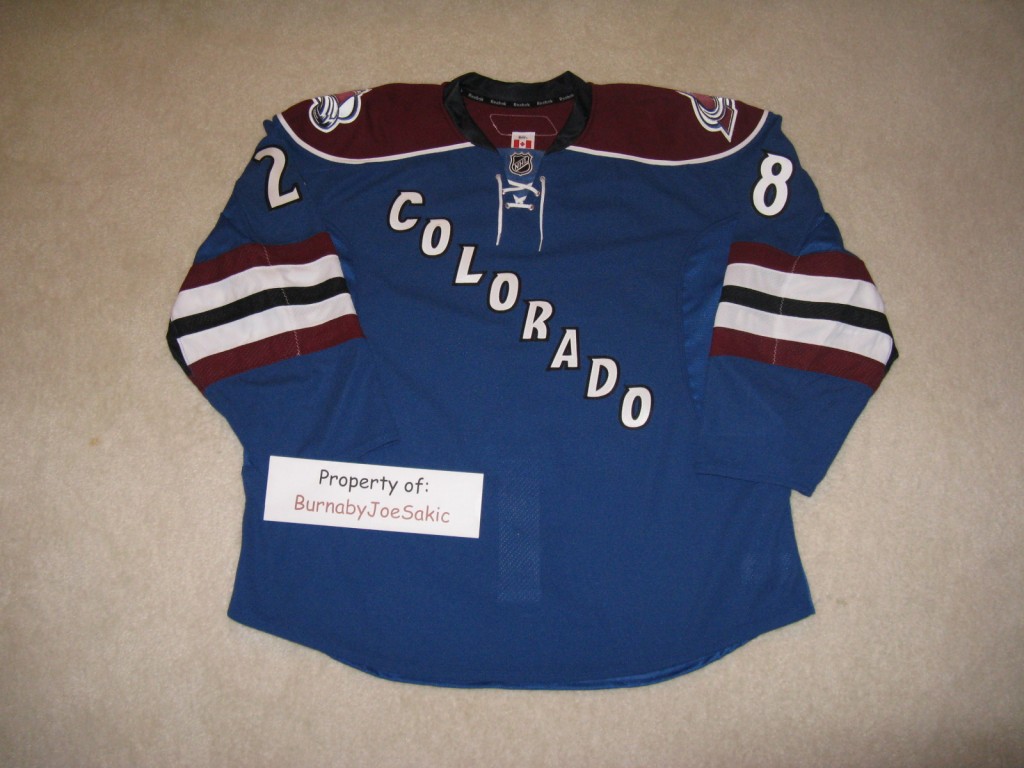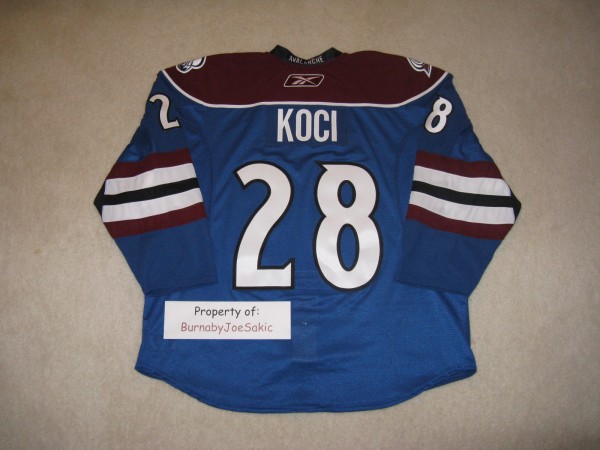 …And everything changed.
I suddenly loved the color.  They were sweet in person.  The accents between the Airknit and the Xtrafil are outstanding.  It shows best underneath the arms.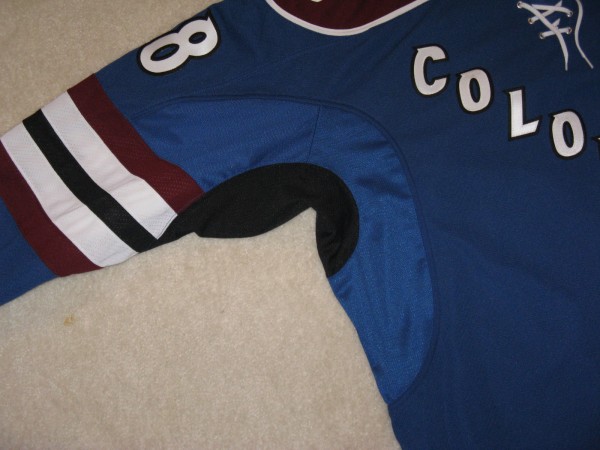 The pipe that divides the two different fabrics is an awesome touch.
The only part I ended up deciding I could live without was the back of the neck.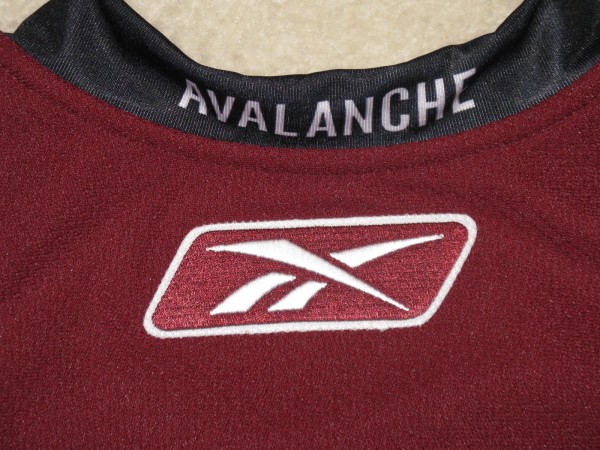 I really don't think that anyone who follows hockey would see the back of this jersey and wonder, "Which NHL team was this again?  I already forgot.  I sure wish there was some kind of way to tell which team this was when I was looking at the back of this jersey.  I'm so confused!  It needs the team name on the back of the neck or something.  That would be a great touch!"  Whatever.  I've had a few people comment that this makes it look a little like a soccer jersey.  I have to agree with that.
Back to the details on the jersey itself, this is the jersey that David Koci would have worn late in the season if he was healthy enough (or good enough…zing!) to play for the Avs at that point.  He did return for a  game or two late in the year, but they weren't games where the team wore this style jersey.  It is labeled as a game issue and they are my favorite.  They are made by the player for game action, but not worn by that player during a game at any time.
I know you might be thinking as well, "Why in the heck did you get a David Koci jersey?"  I can answer that and am definitely ready for the hate that comes with adding a Koci jersey to my collection too.  I wear a size 58+ in the game worn/game issued jerseys the Avalanche wear on the ice.  That limits me to three Avs players that suited up for games during the 2009-2010 season: Adam Foote, David Koci, and Wes O'Neill.  Wes O'Neill dressed for exactly two Avs games this season.  If I wore his jersey to a game people may think that I put my own name on my jersey.  In my book, putting your own name on a jersey is a HUGE no-no.  My explanation for that is a different topic and for a future post.  (***Quick side note, I'll probably add the O'Neill to my collection eventually though.  Yes, I have a jersey sickness and it's a lot of fun.)  Adam Foote's jerseys are all game worn and list for over twice as much as I paid for the Koci.  I like Footer a lot, but not enough to drop that kind of money on his jersey right now.  So…for the price, the name, and the size, Koci was my best bet.  (Boy, I never in a million years thought I'd ever utter that phrase verbally or type it either.)  I hope you find it in your heart, as true Avalanche fans, to forgive me.
I'm looking forward to adding more of the alternate style jerseys to my collection in the future.  Liking them all of a sudden was weird, but it was a welcome surprise as well.  As I said earlier, this is the first Avalanche alternate jersey in my collection, and it won't be my last; famous last words if you've seen how many jerseys I have.