My favorite Avalanche player of all time is Joe Sakic.  His game worn jerseys go for almost $4,000.  Another favorite, Patrick Roy.  List price for his gamers, almost $5,000.  Forsberg, somewhere between $3,000 and $4,000.  Man, this jersey game is pricey.  When it comes to value, and collecting an underrated player who plays a "quiet" game, I couldn't go wrong with this.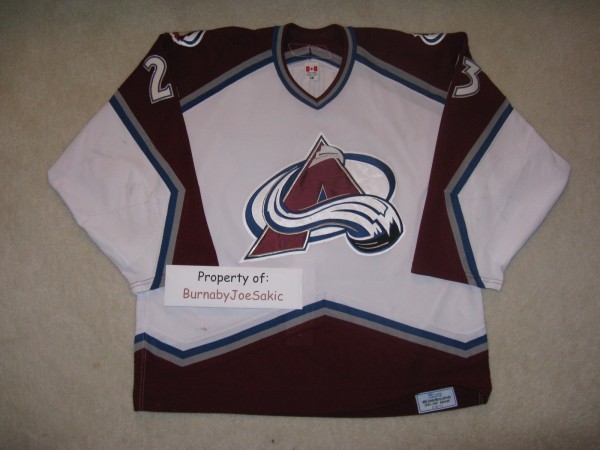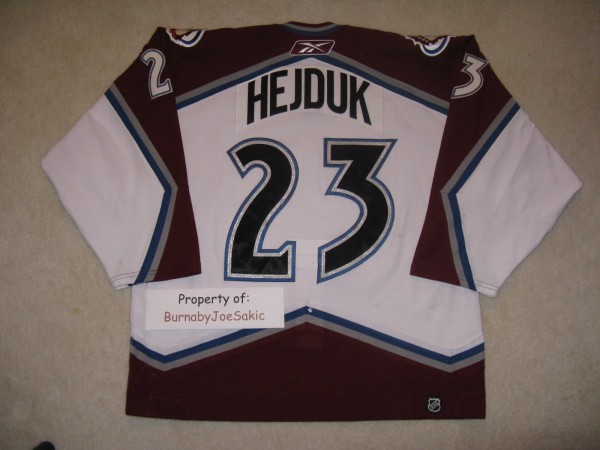 This jersey was worn during the 2006-2007 season by Milan Hejduk.  He has always been an Avs favorite of mine for many reasons.  One, I love his style of play.  Quiet, not quite superstar status, but well known to Avalanche fans and Northwest Division opponents.  Leave this guy alone and he'll hurt you every time.  Second, I've always had a thing for right-handed shots because I am one myself.  I see left-handed shooters do certain things and it just looks plain…backwards.  I see Hejduk do certain things and I can relate.  I like that.  Third, the man is magic with his feet.  I can't count the number of times I have seen a bad outlet pass or tipped pass get to him in the neutral zone be quickly corrected by Hejduk by either playing the puck of his foot then onto his stick or just plain have him turn around in mid-stride, receive the pass, then get back to skating forward all while barely slowing down.  I fall down on my skates just watching him to that stuff.  There have been many times where I'm left shaking my head at what this guy can do.  Fourth, he's an Avs lifer.  He's signed through next season and maybe longer.  We will see how his body holds up.  I do know that he's welcome for as long as he'd like to stay.  We, as Avs fans, can't say that about just anyone who wears the burgundy and blue.  Fifth, his bio.  Enough said there.  And last, I think his number 23 will hang in the rafters in Pepsi Center someday.  In my opinion, he's earned that honor.
Let's get back to the jersey, shall we?  This jersey was used a lot.  Here's the right sleeve.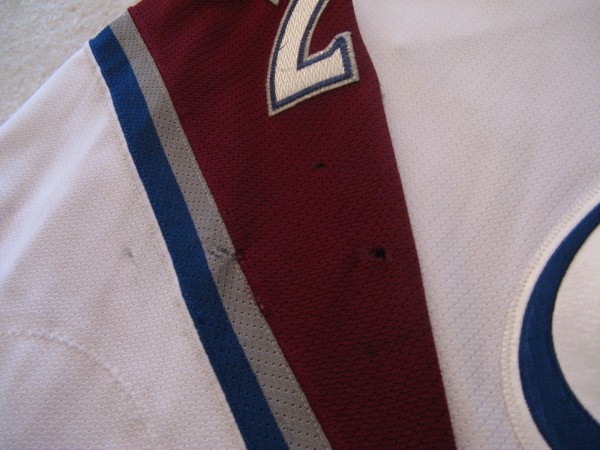 The holes are the result of the boards and the glass.  These are seen on jerseys pretty frequently.  They get there by the player rubbing the jersey along the boards or glass hard enough to cause a hole or burn to develop.  This jersey has also been washed a lot.  This weakens the fabric, as it does with any fabric, and makes it easier for damage to occur.
Here's something, behind the back left armpit of the jersey, that I can't explain though.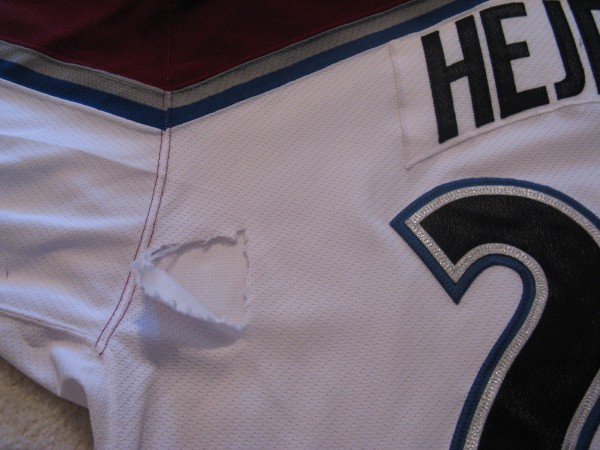 I have no idea what caused this tear.  A stick?  The boards?  Who knows?  What I do know is that damage like this gets game worn jersey collectors excited.
This jersey is one of the highlights of my collection.  I had always wanted a Milan Hejduk game worn jersey and now I have one.  My next mission, get a burgundy jersey from the same era.  To be continued.