My Dad has a buddy who is a huge Los Angeles Kings fan.  When the Colorado Avalanche signed Ian Laperriere on July 2, 2004, my Dad's friend told us that we would love Lappy.  I had become familiar with Ian Laperriere's name from my years of following hockey.  I knew he was a hard (and crooked…zing!) nosed player who specialized in playing gritty hockey, but I obviously didn't have any extended experience watching him play night after night.  In the end, it didn't take me and the majority of Avalanche fans long to prove my Dad's friend right, everyone loved Lappy for all of the right reasons.
As a result, during the next Avs game worn jersey sale, I had no choice but to jump on this….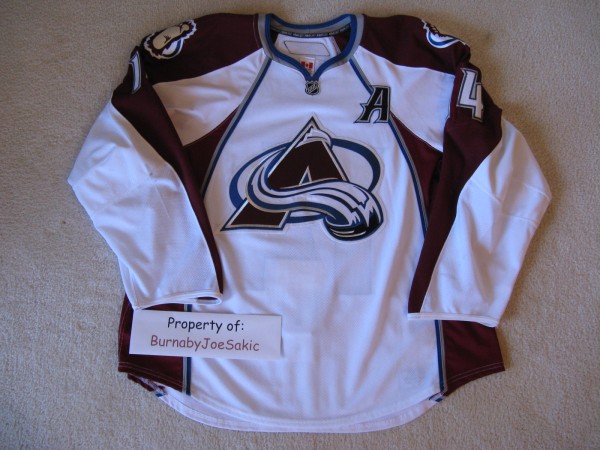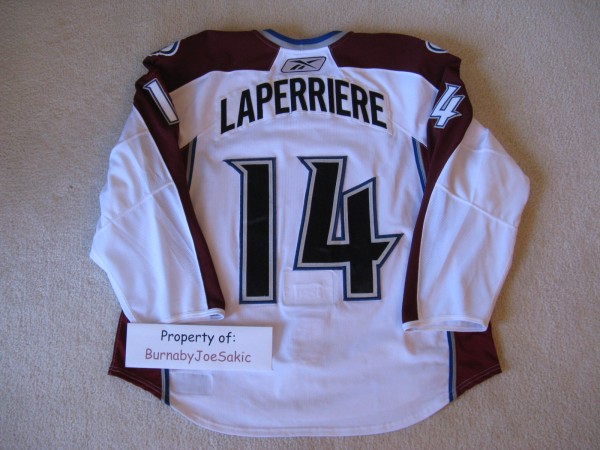 This jersey was worn by Ian Laperriere during the last part of the 2007-2008 season.  Lappy also wore it during the six game series win against the Minnesota Wild as well as the four game whoopin' the Avs received against the Red Wings in the second round of the 2007-2008 Stanley Cup Playoffs series I won't mention.
This jersey has two quirks that I love about it.  The first is a neck modification that I think NHL equipment managers learned about the hard way.  When the new Reebok Edge jerseys were implemented at the beginning of the 2007-2008 season I imagine that many of the guys that got into fights ripped the front of the necks of their jerseys.  One would think that Reebok would have addressed this issue as they designed these jerseys, but Reebok didn't think about a lot of things when they created this "new and improved" jersey system.  I'll cover those details in future posts.  Anyways, here is the front of the neck.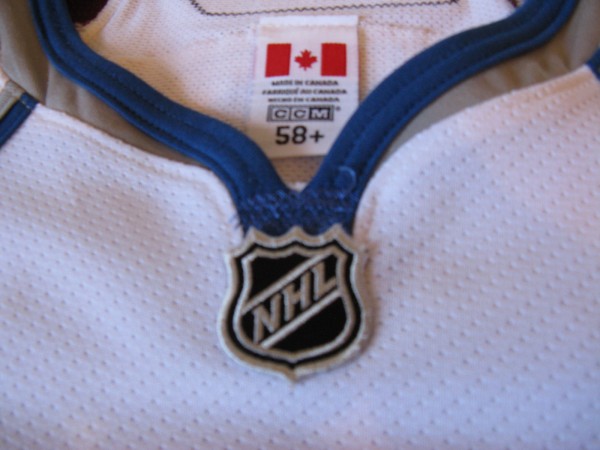 Just above the NHL shield is some blue stitching, this is what it's there for.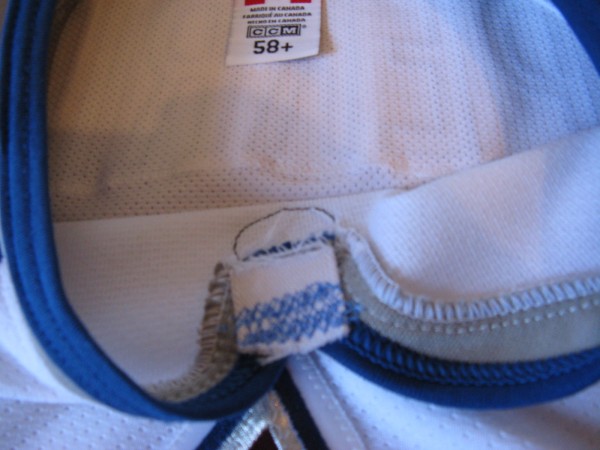 That is a piece of elastic that's there to keep the jersey from ripping down the middle to the crest whenever it's stretched far enough.  And during fights, these jerseys, and a few of the players, take a beating.  The elastic is a preventative measure to help the jersey last a little longer.
The other quirk, which wasn't Reebok's fault at all, is the huge repair between the "1" and the "4" on the left sleeve.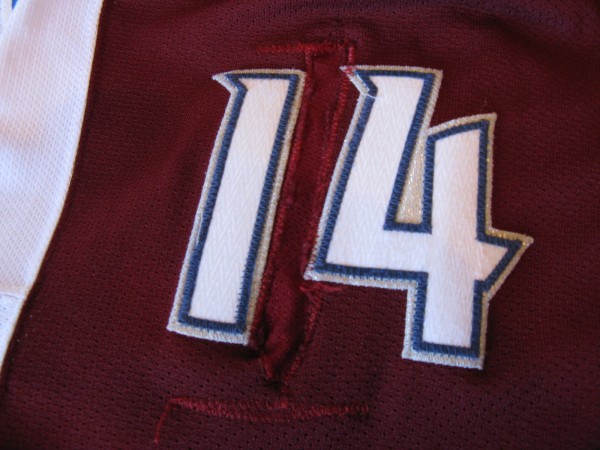 How that rip happened is not something I'm exactly sure of.  Could have been a skate cut, a rip from a fight, or something else.  What I do know is that repair makes things easy when it comes to photomatching the jersey.  Photomatching is when a collector or a seller finds photos of that player, wearing that jersey, during a game.  Any unique marking on the jersey makes it that much simpler to make that match.  Here is my photomatch for this jersey.  Take a good look at that left sleeve between the numbers.  How cool is that?  Game worn jerseys are cool, photomatched games worn jerseys are even cooler.
Lappy wore this jersey during this fight with Jim Vandermeer of the Calgary Flames.
He's also wore it during this fight with Steve Staios of the Edmonton Oilers.
I liked this jersey, and Lappy, so much that I decided to get its partner.  It's the dark version of the same jersey worn during the same part of the same season.  I will feature that jersey in a future post.
I still miss Lappy.  I know many other Avalanche fans do as well.  He was a pleasure to watch night in and night out.  He's one of those rare players that "brings it" every single game.  I'm convinced that if every NHL team had a Lappy on it that hockey would be more popular to many people.  He plays the game the way it's meant to be played.  I know Lappy's opponents don't prefer playing against him, and that's not because he's dirty or full of himself, it's a little thing called respect.