I promised you a "partner jersey" post in the first Ian Laperriere jersey post, so here it is.  This is the burgundy jersey that Lappy wore late in the 2007-2008 season, as well as in the playoffs.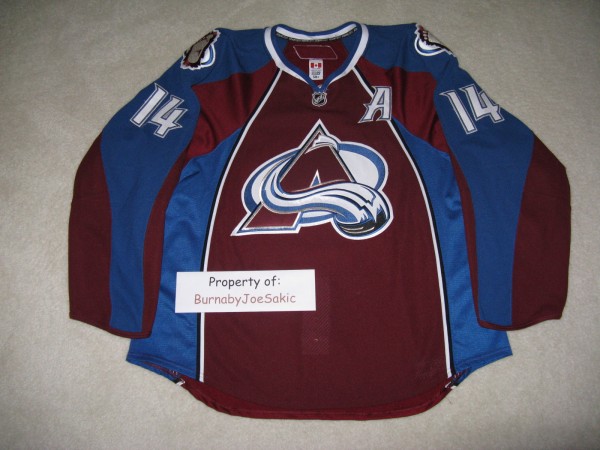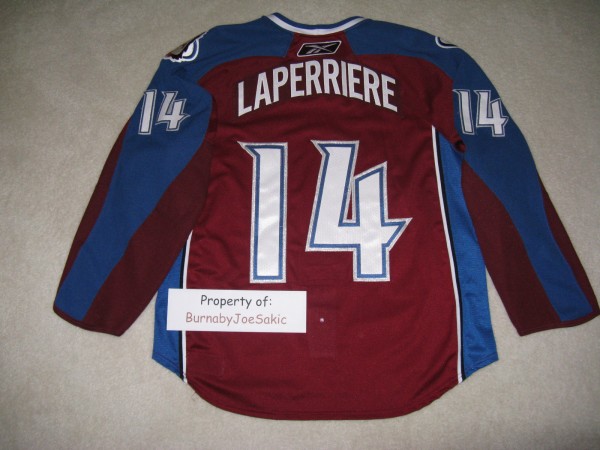 There isn't a lot of game used to share with you on this jersey.  The darker jerseys never show wear near as well as the white or lighter color jerseys.  The one thing I did notice right away is that the neck on the jersey is very "stressed out."  The thread is beginning to pop all over the neckline.  That's the direct result of a few things.
This fight with Marian Gaborik of the Minnesota Wild.
This fight with Dave Cowan of the Vancouver Canucks.
Not so much in this fight with Steve Staios of the Edmonton Oilers, but it's still fun to watch the jersey that's in your collection in action.
And especially this fight with Stephane Veilleux when he was with the Wild.  The neck takes a beating during this one.
This jersey has the same modifications as the white version, with the elastic above the NHL shield and behind the lower part of the front of the neck.  Here's the front.  And if you look really close, you can see how the thread around the neck is beginning to come out, especially just up and to the left of the NHL shield and on the back right side of the neck as well.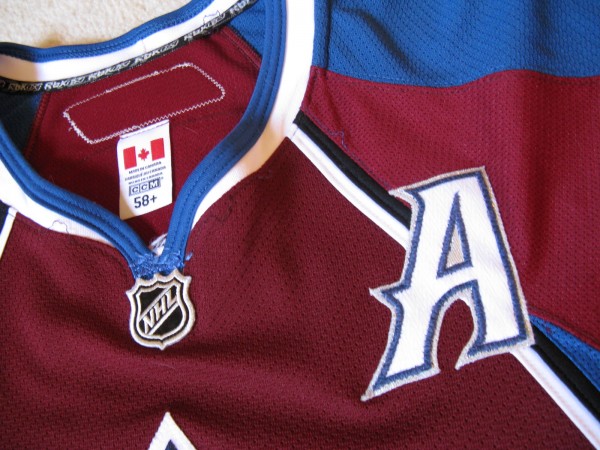 And here's a look a the inside.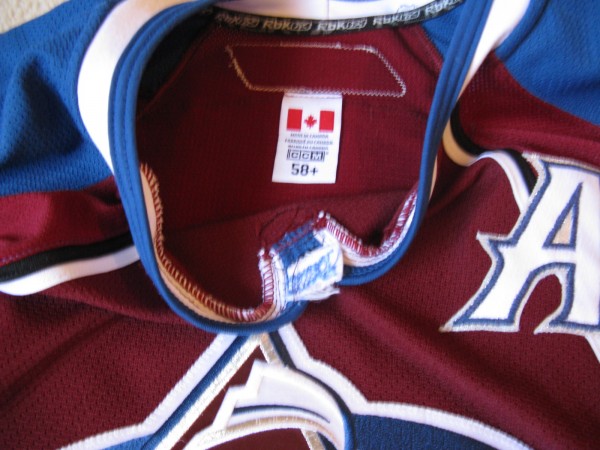 I didn't originally plan to buy both of the Laperriere jerseys, but I couldn't resist after I saw the white version in person.  Like I said in the first post, Lappy quickly became one of my all time favorite Avalanche players.  On top of that, his jerseys are fairly affordable in the grand scheme of game worn jersey collecting.  That's why it was, and always will be, all about Lappy when it comes to my game worn jersey collection.